FKA Twigs Deconstructs the Private Show
Magdalene, the avant-garde pop star's triumphant second album, pairs tenderness and noise.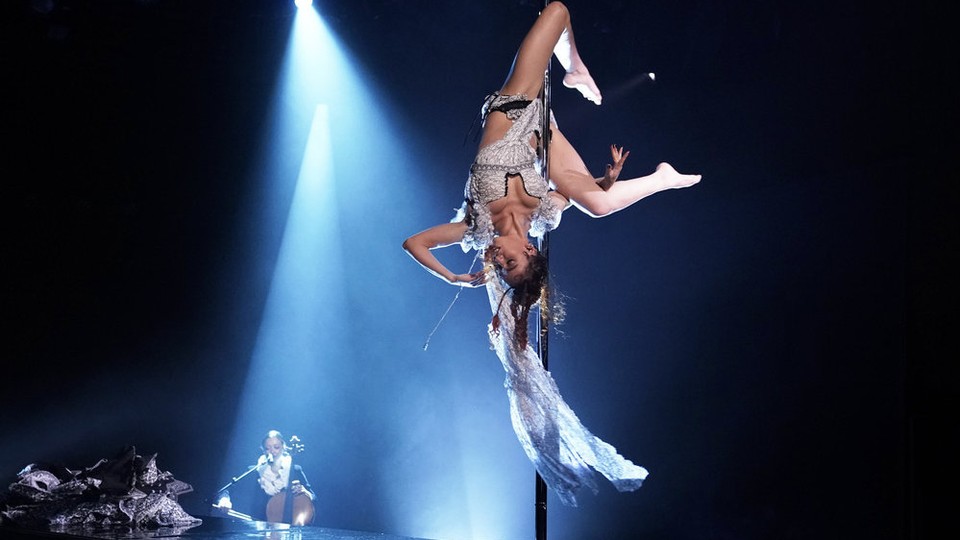 On The Tonight Show last week, the singer FKA Twigs made use of a new kind of stage. She began singing her ballad "Cellophane" while sitting on top of a piano. Her pose was a crumpled one, with the glorious ruffles of her gown—medieval in shape, but more Lil Nas X–like with its bandana-print pattern—splayed about her. Midway through the song, Twigs got up and walked down a catwalk-like extension down past the piano's edge. A stripper's pole waited at the end, and she jumped up on it to execute an elegant in-air ballet.
A classical instrument joined seamlessly with a tool of the nightclub, of sexual gratification, and of feminine performance: This is a very FKA Twigs idea. The 31-year-old Tahliah Barnett sings in highly mannered trills reminiscent of opera and the Renaissance. Her music warps and scars the syncopated grooves, rap flows, and electronic jolts of modern pop. Really, what she does above all else—in sound, in lyrics, in wildly surreal music videos—is quiver. The tension between intimacy and spectacle explains why. Twigs always depicts herself performing for a lover, whom she cajoles for attention and respect via tenderly sung come-ons. She also constantly frets about a wider audience prying in, which might explain her music's gnarled, jagged textures. Her coos on "Cellophane" capture the dynamic: "They want to see us / Want to see us apart."
This anxiety of being watched makes sense, given her past as a model and backup dancer, her current fame, and the simple fact of her race and gender. When she began dating the actor Robert Pattinson in 2014, she was subjected to racist comments from his fans. When they broke up in 2017, the gossip press scrutinized and tittered as it always does. The need to project public strength while also nourishing private vulnerability feeds the beautiful conflict of Magdalene, her first release in four years. In one recent video, for "Home With You," she moves from hazy and chic clubbing scenes to, eventually, a lush forest. Dressed in white, sporting an eyepatch, she fishes a little girl from a well. But, it's revealed, an eyeball peers from Twigs's belly button. Does it represent the inescapable gaze? Or her own fiercely protected point of view?
The acclaimed EPs and full-length album that she released from 2012 until 2015 were often tagged as alt-R&B, a label that she argued was more related to her race than her sound. If Magdalene gets classified in the same way, it'll confirm for many listeners that "R&B" simply means "black person who sings." Exactly one song, the thumping "Holy Terrain," featuring Future, comes close to that genre's conventions. The rest of the nine-track album pushes to new extremities of silence, slowness, and experimentalism. Avant-pop touchstones—Björk, Radiohead, Kate Bush, Frank Ocean—make somewhat apt comparisons. But no one really sounds like Twigs.
Accordingly, Magdalene must make an effort to pull listeners into its world—or, as it more precisely feels, its netherworld. On the hypnotic first song, "Thousand Eyes," Twigs repeats a circular melody reminiscent of Gregorian chants over chords that step, inexorably, downward. Industrial clanging produces echoes that become instrumentlike elements of their own: The shadows in this cavern seem to be alive. "If I walk out the door, it starts our last goodbye," goes her refrain, which doubles and triples up in rounds. "If you don't pull me back, it wakes a thousand eyes." It's a breakup conversation made gothic—as usual for her—by the threat of surveillance.
Things only get creepier and more cry-worthy on "Home With You." At the start, Twigs speaks through some effect that makes her sound like Pennywise the clown. Digital whips crack arrhythmically in a way that resembles Aphex Twins' nightmarish "Omgyjya-Switch7" (certainly a touchstone for the co-producer Nicolas Jaar, who is known both for experimental soundscapes and techno head rushes). But eventually the ruckus turns into a show tune, with Twigs delivering her most pining cries alongside shrieking clarinets. "I didn't know that you were lonely," she sings. "If you'd have just told me, I'd be home with you." It's a heavy sentiment made heavier by injecting direct, unavoidable emotion into a song that initially seemed a puzzle.
Twigs has never been weirder; she's also never been catchier. The songwriter Benny Blanco—a collaborator of Ed Sheeran and Katy Perry, among others—is credited on a few tracks. The industry hands Jack Antonoff, Skrillex, and Sounwave helped on the record's swing at a pop hit, "Holy Terrain," in which Twigs's sense of drama remains intact amid steady trap puttering. That song caps off the exhilarating first half of the album, after which a slew of mid-tempo arias, it must be said, begin to blur into one another. Even then, Twig lands some stunning moments. She swings vertiginously on "Fallen Alien"; she sings patiently, then crests, on "Daybed."
The fitting finale arrives with "Cellophane," the single that also kicked off this album cycle. Spare to the point of discomfort—you hear the creaks of the piano pedals—it's a time-stopping assertion of Twigs as pure singer-songwriter. One final, whispered line ends the album-length saga of love tested by a crowd: "They're waiting / And hoping / I'm not enough." It's a wrenching cliff-hanger. Like a pop diva, an opera's doomed maiden, or the grieving disciple of Magdalene's title, Twigs knows that her pain isn't ever simply her own. But after an album that has bared so much, what could enough mean?