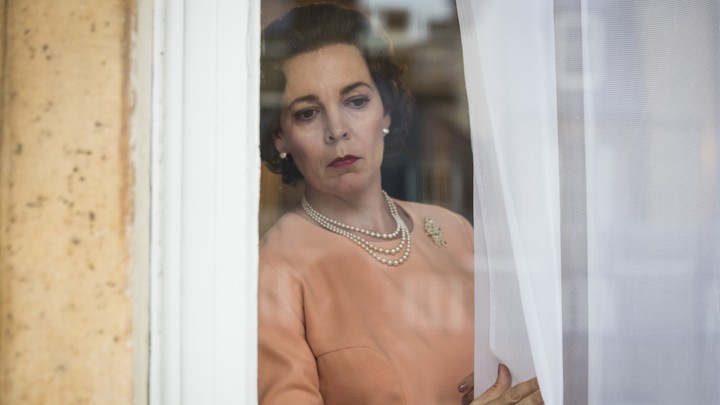 This article contains mild spoilers for Season 3 of The Crown.
In the fourth episode of The Crown's third season, Prince Philip (played by Tobias Menzies, taking over for Matt Smith) invites a camera crew to film the Windsors over the course of a few days. He wants to show how down-to-earth they are as a family—Royals! They're just like us!—and to convince the public that their expensive upkeep is absolutely necessary for the well-being of Great Britain.
But when the footage begins airing on the BBC, showing a moment when Queen Elizabeth (Olivia Colman, replacing Claire Foy) meets with the privy council, Princess Anne (Erin Doherty) scoffs. "I wonder what's more dull," she quips, "having to sit through one of those meetings or having to watch it on television."
Anne's relatives roll their eyes at her snark, but as it turns out, the public largely agrees: The documentary is poorly received and the royals roundly mocked. The footage does little to paint the family as relatable; it mainly highlights how, despite appearing to do barely anything in their day-to-day lives, they remain entitled to palaces, yachts, and unimaginable fortunes.
Strangely, Season 3 adopts just as much of an exasperated tone with the royals, especially when it comes to the Queen herself. Across its 10 episodes, the season holds Elizabeth at arm's length, showing her going through the motions of her limited duties without interrogating her actions or excavating her feelings. She is sidelined for most of the installments, whether idly waiting for her sister, Margaret (Helena Bonham Carter), to pacify Lyndon B. Johnson (Clancy Brown) or chasing racehorses around the world while a rumored coup begins under her husband's uncle, Lord Mountbatten (Charles Dance). When Prince Charles (Josh O'Connor) romances Camilla (Emerald Fennell), Elizabeth is not the one who meddles and rearranges the young couple's love lives; Lord Mountbatten and the Queen Mother (Marion Bailey) are.
Read: How 'The Crown,' and its clothes, transform power
It's an odd pivot for the Netflix drama created by Peter Morgan, who ushered in the modern subgenre of Elizabethan pop culture. (Along with The Crown, he wrote the film The Queen and the play The Audience, which inspired the series.) The first two seasons of The Crown showed the limitations of Elizabeth's role, but at the same time emphasized her intelligence and her emotional burdens. She admonished prime ministers, held her own against detractors, and used her status to dazzle diplomats and manage the feelings of her husband and her sister. This balance made for a well-rounded, deeply satisfying drama. Even when the series examined others in the royal family, the episodes would still be about the way they affected the Queen.
The third season, though, seems afraid to sympathize with her or antagonize her, and so it treats her apathetically, at a remove. Yes, the sovereign should remain politically neutral while maintaining a posh, buttoned-up image—and Colman does a fine job of capturing Elizabeth's steely resolve against interfering in any drama—but the show seems to have lost interest in her as a character.
Season 3 diminishes Elizabeth and, despite being a show that's about the human behind the crown, makes her an inscrutable cipher. In Episode 6, for instance, she berates Charles for overstepping boundaries within his duty as Prince of Wales, going so far as to tell him that "no one," not the country nor even his family, cares what he thinks. But it's unclear why she's so incensed; her words don't touch on her emotions as a mother wounded by her son. The episode barely explores her worries about Charles, making Elizabeth appear to be a stereotypically callous and uptight parent rather than a complicated, compelling character figuring out how best to parent the future king.
Perhaps illustrating those facets of Elizabeth simply isn't The Crown's—or Morgan's—goal this time around. While previous chapters viewed Elizabeth through the lens of marriage, Season 3 requires an understanding of her as a mother and a woman in middle age. Rather than illuminating these aspects of Elizabeth's character through her own eyes, however, Morgan tries to do so via the series' primary male characters. If Charles serves as the window into royal parenting, Philip is the avatar for the show's depiction of the royal midlife crisis: One episode frames his anxiety over aging through the historic landing on the moon. In these hours, Elizabeth does little more than look sternly upon Charles and gaze worryingly at Philip, a stark contrast from the Elizabeth of earlier seasons.
At least by casting the queen as a supporting figure in the royal family's escalating drama, the show avoids coddling her. This way, it acknowledges her entitlement and her status as merely a figurehead of state—and in some ways, because of her curtailed role, her rare moments of vulnerability land much harder. It's devastating to watch Colman's face as Elizabeth learns of the coup, and it's tough to see her realize that she's become the scapegoat in her relatives' schemes to break up Charles and Camilla.
The finale demonstrates this best in a conversation between the Queen and Margaret. The episode, which examines Margaret's crumbling marriage, ends with Elizabeth rushing to her sister's side. As the Silver Jubilee celebrating her 25th year on the throne approaches, Elizabeth finally betrays her worries over her position and seeks Margaret's advice. "In the time I've been on the throne, what have I actually achieved?" she wonders. "This country was still great when I came on the throne, and now look. So much for the second Elizabethan Age which Winston talked about. All that's happened on my watch is the place has fallen apart."
"It's only fallen apart if we say it has," Margaret responds. "That's the point of us. Not us. You. You cannot flinch, because if you show a single crack, we'll see it isn't a crack, but a chasm, and we'll all fall in. So you must hold it all together."
"Must I do that alone?" Elizabeth asks.
"There is only one Queen," Margaret answers.
It's an excellent scene, tautly scripted and expertly acted, that delivers the show's thesis statement with an emotional wallop. Yet the character saying all of this, realizing all of this, isn't the Queen; it's Margaret. In the season's closing moments, it's someone else recognizing the queen's difficult journey for her. Elizabeth, even in that conversation, once again takes the back seat.
In this episode, she glances from her carriage at Prince Charles, who looks at her with a mixture of wariness and disdain. More drama is headed the Queen's way, and when it returns, The Crown would be wise to keep the spotlight on her.
We want to hear what you think about this article. Submit a letter to the editor or write to letters@theatlantic.com.
Shirley Li
is a staff writer at
The Atlantic
​, where she covers culture.