Carmelo Anthony's Melancholy NBA Return
After a season away, the future Hall of Famer comes back to a league that no longer has much use for him.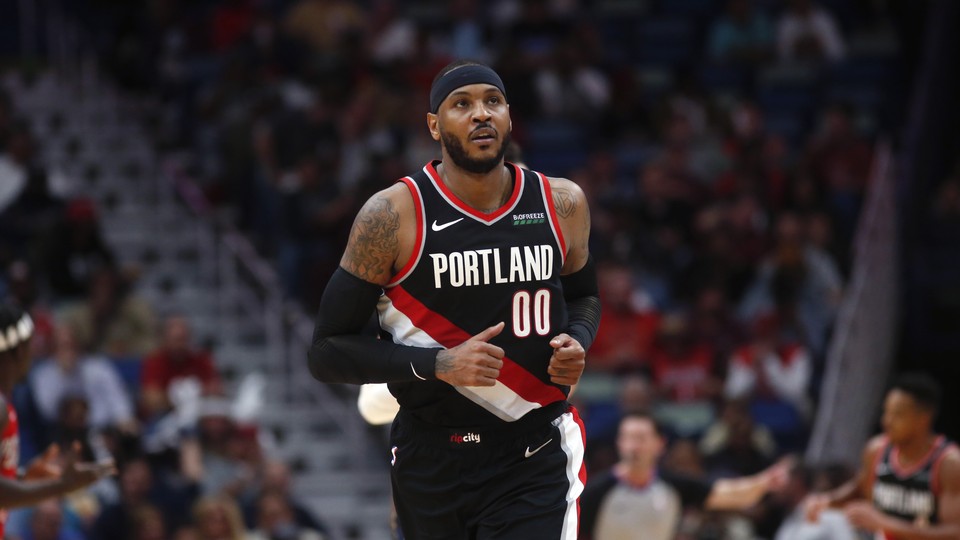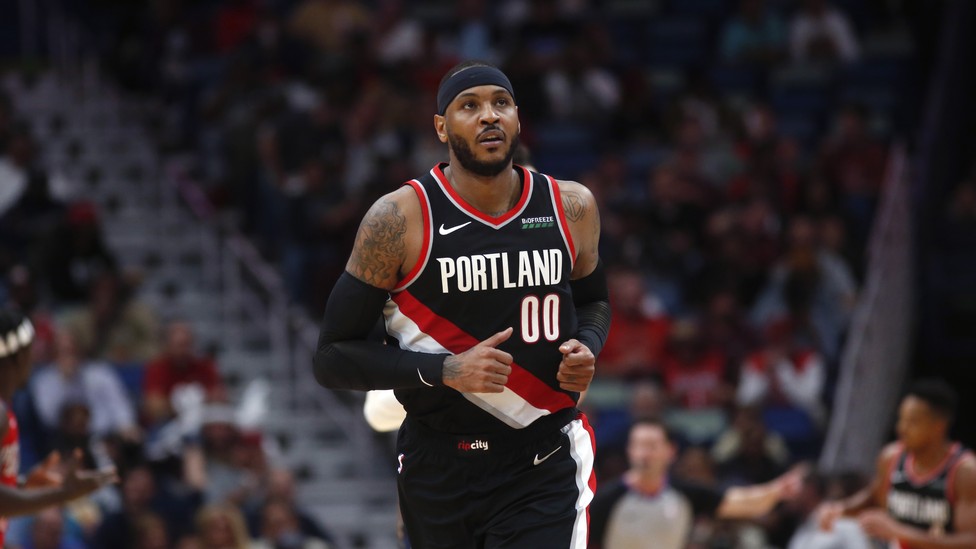 Tuesday night, after more than a year away, the 35-year-old 10-time All-Star Carmelo Anthony returned to the NBA. His absence had been due not to injury or suspension but to a belief that he's simply no longer all that useful to have around. During his last full season, with the Oklahoma City Thunder in 2017–18, he proved a poor fit, siphoning shots away from Russell Westbrook and Paul George and scoffing at the notion of accepting a bench role. His time with the Houston Rockets the following year lasted just 10 games. Despite public support from well-regarded friends like LeBron James and Dwyane Wade, Anthony couldn't find work the rest of that season, or in time for the start of this one. Then the struggling Portland Trail Blazers opted to give him a chance.
The signing "happened at a point in time in my life where I do have a lot of clarity and understanding of different situations," he said in the days before his Portland debut, which saw a rusty Anthony score 10 points on four-of-14 shooting in a loss to the New Orleans Pelicans. "You know, my approach is totally different." The comments signaled a common turn: the ex-star humbled, ready to play whatever role is offered. His words may have also suggested a desire to be re-embraced by NBA fans, to receive, in what will likely be his final season, some version of the farewell tours recently offered to Wade, Dirk Nowitzki, and Kobe Bryant.
But Anthony's late-career trajectory, from franchise cornerstone with the Denver Nuggets and New York Knicks to near-pariah, may speak to something else. Sports' byword, over the past decade, has been efficiency. Long-held truisms have given way to hard data; teams' approaches now converge around best practices. If the shift has made possible some unlikely ascents—it's difficult to imagine Stephen Curry, for example, taking over a league that hadn't yet accepted the three-point shot as a crucial tactic—it has also led to jarring reappraisals of players like Anthony, whose approaches have aged out of favor. There's a melancholy aspect to Anthony's resumed twilight; the game he spent a lifetime honing no longer works.
Anthony came into the NBA as a consummate scorer, the type of player praised throughout basketball history for an ability to get buckets regardless of scheme or matchup. In his only year at Syracuse University, he'd led his team to a national title, averaging more than 20 points in the NCAA tournament and winning Most Outstanding Player honors. He averaged 21 points per game as a rookie in Denver, during the 2003–04 campaign, and more than 20 for the next 13 years. His accolades tended toward the individual, but they were extensive. He earned All-NBA honors on six occasions. In 2012–13, he led the league in scoring.
From his preferred perch—on the wing, a step or two inside the three-point line—Anthony could put up points almost any way he liked. He had rounded shoulders, light feet, and a shutter-quick jump shot. He possessed a catalog of moves and countermoves so varied, it was hard to tell whether they were drilled or intuited on the spot: crossovers, inside-out dribbles, spins in either direction, up-and-unders, stop-and-pops. "There is nothing Carmelo can't do on a basketball court ... He's as gifted as he wants to be," Anthony's former assistant coach Phil Weber told Sports Illustrated in 2013.
But while James and Wade, Anthony's classmates in the 2003 draft, won championships, Anthony's teams tended to stall. The Nuggets advanced out of the first round of the playoffs just once during his time with them, losing to the Los Angeles Lakers in the 2009 conference finals. After Anthony pushed for a trade to New York in 2011, the Knicks made the playoffs three times, reached the second round once, and missed the postseason altogether his final four years with the team.
Early on, the purported culprit was Anthony's attitude; the Denver coach George Karl characterized him as "the rebellious young talent who wants to do it his way." Later, during a Knicks tenure that coincided with the increasing sophistication of statistical analysis, Anthony's style of play came under the microscope. His favorite shot, the long two-pointer, was understood to be far less valuable than layups and threes, and he generated few open looks for teammates; player-efficiency rating took an unkind view. "As a scorer, he's phenomenal," the analytics guru Kirk Goldsberry wrote for Grantland in 2014, "but as a helpful player within an offensive system, his virtues are less apparent."
Even a decade prior, Anthony's point-piling bona fides would likely have guaranteed him a cushy post-Knicks landing, but his stints in Oklahoma and Houston verified the league's new view of his talents. The Rockets, especially, sit at the vanguard of the NBA's new-age tactics, asking role players to shoot threes, attack the rim, or move the ball quickly; his contemplative style clashed with the system. The Houston general manager Daryl Morey put it bluntly when the team parted ways with Anthony less than a month into last season: "The fit we envisioned when Carmelo chose to sign with the Rockets has not materialized."
Presently, Anthony belongs to a growing class of professional athletes whose expertise, however substantial, is deemed obsolete. The NBA's pure wing scorer shares something with the NFL's franchise running back, another dying breed; pass-happy teams have found allocating resources elsewhere more conducive to winning. Just a short while ago, backs like Todd Gurley and Le'Veon Bell were signing top-dollar contracts. Now both are cautionary tales, unable to yield worthwhile returns.
Unsurprisingly, figures like Anthony find their most ardent defenders in their peer group, the fellow players who know how hard the job is. During the off-season, the Brooklyn Nets' Kyrie Irving and Kevin Durant reportedly campaigned for their team to acquire Anthony. When news of his signing with Portland broke, Wade tweeted, "It's about damn time," and the young All-Star Donovan Mitchell echoed the sentiment. Damian Lillard, the Blazers' point guard and leader, said of Anthony, "He's a good player, regardless of what the last few years in Houston and OKC looked like ... He's a Hall of Fame player and he can still play." The support spoke to personal allegiances—the younger players grew up watching Anthony—but also to a certain disconnect between the NBA's management class and its labor force, a distrust of the metrics that have recontextualized their value.
"It felt great to be back in the flow of the game, be back on the court, be back to where I think I belong at," Anthony said after his Blazers debut this week. It was a modest response to what will likely be a modest comeback, a year of nostalgia and occasional star-level flashbacks on a middling team; last night, he tallied 18 points, and a couple of throwback moments, in another loss. Absent a realistic hope of contending for a title, Anthony may have to settle for a more reasonable goal: to stand in for a suddenly bygone era, when sports were more straightforward and a knockdown jumper was enough.