A Beautiful Day in the Neighborhood Is More Than a Feel-Good Movie
Marielle Heller's nuanced Mister Rogers biopic succeeds by emphasizing the beloved entertainer's humanity.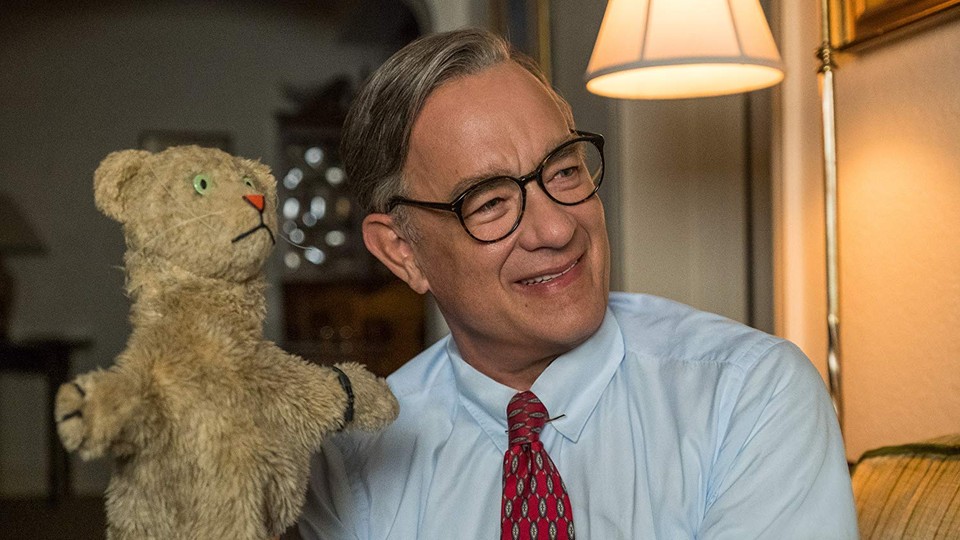 The public's reverence for the children's entertainer Fred Rogers has only increased since the release of the documentary Won't You Be My Neighbor? last year, and yet the many tributes to his saintliness leave something out. That's not to argue that Mister Rogers had some hidden dark side—he was simply human like the rest of us, fallible, subject to mood swings. He didn't magically exude decency; he worked at being decent. Marielle Heller's new film, A Beautiful Day in the Neighborhood, foregrounds that effort. Though it's not a straightforward portrait of Rogers (played by Tom Hanks), casting him as a supporting character in another man's story, the film is firmly focused on the TV host's tangible kindness rather than his celebrity.
Three films into her directorial career, Heller is displaying a skill for unconventional biopics. The Diary of a Teenage Girl (2015) incorporated animation into a vibrant live-action rendering of the artist Phoebe Gloeckner's semiautobiographical graphic novel of sex and adolescence. Can You Ever Forgive Me? (2018) was a darkly sympathetic portrayal of the author Lee Israel and her unconventional life of crime. Now A Beautiful Day in the Neighborhood approaches a legendary cultural figure from an unlikely angle, adapting a 1998 Esquire article by Tom Junod that recounted how the author's initial skepticism of Rogers developed into a close friendship. The film finds Rogers near the end of his life, considering his legacy in an entertainment world that largely dismayed him, which might be perfectly suitable material for a movie about the man. Instead, A Beautiful Day in the Neighborhood shows Rogers as a counselor and friend whose angelic aura is generated by his actual behavior.
Junod is given a new name, Lloyd Vogel, and a slightly grimmer backstory, but the broad strokes of his article are here. Vogel (Matthew Rhys), a jaded, sharp-elbowed journalist with a penchant for irritating his bosses, is assigned a profile of Rogers for Esquire's "heroes" issue. He goes into Rogers's cheerful Pittsburgh PBS studio looking for flaws he can use to build his feel-good story into something major. But the children's entertainer takes an immediate interest in Vogel, who has never forgiven his philandering father, Jerry (Chris Cooper), for neglecting him as a child. What should be a simple assignment for Vogel becomes a gauntlet of character building, as Rogers strives to help the journalist with his inner pain.
It is no spoiler to reveal that Rogers does not, in fact, have scandals buried under his floorboards. The genius of casting Hanks, a generational everyman for Hollywood whose rare cheerful reputation in the business matches that of Rogers himself, is that he brings real movie-star energy to the role. Rhys, who does wonderfully nervy, raw work as Vogel, communicates a sort of involuntary awe when he actually meets the man he's profiling—the last thing a hard-nosed reporter would want to project.
Hanks doesn't just convey the otherworldly charm of a celebrity, though. He also portrays Rogers as a person: sometimes cloying, folksy to the point of satire (he travels around with the animal puppets he uses on set), and yet deeply insightful. Rogers gazes at Vogel with laser-focused empathy, gently demanding that he open up. A Beautiful Day in the Neighborhood is framed as a surreal faux episode of Rogers's show, in which the host promises to teach the audience about anger by talking about Vogel. This re-creation of Mister Rogers' Neighborhood is sweet and a little strange, which is exactly the mix of moods Heller tries to summon anytime Rogers is on-screen.
Heller's deft touch is what makes the movie succeed. The script, by Micah Fitzerman-Blue and Noah Harpster, is lovely but modest—a tale of Vogel's personal redemption and self-improvement that could easily come off with the sappiness of a Hallmark special. But Heller has never been afraid to emphasize the melancholy that can underlie a joyful moment, and Vogel is an ideal hero for her to take on: He has a comfortable life with a newborn child and a supportive wife, Andrea (Susan Kelechi Watson), but can't stop picking at the grimmer details of the world. Heller demonstrates that Rogers is teaching Vogel not how to be happy, but how to understand sadness—a message about embracing emotion that was crucial to the show. That nuance makes A Beautiful Day in the Neighborhood a much more rewarding watch than it could have been. It's a sincere, measured, and clever homage to its subject, a work of storytelling that would have made Mister Rogers proud.