The Haunting Senegalese Love Story That Stunned Cannes
The Grand Prix–winning Atlantics, set to stream on Netflix later this month, deftly melds fantasy and romance in a complex portrait of migration.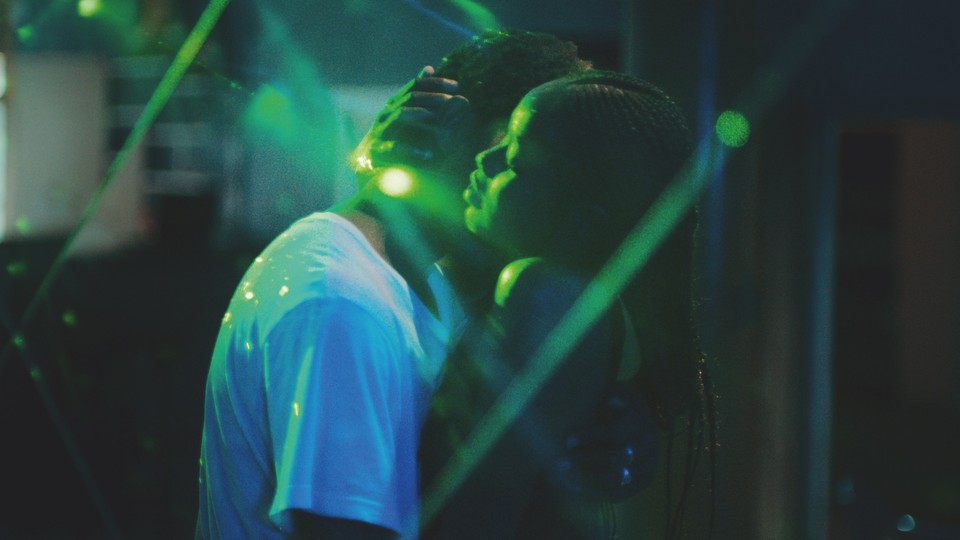 In Atlantics, the Cannes Grand Prix–winning film by the French-Senegalese director Mati Diop, the water is both a threat and a source of comfort. With soft camerawork and pointed dialogue, Diop casts a shadow over the sea and all its possibilities. In a scene near the movie's end, the dusky-pink sky hangs over a long shot of ocean waves as one of the protagonists whispers a mysterious voice-over to the lover he was forced to leave behind: I felt your weeping dragging me to shore.
A drama of palpable yearning and astonishing grace, Atlantics follows Ada, a 17-year-old girl living in the suburbs of the Senegalese capital of Dakar. Though she's set to marry a rich young man named Omar, Ada is in love with Souleiman, a poor construction worker. In the opening scenes, Souleiman and his fellow laborers, who haven't been paid for the months they've spent building a futuristic tower, decide to set sail for Europe in search of other work. But Souleiman never abandons Ada. Diop renders their relationship, along with the many barriers they face, with compassion and unlikely mysticism. Crucially, Atlantics upends the stark realism with which many migrant narratives are told: There is no documentary footage spliced in, no ominous cuts to the strife that awaits Souleiman and the other men in Europe. The result is a transportive love story with an undercurrent of social critique that manages to be at once haunting and hopeful.

The Cannes prizewinner joins the Nigerian drama Lionheart and the Malawian biopic The Boy Who Harnessed the Wind in Netflix's ever-expanding slate of African films. (Atlantics will open in select theaters starting Friday, before landing on Netflix on November 29.) With dialogue in Wolof and French, the movie represents a milestone for Cannes: Diop is the first black woman director to compete at the festival, and Atlantics is her first feature. The filmmaker, who wrote the screenplay with Olivier Demangel, also happens to be the niece of the late Senegalese cinema legend Djibril Diop Mambéty. Fittingly, she has spent much time considering the distortion of the continent in images that proliferate through Hollywood and in European film. "As a mixed girl, born in Paris but also coming from Senegal, I'm very aware of how Africa was dispossessed of her own story, image, representation," she told Vulture recently. "There's a permanent tension between how I think Africa is and should be represented and how I know it's seen from the exterior."
Diop's knowledge of these imbalances, and the historic nature of her Cannes entry, doesn't translate into a didactic film. Atlantics isn't preoccupied with dispelling stereotypes. Rather, it is bracing in its narrative specificity. Ada (played by Mame Bineta Sane) and Souleiman (Ibrahima Traore) steal quiet moments with each other, trading jokes and small gifts, before the latter leaves Senegal. Diop homes in on the connection between the two with an approach that's intimate but never voyeuristic. When separated from Souleiman, Ada is the constant focus of Diop's atmospheric camerawork. In some moments, Ada stands against a backdrop of neon-colored strobe lights and looks ethereal; in others, she walks across dusty Dakar streets without disappearing into a haze.
With its clever melding of fantasy and romance, Atlantics tells a prismatic migration story. It joins some other recent works by African artists contemplating migration by experimenting with form. For example, the Eritrean, Puerto Rican, and African American poet Aracelis Girmay wrote The Black Maria, a book of "elelegy" that connects the stories of those who have died at sea across time and space. The director Manthia Diawara's migration epic, An Opera of the World, combines traditional Malian music with operatic staging. Like these works, Diop's Atlantics dramatizes the distances that Africans traverse, and how they do it—but it does so by introducing a compelling supernatural conceit. When Souleiman later reappears in Ada's life, he doesn't do so alone, or even as the same version of himself. Without spoiling too much, his return is an evocative twist that captures just how omnipresent departed loved ones can be. For Ada, and for viewers, Souleiman is in the air.
Still, the journey changes him. After Souleiman returns, Traore plays his character with restraint while allowing certain emotions to come through; subtle changes in his movements indicate an essential shift in the character without sacrificing the clear affection he felt for Ada at the film's outset. It's a delicately balanced portrayal, one that eschews rigid presentations of masculinity. Sane at first plays Ada with youthful mischievousness and then, gradually, with more solemnity. Even before the bleak story turn arrives, Ada recognizes part of the fate she's destined for—and that which awaits many of the young women around her.
Diop noted in her Vulture interview that both lead actors were first-timers. Traore was a construction worker by trade, and Sane was a girl who had quit school and planned to marry. Their affinity for Ada and Souleiman is obvious, as is Diop's appreciation of Senegal itself. The country—its waters, its architecture, and its people—is as much a character as the individuals whose stories propel the film. The camera doesn't ever look away from Senegal's mainland, except to gaze out onto the water. Europe exists only as a hypothetical in Atlantics, as an abstraction meant to hold the workers' hopes and frustrations.
In focusing on Ada's experience of Souleiman's departure and the gaps created by his absence, the film organically levies a sociopolitical critique: People who leave home in search of economic opportunity do so at great personal cost, and only when they've been robbed of that opportunity in familiar territory. Often, the movie argues, such decisions are necessitated by the actions of those who wield more power. In Atlantics, the wealthy figures who withhold wages are eventually confronted with the injustice they've wrought. The sharper notes of the film—those pointed at greedy elites in Senegal and beyond—exist harmoniously alongside the more romantic and fantastical elements, though. Diop makes her social analysis inextricable from the ghost story: It's an affecting choice, and like Souleiman, Atlantics lingers long after its final moments.