The Great British Baking Show's Technical Challenges Are a Scourge
Over several seasons, they've evolved from a basic skill assessment into a meandering tour through Europe's most arcane pastries.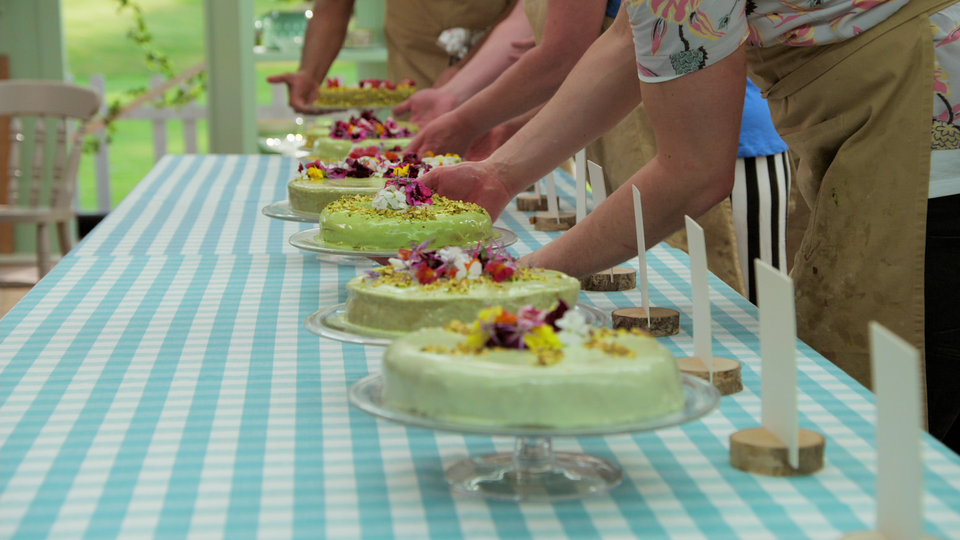 Once upon a teatime, The Great British Baking Show was a baking competition. Contestants gathered in a big, unfailingly over-warm tent, clad in their Marks-and-Sparks separates and their greige aprons, awkwardly enthusiastic about being on television but entirely committed to proving themselves as Britain's best bakers. Mary Berry still had glasses. Paul Hollywood still had pigment in his hair. For the technical challenges that make up the second act of the show, contestants were required to make nothing more complicated than a perfect scone, a whisper-light soufflé, or a precisely balanced Cornish pasty.
Those days are long gone. Mary has been replaced by Prue Leith, a genteel home-cooking guru with an acid trip of a wardrobe, all primary colors and 23rd-century neckwear. Paul has metamorphosed into a divorced dad's interpretation of the Night King. And the technical challenges have become the Finnegans Wake of cookery competitions: obscure, devilishly challenging, and almost impossible to finish. Have you ever made a maid of honor? You know, the puff-pastry tart filled with cheese curds and beloved by Henry VIII that's a typical part of every home cook's culinary repertoire? How about a puits d'amour? Or a laufabrauð? Maybe a Cumberland rum nicky? Or 14 identical Æbleskiver?
Technical challenges, ideally, serve a purpose, and that purpose is establishing a baker's practical skill. Cooking allows space for imagination and ad-libbing, but baking is based on precision. You have to master the rules before you can confidently break them, which is why timed tests of a contestant's ability to dispatch—with only minimal written guidance—a treacle tart or an English muffin offer some sense of that baker's general aptitude. Half of The Great British Baking Show (known in the U.K. as The Great British Bake-Off) is about imaginative whimsy: recreating a bachelor party with five different kinds of biscuits, rendering a Turner-esque storm scene out of meringue and gooseberries, or daring to prove Paul wrong about matcha. But the other half is about simple execution. The person crowned (cakestanded?) as Britain's best amateur baker should, the theory goes, be able to whip up a Victoria sponge or even a focaccia without cracking under pressure.
As seasons of the show have come and gone, though, the technical challenge has evolved from a basic skill assessment to a meandering tour through Europe's most arcane pastries. This isn't because the various series have cycled through all the routine baked goods already and want to avoid repetition—note, if you will, the notorious second appearance of pita bread. (More on that later.) Instead, the decision seems to have been made to inject drama into The Great British Baking Show by perplexing contestants to a maximal extent. Why else would producers demand that bakers perfectly create dishes they've never seen nor eaten, and would struggle to even spell? Like dampfnudel? Or flauones? Or Spanische Windtorte? Or torta setteveli?
The trend, as far as I can trace, dates back to the fifth season of the show in 2014, when Nancy Birtwhistle, a grandmother of eight from Lincolnshire, paved her road to victory with plum braids, breakfast baklava, and fennel thins. That year, the technical challenges started simply enough, with cherry cake, florentines, and ciabatta. But by episode six (which fell, coincidentally enough, on "Continental cake week"), the judges demanded that contestants produce, with only the sparsest of recipes, a Swedish princesstårta. As the challenge was read out to the bakers, Nancy's mouth gaped. Chetna looked as though she suspected a prank. Martha started giggling: "I've never heard of it, never seen it, never eaten it." "My heart is beating," Kate said. "Not a clue," Richard confessed. (Lovely Richard.) "Not a Scooby Doo."
The bewilderment afflicting the bakers seems to have struck a chord with one of the more sadistic of the show's producers. The following week, the contestants were asked to make a kouign-amann, an obscure Breton cake that's a bit like a baked cronut. Then, in week eight, the technical challenge was to make a povitica, an Eastern European confection of yeasted dough, walnuts, and vanilla. The ninth week's task was a schichttorte, a 20-layer German cake with a chocolate glaze. From then on, technical challenges mostly abandoned the humble coffee cake or fruit tart in favor of a melange of specialties: ma'amoul, pasteis de nata, marjolaine.
All this capriciousness culminated in the show's worst moment to date, an event described by Eater as "a stain on its otherwise perfect legacy." In the finale of Season 9, by which point The Great British Baking Show had already disrupted its format by moving from the BBC to Channel 4 and bringing in Britain's most genial goth as a host, the three remaining contestants were taken outside for their technical challenge, where they were told to … build a fire. The task at hand was camp-fired pita breads with homemade baba ganoush, and every element of the meal would depend on the integrity of the flames that the bakers were able to muster. It was stunt television at its worst, made even more tortuous by the unusual English heat. "This feels like hell," Ruby said. Rahul's garlic caught aflame. When the judges finally came to make their assessments, Paul disdainfully commented that one of the pitas was "a bit charred," as if he hadn't just demanded that the three bakers cook with actual fire.
The show might have moved on from a debacle we'll call The Great British Flameout, but it hasn't abandoned the idea that technical challenges should be as cryptic and as unfriendly as possible. The most recent season, which has aired weekly on Netflix in the U.S., has required bakers to make the aforementioned Henry VIII–approved curd tarts, verrines, and beignets souffles with a side of sabayon—with, it should be noted, just six instructions and 90 minutes for the beignet-sabayon combo. The theme that week was "Roaring '20s," a decade associated less with baked goods than with jazz, hedonism, and the total collapse of the global financial order. The whole episode, with its Prohibition-inspired cake and double elimination, was so nonsensical that the most generous assumption would be that the producers forgot to pick a theme, got drunk, and then happened upon an episode of Boardwalk Empire or Peaky Blinders.
What does it matter? Not much, in the scheme of things. The bakers still bake and the judges still judge, even if the ghost of Campfire Pita hovers over the tent, shedding ash and dreams. But something has been lost in the fiendish goal of perplexing the bakers—and the audience—in the service of TV drama. Without a real opportunity to judge the contestants' techniques, Prue and Paul are essentially rewarding only creativity, not practice and craft. I'd love to see a technical challenge that involves making a perfect macaron: the true test dividing casual amateur bakers from die-hard enthusiasts. Or a seeded sourdough. Or even a simple croissant.