Phoebe Waller-Bridge's Refreshing SNL Monologue
The first-time host, fresh off an Emmy sweep for Fleabag, provided a welcome shot of cheeky social commentary on an otherwise uneven episode.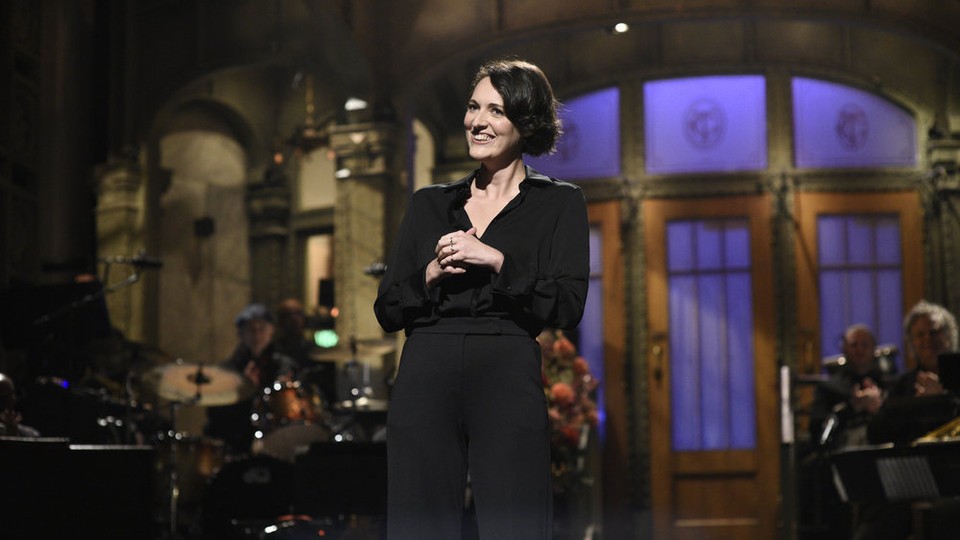 During its season premiere last week, Saturday Night Live trotted out celebrity guests and ex–cast members to jazz up its familiar formula. In the episode's cold open, Alec Baldwin's Donald Trump blustered about impeachment proceedings; relief for the president (and for viewers) arrived in the form of the Showtime character Ray Donovan, a fixer played by the actor Liev Schreiber. Last night's episode, which again began with an impeachment-focused sketch, traded Schreiber for a different guest—Matthew Broderick, in the role of a laissez-faire Secretary of State Mike Pompeo.
As Pompeo, Broderick offered a breezy counterpart to Kate McKinnon's histrionic Rudy Giuliani and Beck Bennett's overwhelmed Mike Pence. "The other thing that we could do is just flee the country. There's a whole list of countries that would love to have us: North Korea, Saudi Arabia. End of list," Broderick noted midway through the sketch. (More compelling, though, was his tugging on some nostalgia strings as he exited, remixing a famous Ferris Bueller's Day Off line: "Impeachment moves pretty fast. If you don't look around, you might miss it.")
Indeed, the best moments of the night were the lines that felt most playful—and self-aware. As the episode host, the writer and actor Phoebe Waller-Bridge spent much of her opening monologue speaking about the exhilarating success of her Amazon series Fleabag, which racked up several trophies at last month's Emmys. She began by noting that people always ask if she's like the titular character, whom she describes as "sexually depraved, foul-mouthed, and dangerous." Taking a beat, she continued: "And I always have to say to them, 'Yes, you're absolutely right.'"
Of course, Waller-Bridge knows that Fleabag has been a massive boon to her life, but her monologue was more than a post-awards victory lap. She also provided welcome character analysis that bled into cheeky social commentary. "Fleabag came from a very personal place for me. It began as a way to get Andrew Scott to dress up as a priest and tell me that he loved me," she joked, then turned her attention to the larger phenomenon that Scott's character had inspired. "I call the character 'Priest' in the script, but everyone started calling him 'Hot Priest.' Obviously Andrew is hot, but this 'Priest' character caused such a horn-storm. Andrew and I were trying to figure out what it was about him that was driving women so mental. And we boiled it down and realized, it was because he was doing this one thing: listening. Really, really listening. Try it, guys." Returning to her point about Fleabag's lasciviousness, Waller-Bridge encouraged the audience not to neglect their genitals: "Back in the day, horny women were to be feared, and now they're given Emmys."
Fleabag was originally written as a one-woman show, so it's not surprising that Waller-Bridge would deliver a satisfying monologue. But she also enlivened several sketches, deploying both highbrow and lowbrow humor. In the best skit of the evening, she played a wife corresponding with her pilot husband (Mikey Day), off fighting in World War II. Day's character wrote a lengthy, descriptive, affection-filled note to his wife, but when the camera cut back to Waller-Bridge, she was stoic and curt: "Dear William, thank you. Love, Lydia."
The sketch escalated predictably at first, with William growing frustrated that his wife didn't seem invested in his well-being, emotionally or otherwise. But soon, Lydia revealed that she's embroiled in a social circle that includes none other than Adolf Hitler. Waller-Bridge effortlessly shepherded her character from marital listlessness to reprehensible excitement. The bit was fertile ground for the actor, whose sociopolitical savvy and deft emotional projections came together neatly. With its slow turn toward inanity, the sketch also satirized the romantic tolls of war and the ease with which dissatisfied citizens can be ensorcelled by demagogues.
The most absurd sketch of the evening, meanwhile, saw Waller-Bridge playing a contestant on the frothy British dating show Love Island: "Bellarosa," a woman from Essex with conspicuous lip injections. ("I asked the doctor for an allergic reaction," she said with a wink.) The sketch gave Waller-Bridge room to play around with airy material, and she marked her character's send-off with a believable nod to Love Island's true engine: "I'm absolutely gutted," she cried, before seeing a notification on her phone. "Are you joking? 1.2 million Instagram followers? Well, I don't have to be a stupid pediatric nurse anymore, do I?"
The Love Island sketch may have been most entertaining to viewers who've already seen the show. Still, last night's SNL was at its strongest when it veered away from predictable political theater. Even with Broderick's Buellerisms, the cold open felt like a slog. So, too, did a "Weekend Update" segment featuring McKinnon as Senator Elizabeth Warren. The dispatch peaked when Warren addressed the recent Jacob Wohl hoax: "Any man younger than me by more than one day is my grandson, but part of that is true. I am into BDSM: Bank Destroying and Saving Medicare, woo woo!" For all the comedic material that this impeachment news cycle and election season present, it's curious to see the show fumble its many opportunities to improve upon its routines. The 45th season can't survive on BDSM jokes alone.