When Music's Sad Boys Chase Happiness
Male angst has dominated pop history. But something feels different with artists such as Rex Orange County, Hobo Johnson, and Chris Farren.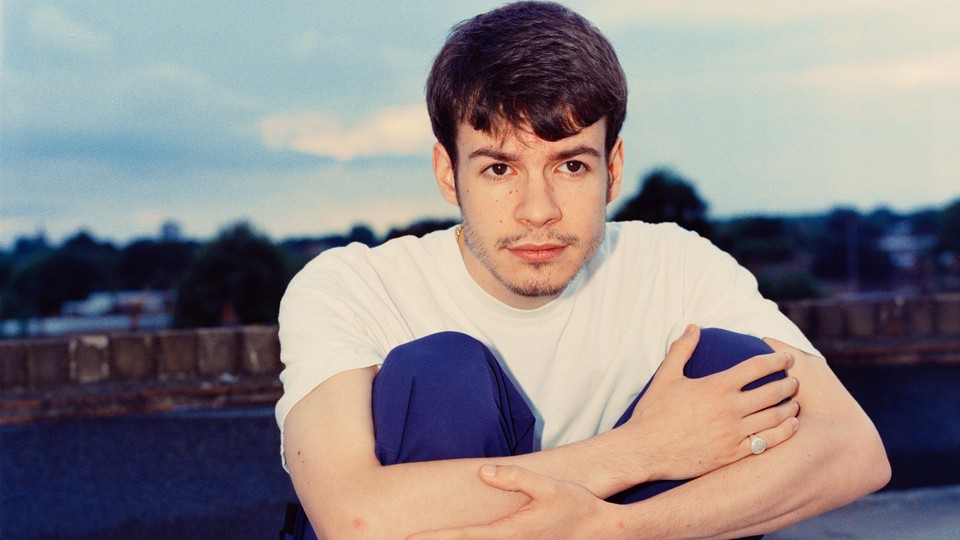 In the recent anthology It's Not OK to Feel Blue (And Other Lies): Inspirational People Open Up About Their Mental Health, the musician James Blake wrote about the particular feeling of being straight, white, male, and sad. His point, he wrote, was "not to make anyone feel sorry for me, but to show how a privileged, relatively rich-and-famous-enough-for-zero-pity white man could become depressed, against all societal expectations and allowances." He understood that he'd been born lucky—but also felt that him knowing his luck, and everyone else knowing it, only compounded his mental-health struggles. The "normalized stigmatization of male musicians' emotional expression in the media," he added, made him feel like "the 'Sadboy Prince and the Pea.'"
It was a thoughtful and well-intentioned essay. As Blake noted, white men face worrying rates of suicide and well-documented stigmas against asking for help. But the cultural context regarding some of Blake's assertions is complicated. In music history, are men dismissed for showing emotion? Does society really not want to hear about or understand white male depression? The mega-fame of Kurt Cobain, Leonard Cohen, and so many other morose stars would seem to say otherwise. So would Blake's best-selling, bummed-out songs. There's in fact a case to be made that white male angst is one of the most celebrated of all emotions in popular music.
Blake's essay was not denying this track record, per se. Rather, it seemed to crystallize what's new about today's "sad bois," a trending term that Blake understandably finds stigmatizing (you can also spell it "sad boys," though that can more specifically refer to a rap clique affiliated with the trend). Rock and roll's tortured icons have generally written about emotion in existential terms, with directionless anger and self-loathing so profound that it seems to reflect some state of the soul. Men crawl in their skin, nest in salt, and befriend darkness. That dramatic, cathartic mode certainly still exists. But Blake's essay pointed to a less fatalistic, less poetic take on sadness.
It spoke the language of psychiatry—"my persecution complex turned into a self-serving narcissism"—and of causes and effects: "I picked up a resentment towards other people from school." It was steeped in social-justice discourse, with references to the "mental force field of whiteness" and acknowledgments that "any person of colour or member of the LGBTQ+ community" had likely suffered more than he had. The bottom line: "Everybody is entitled to pain, no matter how perceptibly or relatively small that pain is." Implied was that through opening up about that pain, it would be possible to feel better.
You could hear flashes of this approach on Blake's recent album, Assume Form, in which his famous gloom and mystery suddenly included elaborate thanksgivings to his girlfriend, Jameela Jamil, for teaching him vulnerability. You can also hear the approach in other rising artists' work across various genres. The ever-more-popular embrace of therapy and a medicalized view of depression may represent a shift less in which male emotions are "allowed" than in the way they're expressed. Men in popular music these days do not so much, as before, give the appearance of uncorking something bottled up. Rather they ramble out their emotions matter-of-factly, with hope for recovery and admiration (sometimes worship) for those who've supported them.
---
Pony, the charming third album from Rex Orange County, offers an example of this. The 21-year-old British singer enjoyed a breakout turn on Tyler, the Creator's Flower Boy in 2017 and has since performed with Randy Newman. Those collaborators speak well to Rex's sound: a rap-influenced take on the more childlike '70s singer-songwriters. But Newman has often been sardonic, and Tyler has often been fanciful. Rex is earnest and down-to-earth as he spins brambly guitar lines and employs his cute, creaky voice in conversational ways. The novelty is in his lyrics. They're incredibly straightforward and breezy, even as they're discussing sadness.
"10/10," the lead single from Pony, sees Rex setting goals for his next year with the eagerness of a career counselor. It's simple: He wants to move from a "5" rating on the happiness scale to a "10." A metronome keeps time in the manner of a bubbler in a fish tank, and Rex's sing-talking seems to putter and swirl. One verse hopes for a healthy adjusted future of "placing memories into frames / invitin' people 'round to stay / and always owning up to things." He even seems to acknowledge privilege: "I guess it all depends upon the people you choose and where you're from / If so, I've been so lucky, so far, it's outrageous." Stevie Wonder–esque keyboards waggle along, and Rex's guileless determination will easily win over listeners.
It's telling that "10/10" renders contentment in terms of numbers. Sadness and happiness are cut-and-dried things in Rex's music, and the main drama is in hearing one emotional state move to another as folksy arrangements thicken up with lounge-band horns and strings. Unlike his female contemporaries who are taking on mental health, Rex exhibits neither defiance nor swagger in this process of reaching for okay-ness. (By contrast, the opening line of the new album by the rising star King Princess goes: "Nobody told me to sit down and shut up and take this shit slowly.") Instead, with Rex, there are low-level male anxieties: One song has Rex admitting he "didn't have the balls" to be honest, and on another he frets that he's expected to be "the great protector." The slogan "It Gets Better," initially coined to comfort anxious queer kids, recurs. Frequently, he describes asking for "help"—and it typically comes from a woman he loves.
Indeed, for all Rex's seemingly anti-machismo openness, un-angry angst, and optimism, there's also something familiar about the love songs here. Older tracks in Rex's catalog, like 2016's "A Song About Being Sad," boiled down the caricature of the toxic "nice guy": Rex was not only hurt by a woman's rejection, but also offended by it, and begged other men to stay away. There's nothing so nasty on Pony. Instead he repeatedly thanks women for lifting him up when he's been in "baby boy" mode, totally abject. "I cry in front of you / And it's very necessary, babe," he sings, and the vulnerability he speaks of is touching. But it'd be nice to hear him regard the other gender as something other than either betrayer or support blanket.
---
The broader "sad boi" trend has, in fact, been defined almost as much by emotion as by a possessive attitude toward women. Few boys have been more scrutinized on this front than Hobo Johnson, who has the makings of the next great superstar-slash-argument-starter. The 24-year-old  Sacramento rapper drew millions of views with a backyard performance shot as an NPR Tiny Desk audition in 2018. His second album, The Fall of Hobo Johnson, arrived in September. All along, critics have argued that Johnson's freak-outs over unrequited love—"I'm going to be alone forever!" he cries on one song—fit with a cultural trend of seeing women as emotional suppliers rather than as people. But part of Johnson's appeal is that his writing blurs the lines between pure neediness and mere goofy-cute flirtation. "She makes my Mondays feel like Fridays," he raps. "She makes my Ruby Tuesdays taste like Benihanas."
The other part of his appeal—and backlash—is his sound. He's so grating as to be memorable, with a delivery that's always on the verge of a giggle, kind of like The Joker. He's also very frank and very clever about feeling bad but wanting to feel better. "Calm to me is unsettling," he gasps on his latest album opener, explaining both his emotional state and his music's pumped-up twitchiness. Often, he'll make fun of macho ideals: "My clique orders club salads / And look like they all sing ballads," he says on "Subaru Crosstrek XV," That song is a rejoinder to hip-hop boasting in line with the hit satires made by Macklemore, an artist he'll inevitably be compared to. Though Johnson is multiracial and working in an era when rappers ever more routinely discuss mental health, the touchstones he brings to mind are largely white, including the genre-hopping 21 Pilots and the frat rappers of the early 2010s.
The 21 Pilots vibes are most pronounced when Johnson writes an anti-suicide song, like that band did on its last album. "Have you heard the story of the guy who decided not to die?" Johnson asks through robotic vocal manipulation on "Sorry, My Dear." Amid morbid fantasies, he goes on to say he feels "sick," but it's like "a cough, or a cold, or a flu"—a view of depression as a passing condition and not an untreatable wound. The music coils and then explodes with drums and guitar, lending strain and excitement to the decision to stay alive. It's an inversion of the suffering-worship behind '90s and 2000s nu metal, but also an embrace of that genre's theatricality. It's the mosh pit as therapy—which is to say, it's the mosh pit that acknowledges what it's always been.
---
Feeling both fascinated and unsettled by Rex Orange County and Hobo Johnson has me reconsidering some of the vulnerable male fare I've gravitated to over the years. Is a rising generation just arriving where nebbish indie rock has been all along? The great new album Born Hot by Chris Farren feels like a useful comparison. Since 2007, the 33-year-old Farren has been in two critically acclaimed bands, Fake Problems and Antarctigo Vespucci, and Born Hot is his third solo record. His sound recalls The Cars and Weezer and The Thermals with its catchy keyboards, jaunty rhythms, and fuzzed-out, hummable guitar solos. Again and again, he grapples with mental health in the artfully blunt, self-help-steeped style that seems common now.
"It took so much of me to lift my body up today," Farren says in the opening verse of Born Hot's opener, "Bizzy," and a few songs later he sings of a "sharp left turn to depression." All along, the music cuts against his sentiments, preening and pogoing and strutting in the manner of '60s ad jingles and Burt Bacharach. Farren's delivery is wry, and in a weird way he's similar to Rex and Johnson in that he always comes off as singing through a smile. He's also extremely funny and specific, like when he describes "panicking in the Starbucks in the Target across the street / Wishing I was someone else / Or just myself with a slightly nicer body." Lovers and friends are saviors to whom he is constantly professing gratitude: "Thank you to the ones who open up the windows."
But note the particular metaphor: The saviors "open up the windows" to a wider world. That seems key. Blake's and Rex's and Johnson's admirable honesty sometimes creeps toward solipsism, implying that there is a man's inner life and then there is everything and everyone else. Farren's diaries of his attempts to feel better are filled with other people who, he recognizes, have interiority. He sings of reaching out to someone who's going through their own problems—"You've been in the shower for longer than an hour /  The water's freezing cold  / But you just need some time alone." He crafts melodies in a bittersweet zone, and asks, per one song title, "Does the Good Outweigh the Bad?" This freedom to live in between, to strive for happiness and be honest about sadness and be defined by neither, may be what "destigmatization" really means. And being able to not only accept the empathy of others but also give it back is a breakthrough that, for some, is still to come.