The American Sitcom Queen Behind Peaky Blinders
Caryn Mandabach spearheaded such prime-time comedies as Roseanne, The Cosby Show, and 3rd Rock From the Sun. Why is she now making a gangster show in the U.K.?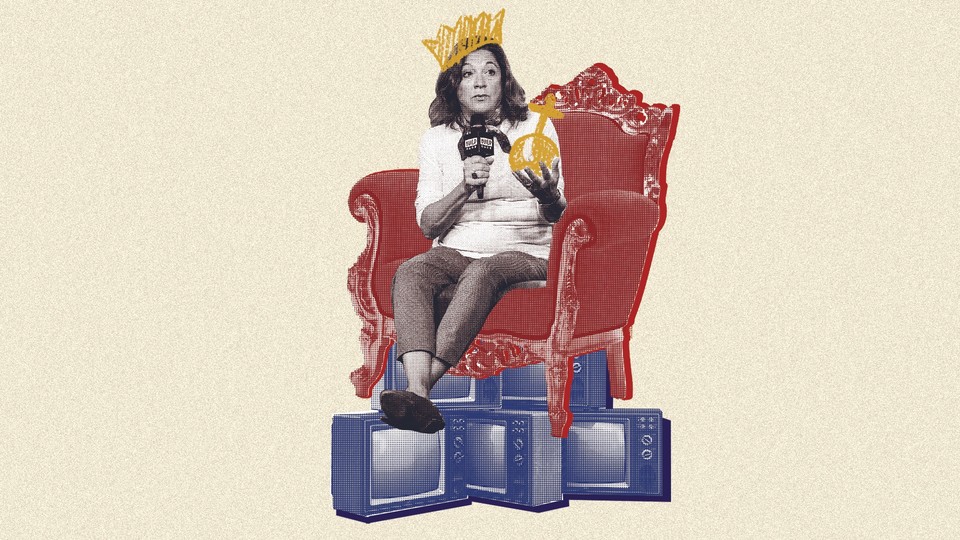 During the 1980s and '90s, Caryn Mandabach was the sitcom producer with the golden touch. The shows she spearheaded read like a greatest hits of American comedy: Roseanne, The Cosby Show, Cybill, Grace Under Fire, 3rd Rock From the Sun, That '70s Show. Working for Carsey-Werner, an independent production house with uncanny success, Mandabach helped preside over a remarkable revival of the genre, becoming a full partner in 2001. Between 1983 and 1984, only one half-hour comedy, Kate and Allie, was counted among the top 10 rated shows in America. By 1988, the top three shows in the country were all sitcoms—The Cosby Show, Roseanne, and A Different World—and Carsey-Werner owned them all.
And then money got in the way. Deregulation in the American television industry created a harsher environment for independent producers, as the big four networks were freed to create all their own prime-time shows. Or, as the gangster Alfie Solomons (played by Tom Hardy) memorably explained in Season 4 of the BBC show Peaky Blinders, "Big will fuck small." In an unprecedented career move, Mandabach left the United States in 2005 and moved to Britain, where she hoped to find new shows she could still own a stake in. Peaky, which arrived on British television screens eight years later, is her stand against the hegemony of the giant TV corporations.
The move was, she told me in a lengthy, profane, very entertaining interview this summer, "a weird, giant leap." She didn't know anyone in London. She had an affinity for British comedy—she boasts that she gave Jesse Armstrong (the creator of Succession) his first job in TV, adapting an ill-fated U.K. version of That '70s Show—but not much else. She had faith, though, and more importantly, resolve. Mandabach, the Peaky Blinders writer Steven Knight told me, is "one of those people who says things and says things until they're true. She makes them true."
On its face, Peaky Blinders wasn't the most obvious project for Mandabach to will into existence. The story of the Shelbys—a family of gangsters from Birmingham in the British Midlands in the period following World War I—is defiantly, aggressively British. Not in the PBS-enshrined, plummily accented, gilt-and-gentility mode that Mandabach describes as "Brand Britain." Rather, Peaky Blinders is all flattened vowels, tweed newsboy caps, and unadulterated masculinity. Its central gang, known for the razor blades its members stash in their headwear, is troubled and supremely violent. The show's signature recurring shot depicts the Shelby family swaggering in slow motion to anachronistic rock hits by Jack White and the Arctic Monkeys.
And yet when Knight first pitched Mandabach his idea, in the café at London's Royal Festival Hall where she took all her meetings, she saw something she knew. "Like Steve Knight, I have a vague gangster background," she told me. "But only vague." Mandabach grew up in Chicago in the 1950s and '60s, where her father was an inveterate gambler who she says got in so deep with the mob that he was forced to fake his death and disappear to the Philippines for 10 years. She was, she said, "raised by wolves," which is what she insists set her up for a career in show business. In Birmingham, a much-maligned industrial city 100 miles northwest of London, she saw echoes of Chicago, America's perennial Second City. And in Peaky's Tommy Shelby, played by Cillian Murphy, she saw an antiheroic character more in the American dramatic mold than the prototypical British hero. While Brits tend to do grand "state of the nation" storytelling, she said, Americans do "state of Walter White's head." Peaky is all about Tommy's psyche, and how repressed emotions in male communities tend to manifest as violent behavior.
Peaky's first season attracted an average of 2.4 million viewers per episode in the U.K., a respectable draw for a series on BBC Two, the corporation's more "highbrow" channel. (For the show's fifth season this year, it was moved to the nation's flagship channel, BBC One, where the finale pulled in more than 4 million viewers.) But when the first two seasons arrived on Netflix late in 2014, the show started drawing a cult following. The rapper Snoop Dogg, Mandabach said, was "our first fan love letter." David Beckham was already a fan. Steven Spielberg and Stephen King expressed their enthusiasm. So did Tom Cruise, Julia Roberts, and A$AP Rocky. Peaky has a big fan base in Uruguay and Saudi Arabia, Mandabach says. The series' international acclaim via Netflix has affirmed that Mandabach's gamble was worth it. But the circumstances that led her to leave the U.S. have had a broader impact on TV as we know it.
---
Mandabach is funny, outspoken, prone to outbursts of imaginative cursing, and an ungovernable storyteller. After 15 years in the U.K., she still sounds resplendently American, but her speech is disarmingly littered with anglicisms like flat and university. "When you say her name, people smile," Knight said. "Because she's one of those people who's quite eccentric and very persistent." Helen McCrory, who plays Aunt Polly on Peaky Blinders, describes Mandabach as "warm, funny, hard-working, and barking mad." When McCrory arrived on set for the first time, full of reservations about playing what she worried would be a humdrum supporting character next to the ebulliently criminal men, Mandabach pulled her aside and said simply, "Don't worry. This is going to be terrific. That's your trailer." Mandabach also sends McCrory gifts of jewelry when she particularly loves her work. "I literally look like Aunt Polly now," McCrory told me. "I'm covered in rings and shiny ornaments."
Mandabach's early career runs like a who's who of entertainment. In college at Washington University in St. Louis, she took a year in England studying theater where she worked as an assistant for the legendary director Peter Brook. "I got him tea for the whole production of The Tempest in Manchester," she told me. "Anybody got anything cooler than that? No? Okay." After graduation, she was hired by Norman Lear as an associate producer on One Day at a Time. Her first series after joining Carsey-Werner in 1983 was Oh Madeline, an adaptation of the British sitcom Pig in the Middle starring Madeline Kahn. Then, in 1984, while heavily pregnant with her second child, Mandabach moved to New York to work on The Cosby Show, a city where, she says, practically no one had filmed a TV show in decades.
Mandabach, like many people who worked with Bill Cosby, said she never knew about any of the sexual assaults he was later accused of. "I knew nothing," she said. "As much respect as could have been given there was given to me. So it was obviously a shock." The entertainment industry, she thinks, tends to enable pathological behavior. "There's nothing more to say than how sad. How sad for the victims."
The Cosby Show was devised using a simple principle that Mandabach has adopted throughout her career: Look for what's not there. In 1984, there were no portrayals of middle-class black families on television. In 1988, when Roseanne debuted, there were no TV shows about working-class women. Third Rock From the Sun came from a desire to sneak philosophical questions about why humans act the way they do into a zany sitcom mode. She could be practical, too: The idea for That '70s Show, Mandabach told me, came from a meeting with distributors who told her that the prime demographic she should be targeting was 18- to 39-year-old men. "Fox had just bought [the rights to broadcast] baseball, and everyone was saying, 'Men, men, men.' So I literally did the math in my head and said, if you're 39 now, you were 18 in 1976. So that's how that got created."
The business, though, was changing. In the early '90s, as it became clearer how much money independent production companies such as Carsey-Werner, Mary Tyler Moore's MTM Enterprises, and Norman Lear's Tandem Productions were making from the shows they created, the four major television networks started lobbying for change. In 1970, the FCC had introduced the Financial Interest and Syndication Rules, which fought industry monopolies by mandating that networks couldn't own any of the content they broadcast in prime time. For 23 years, independent creators flourished, owning the shows they produced, and profiting accordingly. But in 1993, the FCC overturned the fin-syn rule, as it was known. Quickly, networks began prioritizing in-house content. In 2005, the year after Mandabach left Carsey-Werner, The Wall Street Journal described the company as "the equivalent of a mom-and-pop grocer in a Wal-Mart world."
---
In the U.K., something very different was happening. The British government told the BBC, which had long had a monopoly on quality British television, that it had to open "a window of creative competition," freeing up a quarter of its televised content for independent producers. Ironically, a state-owned enterprise was offering more opportunities for entrepreneurship than American corporations. "I jumped through the window," Mandabach said. It didn't immediately work. In the years after she moved to the U.K. in 2005, she worked on a handful of movie projects, and served as an executive producer on the offbeat Showtime comedy Nurse Jackie. A 2011 sitcom Mandabach created for the BBC called In With the Flynns lasted two seasons, but its American-influenced format complete with laugh track and comical misunderstandings seemed to perplex British critics. ("It's not total carp," read one of the more positive reviews.)
Then along came Peaky. "It's so confidently itself," McCrory told me. "Every now and again series come along, and they're just confident, and nothing else compares to them." Mandabach, with her "vague gangster" background, money from Nurse Jackie, and an enthusiasm for Knight's writing, took a chance. "It was a point in my life where I didn't even think," she said. It wasn't a strictly analytical decision, "I wasn't talking to my hedge-fund friends about the pound against the dollar. I was like, I think I'd better get out here and own something."
If she'd stayed in the U.S., Mandabach said, "I would have had to work for a corporation, and it just didn't suit me." Independent producers, who personally finance at least parts of their projects, are heavily invested in them literally and figuratively. Backing a TV show is a gamble. If you're going to bet your savings on a series, it has to be one that you truly believe in. (Marcy Carsey took out a second mortgage on her home in order to fund the earliest episodes of The Cosby Show.) And that, in turn, means that the product that reaches viewers will likely have been held to higher standards than one in which nobody has nearly as much skin in the game. The impact of deregulating television, The Wall Street Journal noted in that 2005 article, was a loss of quality on network TV, and a lack of distinctive storytelling. "On any given evening," Joe Flint wrote, "the end result is easy to see: a network television line-up so homogenous that it is sometimes difficult to tell one show from another."
The same malaise afflicts network TV even now. And while the rise of streaming services initially appeared to bring more original concepts, the algorithms that factor into which shows are bought and renewed are leading to more safe bets and extravagant deals for boldface names such as Ryan Murphy and Shonda Rhimes. Many of today's most dynamic series come from Britain, which sends a glut of exports to the U.S. each month. At the Emmy Awards in September, British artists and shows (Fleabag, Black Mirror, Jesse Armstrong) snatched awards from their American counterparts. In the U.S., though, the governing impulse in television still seems less like Look for what's not there than Find more of what works.
Mandabach is naturally optimistic, and she is working on a string of new projects, including an adaptation of Kazuo Ishiguro's When We Were Orphans and an Amazon project that partners her with Catastrophe's Sharon Horgan. Mandabach still loves the business, and the brilliant actors and writers she gets to work with in the U.K. But she's skeptical of how much longer the opportunities will be out there, for her or for anyone. With the streaming wars heating up, and an ever-growing list of new corporations able to invest billions in content, she senses that even the British TV market won't survive unscathed. "The American global hegemony is about to start, so it won't be easy. There's no money like American money. Which is a shame, because it's all such great fun."