Yes, Joker Is a Very Serious Drama. No, That's Not a Compliment.
Bent on proving its distance from the comic-book-movie genre, Todd Phillips's adaptation of a classic villain's origin story is pompous, grim, and one-note.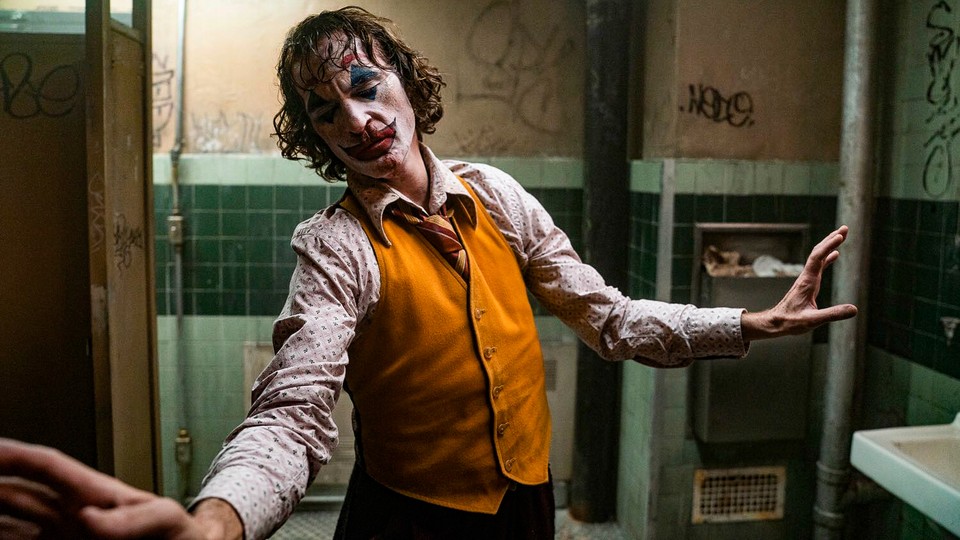 "I used to think my life was a tragedy, but now I realize it's a fucking comedy." So speaks the Joker (played by Joaquin Phoenix), the face-painted title character of Todd Phillips's new film. Well, I have news for Mr. Joker. He may think life is tragicomic, but the movie he's in is very much a drama—a pompous, grim, relentlessly one-note adaptation bent on proving just how far removed it is from its comic-book heritage.
Joker, fresh off a victory at this year's Venice Film Festival, is arriving in cinemas on a sea of hype and controversy. Its depiction of a troubled antihero driven to mass murder is generating so much concern that its own studio had to issue a statement clarifying that the film is not "an endorsement of real-world violence of any kind." Plenty of external factors contributed to that clarification, and the film itself is clearly not intended to function as a depraved call to arms for the world's villainous clowns. It is, however, a project drowning in self-seriousness. In his effort to bring realism to the Joker story, Phillips has lost his grasp on the character's symbolic purpose, treating the audience to something undeniably visceral but also unacceptably shallow.
Through the decades, the Joker's persona (he's best known as a longtime menace to Batman) has fluctuated between scary and campy, with the two best movie depictions—Jack Nicholson's and Heath Ledger's—capturing his menacing archness from entirely different angles. Phillips's film, which he scripted with Scott Silver (The Fighter, 8 Mile), skips the Caped Crusader and focuses entirely on the man who will become the Joker, while largely dispensing with the various origin tales suggested in the comics. Phoenix plays Arthur Fleck, an unstable wannabe comedian struggling to keep afloat in crime-ridden Gotham City. Over two hours, the audience watches as Arthur's resentment of his smothering mother (Frances Conroy), his crush on their next-door neighbor Sophie (Zazie Beetz), and his tendency to get hassled on the street boil over from loneliness into murderous psychosis.
Arthur suffers from some unspecified condition that causes his skinny, gnarled body to shake with laughter at inopportune moments, alienating everyone he meets. Phoenix's performance is undoubtedly compelling—like so much of the actor's best work, it's a physical marvel, unsettling from the second the camera lands on him. Still, even the not-yet-villainous Arthur of the film's first act is tough to sympathize with because he's such a caricature. His weakly sketched portrayal of mental illness doesn't extend much beyond his creepy cackle and a diary he's filled with demented, abstract scribblings.
Were Joker to lean into its comic-book inspiration, the broadness of Arthur's characterization might be forgivable. Instead, Phillips takes pains to eschew those pulpy origins, borrowing liberally from Martin Scorsese's two greatest renderings of madness, Taxi Driver and The King of Comedy. The biggest homage to those films comes in the form of their star, Robert De Niro, playing a dapper late-night host whom Arthur idolizes. Yet as indebted as Joker obviously is to those revered New Hollywood masterpieces, Phillips seems to have missed their underlying sardonic bite. Scorsese depicts lone-wolf killers such as Taxi Driver's Travis Bickle as warped reflections of societal ills. Joker mentions "a groundswell of anti-rich sentiment" bubbling up in Gotham, but it fails to connect this vague political notion to its central character's arc.
What distinguishes Joker best from its comic-book-movie brethren is its emphasis on location shooting and its genuinely personal stakes. No set piece involves more people than could fill a subway car, there are no CGI embellishments or superhuman action sequences, and Phillips successfully translates New York City and its environs into a fictional burg that feels only slightly removed from reality. Phoenix, similarly, strains to ground a character who's become a stand-in for cartoon evil, and his incredible effort is hard to ignore. But as Joker gets grimmer and descends further into bloody violence, it becomes little more than a horror show, bludgeoning its viewers out of any chance at insight.