Porn Infiltrates Suburbia in Mrs. Fletcher
HBO's new adaptation of Tom Perrotta's 2017 novel stars Kathryn Hahn as an empty-nester whose online discoveries make her question her entire identity.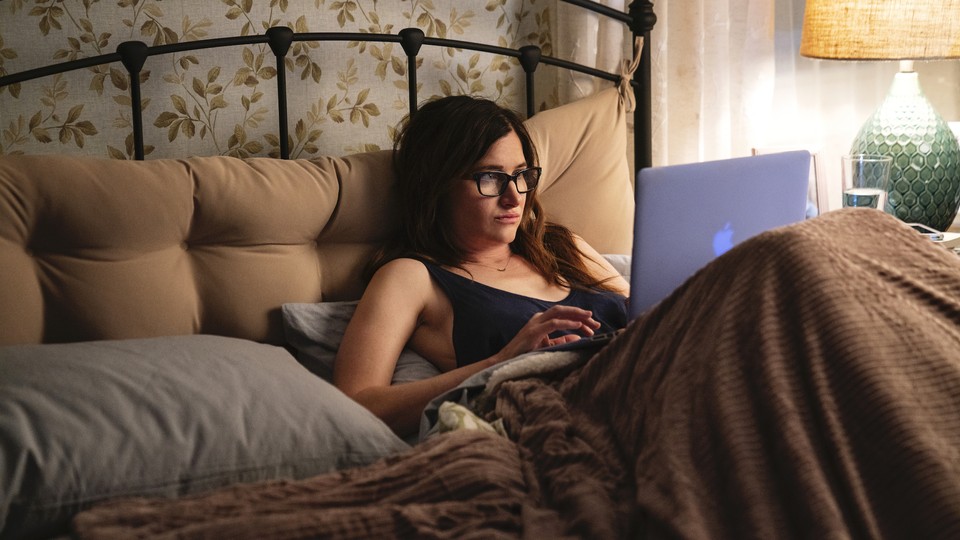 Tom Perrotta's 2017 novel, Mrs. Fletcher, is ostensibly about porn, but it's really about disappointment. Its characters are lonely, frustrated, dispirited fragments of suburban flotsam who keep bobbing up against one another, hoping to connect. Eve Fletcher, the missus of the book's title, is a 46-year-old divorcée whose son, in the opening chapters, leaves for college, abandoning Eve to solitary evenings of Facebook and Friends. Brendan, Eve's son, is an amiable-ish lunk whose easy popularity in high school fails to prepare him for the byzantine politics of a campus. The book never describes Brendan watching porn, but his sex life is unmistakably contoured by its crude dialogue and misogyny. Eve, after an accidental introduction to porn, is the one whose existence is upended by it—less by its eroticism than by its promise. It offers, she thinks, "a glimpse of a better world than the one you lived in, a world where everyone secretly wanted the same thing and no one failed to get it."
In HBO's new adaptation of Mrs. Fletcher, created by Perrotta, Eve is played by Kathryn Hahn, an incomparable interpreter of strange female desire. The absurd Adam McKay comedy Step Brothers featured Hahn as Alice, an unhappily married woman who becomes fixated on a man-child after he punches her loathsome husband in the face. (Hahn reportedly improvised Alice's declaration of love, in which she declares that she wants to roll her new crush up into a tiny ball and shove him up her vagina.) On Jill Soloway's Amazon series I Love Dick, adapted from the Chris Kraus novel of the same name, Hahn played Chris, who turns her sexual obsession with an arts administrator into a manifesto of declarative lust. Both of those Hahn characters know exactly what they want, and pursue it without hesitation. Eve is different. Porn has given her a vehicle, though not yet a direction. Her voyage of sexual discovery is insular; like her biblical namesake, she simply senses that she's been missing something crucial.
But what is that exactly? After watching all seven half-hour episodes of Mrs. Fletcher, what I yearned for was a thesis, or a twist, or even just some of the novel's mordant humor, which revealed how sex and porn only further isolate people who are desperate for intimacy. Instead, the series swoops unevenly toward Eve's moment of liberation and then seems to punish her for her audacity. Hahn's Eve is an administrator at a senior center, and in the opening scene of the first episode, a group of elderly visitors is placidly knitting and playing checkers when the calm is interrupted by the ambient moaning of hard-core porn on one of the desktop computers, which the grinning Roy (Bill Raymond) is watching. Later, Roy's son, George (Domenick Lombardozzi), tries to defend his father. "He has no pleasures in life," he tells Eve. "You have any idea what that's like?"
She does, in fact. Eve's husband, Ted (Josh Hamilton), left her long ago for a younger woman with whom he has a new family. She's raised Brendan (Jackson White) largely by herself, in a cozy house that seems designed to insulate them both from the coldness of the world outside. And she seems to have done a lackluster job, since Brendan is an unimaginative lout, a jerk, and a bully. While his mom is packing up his belongings for college and sweatily heaving the boxes into her minivan, he's lazily getting a blow job from a girl he dumped months ago. Eve, knocking on his door to hurry him along, accidentally overhears him calling the girl "a fucking slut" and freezes in horror, mortified by the situation but also disturbed that she's raised someone who talks to women that way.
That the title of the show is Mrs. Fletcher both nods at The Graduate and implies that this story is fundamentally Eve's. But it's just as much Brendan's. He and Eve are twin souls on paths of self-discovery, both hobbled in different ways by the ubiquity of online porn. For Brendan, porn isn't something he partakes in as much as a mind-set he's internalized on the path to adulthood—rote, heteronormative ideas about how people behave. In sexual situations, Brendan uses violent, demeaning language and prioritizes his own pleasure. In life, he's similarly stunted, assuming that if he looks and acts a certain way, the world will reward him. White breezily portrays Brendan's gamy masculinity, which clings to him like the funk from his unwashed gym clothes. But he also conveys how lost Brendan is, how wounded by his parents' divorce, how inadequately prepared for both adulthood and a campus where people congregate for consent lectures and body-positivity underwear parties. "I'm not a 'straight, cis white boy,'" Brendan tells his new love interest, Chloe (Jasmine Cephas Jones), in one scene. "I'm Brendan. I am. I'm a nice guy, and I'm funny, and in high school everyone liked me. And now I'm the bad guy, and I don't know how that happened."
Eve's evolution is almost as disorienting. Hahn plays her as commandingly passive, shrinking into situations even when she's seeking them out. In the novel, she's jolted into sexual awakening by a filthy text message she gets from an unknown number calling her a "milf." In the series, Eve Googles the term after her friend jokingly calls her the same name, which leads her to the internet's iceberg tip of online smut. In the book, Perrotta employs at least 100 pages of interior monologue to help Eve explain why she's so fascinated by what she finds at sites such as the "milfateria." In the series, he has to rely on Hahn's impassive expression as she blinks at her screen, her face illuminated by the light of her laptop. What remains clear is how porn starts to infiltrate Eve's imagination, sexualizing the mundane experiences she has in the grocery store or at work.
HBO's Mrs. Fletcher allows Eve a few fantasy sequences, in which her real life and her online adventures collide. "Why'd you wait so long?" a "director" asks her in one interlude, when she's imagining starring in a threesome scene. "I didn't think I was allowed," Eve replies. In these flashes of insight, the show can make sense: It isn't porn that's fascinating Eve so much as the idea that, in her mid-40s, she can reject every assumption she or anyone else has ever had about herself and start over. For Eve, porn is freedom.
But without the benefit of interior monologues, the show can waft abstractly into incoherence. The novel is a bleak thesis on the way we live now: too busy tapping our phones to forge meaningful connections or even just finish Middlemarch. ("Everybody always says how great it is," Eve says, defensively. "But it never seems like the right time to crack it open.") In the book, when Eve signs up for a class at the local community college after Brendan leaves, she ends up in a course titled "Gender and Society," which allows Perrotta to sketch out some ideas about identity, sexuality, and "post-feminist" discourse. In the series, Eve takes a personal-essay class instead, where she establishes a dubious flirtation with a 19-year-old who went to high school with her son. But she never writes a word.
The last television show that Perrotta worked on, HBO's The Leftovers, was a gorgeous bundle of structural mysteries and emotional precision. The writers of the series could sidestep answering specific questions viewers might have had, because so much of it was about how differently individual souls respond to things. Mrs. Fletcher, though, is missing an opportunity to say something profound about people and the inconvenient discrepancies between what they want and what they need. The series benefits from two remarkably deft performers, who paint outside the lines of their characters. (All seven episodes are directed by women, including the veteran Nicole Holofcener and the performer and writer Carrie Brownstein.) But in the end, I wanted more—more insight, more illumination, more interrogation of the differences between sexual freedom and freedom itself.