Frankie Is a Moody Meditation on Mortality
Ira Sachs's portrait of an actress and her family is beautiful in the moment, but too gentle to leave a lasting impression.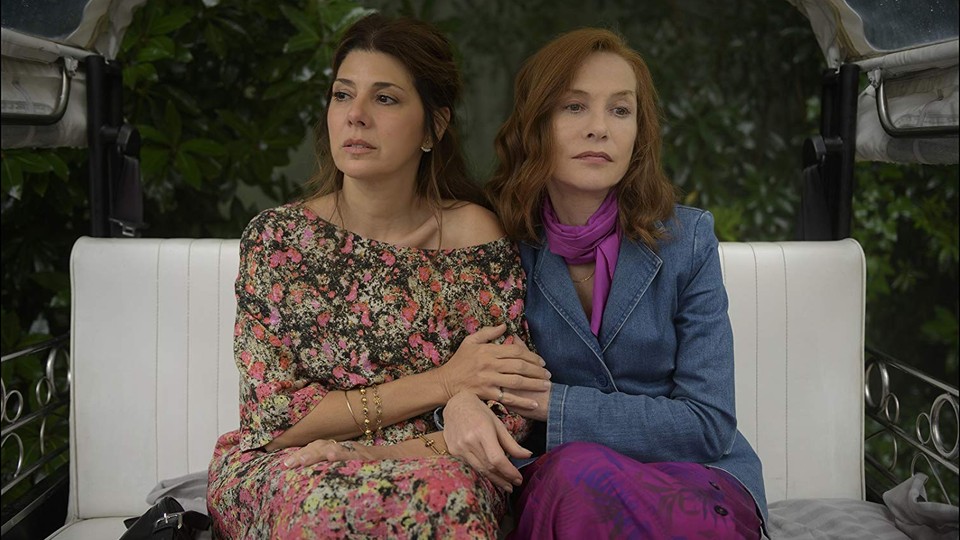 A particularly rewarding art-house subgenre is the fancy vacation movie—usually a light drama with comic notes, set in some glorious European paradise by the sea and featuring a host of emotional revelations over dinners and drinks. The French director Eric Rohmer made such tales his specialty, and more recent examples include Richard Linklater's Before Midnight and Ridley Scott's A Good Year. Now audiences can luxuriate in Ira Sachs's new film Frankie, a measured and fitfully compelling family saga set on the coast of Portugal. Wine will be drunk, meaningful walks will be taken, and long pauses in conversation will be as crucial to the mood as a shoot-out in an action movie.
Frankie is a lovely if muted experience, in which moments of silence and tranquility communicate as much as the naturalistic dialogue. The script, co-written by Sachs and Mauricio Zacharias, is roughly half in French and half in English. It's a showcase for an excellent cast, including Isabelle Huppert, Greg Kinnear, Marisa Tomei, and Brendan Gleeson, as well as European luminaries such as Jérémie Renier and Pascal Greggory. All of these actors deliver the kind of subtle work that's rarely seen in major Hollywood movies. Still, while Sachs is one of the most exciting voices in American indie cinema, his European sojourn is sometimes a little too sleepy for its own good—beautiful in the moment, but too gentle to leave a lasting impression.
Sachs is usually a master of such delicate storytelling. His past two projects, Love Is Strange (2014) and Little Men (2016), were quiet sensations: New York–set dramas of love, friendship, and disappointment that grappled with a changing city on a block-by-block level. Frankie is a bit more ambitious. Françoise "Frankie" Crémont (played by Huppert), a famous French actor, gathers her family members of several generations in the Portuguese town of Sintra to inform them she's suffering from a terminal illness. The action, such as it is, consists of Frankie trying to steer her kids' romantic lives toward futures she deems appropriate; as with many a Sachs film, her best-laid plans quickly disintegrate, thanks to her family's capriciousness. The film can't quite decide whether it's a comedy of manners or an intimate drama, its tone fluttering between raw emotion and something a little more whimsical.
The best material involves Ilene (Tomei), a stylist who worked with Frankie on a recent movie. Deciding that Ilene is a perfect match for her wayward son Paul (Renier), Frankie summons the stylist to Portugal, only to find that Ilene has brought along her lame-duck partner, a chummy cameraman named Gary (Kinnear). The couple met on the set of a Star Wars movie, and anyone who's ever wanted to see an Isabelle Huppert character react with disdain at the mention of Star Wars will find Frankie worth the price of admission.
The scenes that Sachs creates among Huppert, Tomei (who also featured in Sachs's Love Is Strange), and Kinnear (a standout in Little Men) show the writer-director at his best, striking a balance between melancholy and wit. Huppert can communicate Frankie's imperiousness in her sleep, but she excels at capturing the loss of control felt by a woman who, after blazing an impressive trail through life, is struggling to come to terms with the impotence of death. Tomei's character is a remarkable foil for her—someone genuinely in awe of Frankie and enriched by their relationship, but independent enough to resist any matchmaking efforts.
The other strands of Frankie's family drama are less gripping. Sachs's skill lies in conversational dialogue, but when these characters talk, they have to get so much exposition out of the way that there's not enough time to investigate their underlying feelings. Gleeson is a sweet but subdued presence as Frankie's second husband, Jimmy, shuffling around in the background as he tries to deal with the prospect of losing his partner. A separate plotline follows Jimmy's daughter, Sylvia (Vinette Robinson), who is considering divorcing her husband; that narrative gets further complicated when Sylvia's teen daughter, Maya (Sennia Nanua), embarks on a rebellious romance in protest.
It's a lot for a 98-minute movie to handle, and much of the characterization gets lost in the shuffle. Frankie herself is an arresting figure, a protagonist worthy of Huppert's talent. But her family and friends are too thinly sketched to matter, even as Frankie winds toward its bittersweet conclusion; by the time the finale arrives, the movie hasn't built enough momentum. Sachs's understatedness is usually a strength, but here it feels like a weakness.