DaBaby Has Become Rap's Reliable Resource
The North Carolina artist's second album in a year, Kirk, confirms that no one else does what he does, and that he does a lot of it.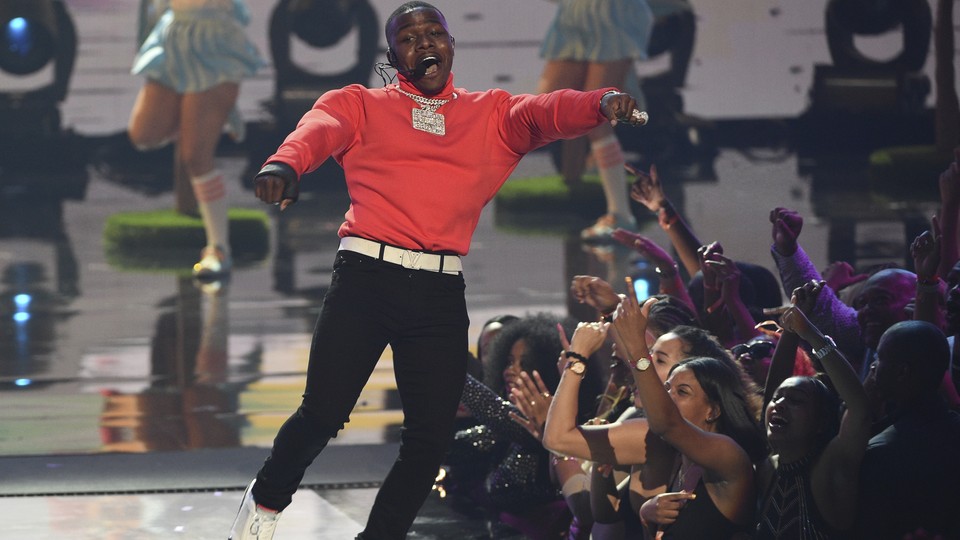 What happened to reliability? Kanye West admitted that "it's been a shaky-ass year" back in 2018, and a jolty, quaking feeling of foundations faltering has continued to define popular hip-hop lately. Just this weekend, West blew off two separate release dates. This summer, Lil Nas X, a previously unfamous meme maker too young to drink, broke seemingly unbreakable chart records by donning country-western drag. Nicki Minaj retired—and then released more music. Jay-Z partnered with the sports league he'd mocked in song, and whose boycott by artists he'd reportedly supported.
But DaBaby's rise has provided an anchor. Over the course of 2019, the 27-year-old Charlotte, North Carolina, rapper has rocketed to ubiquity by guest-featuring on more than a dozen songs by other artists, enjoying a top 10 Billboard hit with the bouncy single "Suge," and moving more than a half-million units of his March debut album, Baby on Baby. Now his follow-up album, Kirk, is likely to debut at No. 1. Goofy, talented, and distinctive, he's hard to dislike. The biggest knock on his music is that it's too consistent.
Indeed, listening to DaBaby is like turning on a faucet with good water pressure: You always know what's going to happen, and you always know it's going to be immediate. DaBaby likes to begin stringing together lyrics ahead of the beat's arrival, and it can almost sound like he's rambling. But when the rhythm eventually clicks in with the words, the sensation is as satisfying as a successful card trick. His voice is all round edges and solid cores; he clips his words so that they're clean and legible, and yet they also seem to run into one another. Often, he'll seem on the verge of laughing. Other times, he talks very fast and sounds very unbothered.
What's he talking about? Money, sex, and struggle, Mad Libs–style. The "I'm a young CEO" conceit of his signature hit, "Suge," for example, wasn't exactly groundbreaking, but DaBaby's high-word-count approach afforded a lot of room for personality. He's hilarious and callous and clear about the social contexts of his domination, as when he sketches out this Modern Love column: "She'll send me a text and then delete the message / He tryna find out, it's confusin'." I'm not sure why it's confusin' is so funny, but it is, every time. The video features him as a mailman gone rogue, dancing with his delivery dolly and peeing on doorsteps. Such simple, irrepressible slapstick—think live-action, PG-13 versions of Sunday-morning cartoons—marks most of his visuals.
His second album in a year seeks to capitalize on his hot streak. It brings in a slew of notable guest vocalists (including Minaj, Gucci Mane, Chance the Rapper, and his fellow hot baby Lil Baby) and pairs DaBaby with some novel-to-him beats. But in doing so, it mostly confirms—and is almost overwhelmed by—what he does best. "Intro," a reflection about his father dying right at the moment of his son's breakout success, conjures some rare gravitas, with a hushed backing and solemn sentiments. Yet DaBaby raps as speedily and smoothly as ever, for a familiar hypnotic effect. "Thinkin' 'bout my grandma and shit," goes the first line, tipping off the level of vagueness he's working at when trying to be vulnerable. In the stylish but touching music video, friends and family bond in majestically filmed ATVs.
Kirk perks up with "Off the Rip," which acknowledges his main sonic gimmick—"Straight off the rip, you know I don't wait for the drop"—and spirals out into a nice display of talent that forgoes any chorus. By contrast, the titles of the subsequent three tracks openly announce radio-conquering intentions: "Bop," "Vibez," "Pop Star." DaBaby's self-awareness, whether courting respect or popularity, is thick. On "Bop," he goes, "Ayy, when you gon' switch the flow? I thought you'd never ask," addressing the prime criticism he receives, for monotonousness. Sure enough, the flow varies a number of times on Kirk: DaBaby affects trendy slurriness on "iPhone," creeps against a moody instrumental on "There He Go," and, most excitingly, performs a verbal balancing act against the tricky rhythms of "Really." But these read as only mild departures. His voice and tics are just so strong, so signature.
That's fine for now, because no one else sounds like him—though there are, of course, comparisons that can be made. The drawls of Gucci Mane and Kevin Gates, who is also featured on Kirk, seem like big influences. He clearly admires the current women of rap, too: Megan Thee Stallion's "Cash Shit" featured DaBaby essentially rewriting the Kama Sutra; Minaj gets a kaleidoscopic turn on Kirk's "iPhone"; and Cardi B references abound on "Vibez," whose chorus resembles "Bodak Yellow." The affinity between DaBaby and these rappers makes sense, as they share a hard-edged playfulness and intoxicating way of shout-rapping. There's also the case to be made that he inverts the energy of pop moaners such as Post Malone: DaBaby's raps coat the ear too, but they also keep you awake.
Kirk stands to accelerate DaBaby's snowballing stardom, but a list of troubling incidents has been growing alongside his buzz. This weekend, a member of DaBaby's security team allegedly punched a woman who approached the star, making for the latest in the line of DaBaby's unsettling brushes with violence. His music coolly describes murderous streets and his own ruthlessness—"Why he talkin' so calm when he say that?" he marvels at himself after he makes a death threat in the song "XXL." But it's another thing when a performer's life as a celebrity gets caught up in conflict. For all of his lyrical and actual proximity to conflict, though, it's order, not chaos, that underlies his appeal as a star. If he can keep steady, he's here to stay.