The Paradox at the Heart of Know My Name
Chanel Miller's memoir, like the show Unbelievable, is a reminder of the painful alchemy that turns trauma into art.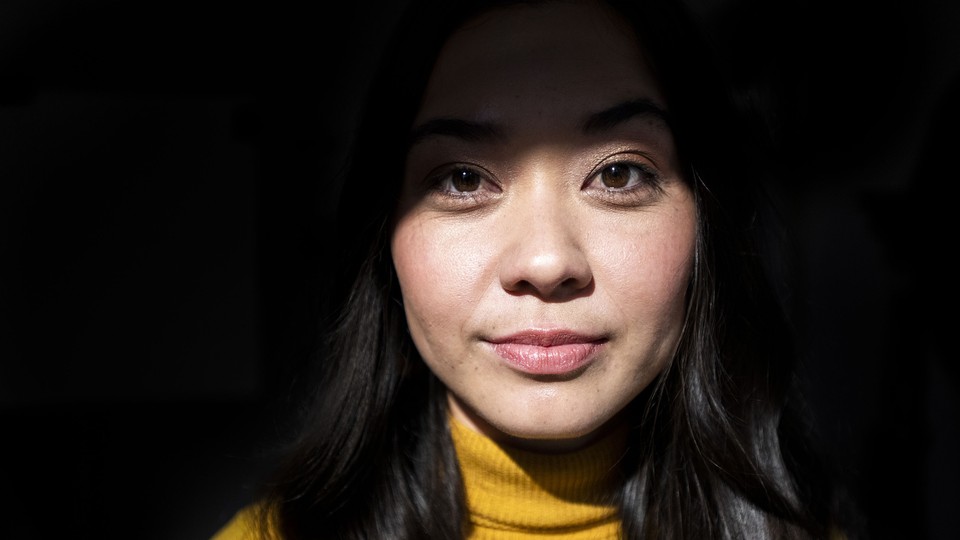 In June 2016, something remarkable happened: A piece of documentary evidence in a court proceeding went viral. The woman who was then known only as Emily Doe read a victim-impact statement at the sentencing hearing of Brock Turner, the man who had been convicted of sexually assaulting her after a party at Stanford—while she was unconscious, on the ground, next to a dumpster. Her words were searing. "You don't know me, but you've been inside me," the anonymous survivor said to Turner, "and that's why we're here today." And then she recounted, in precise and wincing and unrelenting detail, what it felt like to be transformed, in the space of a few moments, from "person" to "victim." When BuzzFeed published the statement, more than 18 million people read it—a reach that would anticipate the expansion of the #MeToo movement, and that would set the stage for an assumption that guides the current moment: Authorship can be its own small form of justice.
Three years later, the woman who crafted that viral testimony has released another kind of victim-impact statement. She has revealed her true name: Chanel Miller. And she has written a memoir that converts the ongoing experience of sexual assault into literature. The book's title, aptly, is rendered in the imperative: Know My Name.
The story Miller tells in the book begins and ends with her fight for identity. "I was found as a half-naked body, alone and unconscious," she writes in Know My Name's first chapter. "No wallet, no ID. Policemen were summoned, a Stanford dean was awakened to come see if he could recognize me, witnesses asked around; nobody knew who I belonged to, where I'd come from, who I was." The book finds Miller first trying to figure out what happened to her after she attended a fraternity party with her sister, who was visiting for the weekend, and a few friends (one of them attended Stanford; Miller, living in Palo Alto at the time, decided to tag along with the group, just for fun). And then the book finds Miller attempting to reclaim herself as she negotiates her new life as a survivor. She agrees, without fully understanding what the decision will end up demanding of her, to press charges against Turner. She navigates a justice system that routinely demeans her while insisting that it is acting in her interest.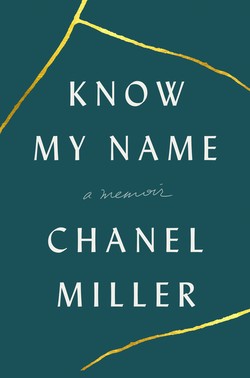 Miller, caught in the gears of that system, is alternately prodded and pandered to and misled and misbelieved. She is confused and compliant and patient and outraged. She tries to be a good victim, before it becomes clear that such a task is an impossibility. She seeks out normalcy, the small comforts of routine. (Miller and her sister, Tiffany, after the attack, go to In-N-Out for burgers, because that "was where we gravitated when one of us was upset or celebrating or heartbroken." Miller finds, though, that she is unable to taste the salt, the sweet, the tang.) She quits her job. She takes a class in print-making. She lashes out at men who catcall her on the street. She reads the comments on stories about the "Stanford rape victim," the angry boys who assume she had it coming and the indignant mothers whose own daughters would never. She cries. She tries—to cooperate, to trust, to heal, to keep trying. She takes a lot of long bike rides. She describes one of them like this: "My handlebars strobed, light shooting out in every direction, preventing me from dissolving into the darkness."
Know My Name is difficult to read in part because it is beautiful to read. Its lush words are accompanied by the specter of all that might have been—the shadow of the path that was, without Miller's say, so violently bent in another direction. Miller's talents might have found expression in a form other than a book about the effects of sexual violence. When trauma is transformed into art, there will always be a paradox at play: The art's existence is beautiful. But it shouldn't have to exist at all.
But Know My Name is insistent in its very presence. It forces readers not only to look and listen, but also to really see, to really hear—to meet Miller on her terms, in the context of the story she is telling about herself. In that, it is bracing. We are not used to hearing—to knowing—the details of sexual violence. We are not used to experiencing the daily facts of trauma through the extreme subjectivity of a memoir. The American legal system, particularly when it comes to these matters, is instead largely calibrated toward silence. It anonymizes survivors. It asks them to speak, for the most part, only when spoken to. It tells stories about them, ostensibly for them. It exists within a culture that remains profoundly ashamed about sexual violence, preferring to discuss such matters in hushed tones and polite euphemisms. The effect is often to dehumanize the survivor. It is also to mistake the survivor as the person whose actions are on trial. "The assault is never personal," Miller writes. "The blaming is."
Know My Name's power resides, in large part, in its details—details that could belong only to Chanel Miller, that could serve only her story. Desperate for a change, she moves to Philadelphia to be with her boyfriend, Lucas, and auditions, successfully, to be part of a comedy revue. She kills it. She goes scuba diving with Lucas, and the blooming anemones and softly swaying reefs remind her of the world's warm possibilities. Before a hearing, Miller and Tiffany go to Kohl's, looking for outfits that will be appropriate to wear in court. Miller texts her YWCA-appointed advocate asking for wardrobe advice; "something comfortable, respectful," comes the reply. "Got it," Miller writes. "My sister emerged from the dressing room in a large shirt with a Minion on it, pantsless. What would they do if I showed up in this. I said, Tiffany, this is serious, and walked out in diamond-encrusted capris, a visor, a shirt that said BLESSED." Finally Miller found the right garment: "a sweater the color of old milk, soft and quiet. Emily's new uniform." She adds: "I looked like someone who would lend you a pencil."
---
The victim-impact statement is a relatively recent invention—a development that has its origin in the Manson-family murders. Doris Tate, the mother of Sharon Tate—the eight-months-pregnant actor who was killed by followers of Charles Manson in 1969—used statements of impact every time one of the murderers came up for parole. "What mercy, sir, did you show my daughter when she was begging for her life?" she said to Tex Watson, one of her daughter's killers, at a parole hearing. "What mercy did you show my daughter when she said, 'Give me two weeks to have my baby, then you can kill me'?"
Tragedy had turned Tate into a victims' advocate. It was in part due to her efforts that the Victims' Bill of Rights was enacted in 1982—a wide-ranging law stipulating, among other things, that victims be afforded the small justice of reading a statement in court. That was the law Chanel Miller was taking advantage of when, in 2016, she stood up and delivered her statement. That was the law the novelist Rebecca Makkai took advantage of when she delivered a similar statement: "I had the chance to speak," she wrote in 2016, "and—because in this case I had a judge who listened, because I felt heard—I moved on."
Not everyone can move on. Discussions of trauma, much like trauma itself, will affect different people in different ways. But Know My Name suggests a certain inflection point when it comes to the matter of discussion: the victim-impact statement that transcends the courtroom. The statement that functions, in its way, as a literary genre—the currency of the personal essay merged with an insistent frankness about the realities of sexual assault. Such statements, in a culture that is growing belatedly weary of sexual shame, are proliferating.
"Now that we are speaking, let us never shut up about this kind of thing," the actor Lupita Nyong'o wrote of Harvey Weinstein in 2017. "I speak up to make certain that this is not the kind of misconduct that deserves a second chance. I speak up to contribute to the end of the conspiracy of silence." Salma Hayek concluded her own statement about Weinstein with this: "Men sexually harassed because they could. Women are talking today because, in this new era, we finally can." More than 160 women spoke out against the predations of Larry Nassar; one of them was the Olympic gymnast Aly Raisman. "The tables have turned, Larry," Raisman said last year. "We are here, we have our voices, and we are not going anywhere. And now, Larry, it's your turn to listen to me."
Raisman, like Miller, was speaking in a courtroom. Raisman's words, like Miller's, went viral. Her statement, too—and the statements of the scores of women who joined her, armed with pain and fury—is part of the paradox: It is eloquence that should not be required. It should not be required of the women who speak in Surviving R. Kelly. It should not be required of the men who tell their stories in Leaving Neverland. It should not be required of Andrea Constand, when—speaking for so many others—she wrote to the judge in Bill Cosby's sentencing hearing, "Bill Cosby took my beautiful, healthy young spirit and crushed it. He robbed me of my health and vitality, my open nature, and my trust in myself and others."
We ask so much of survivors. We ask, quite often, too much. Pain should not have to be alchemized into prose, for public consumption. The survivors who have already given so much should not need to give even more—of themselves, of their stories, of their words. But victim-impact statements—victim, impact, each term so fraught—often double as reclamations. They are assertions of humanity. They are demands for accountability. "The fact that I will never have a chance to face my predator in court eats away at my soul," Jennifer Araoz, one of Jeffrey Epstein's accusers, said after the man she said had sexually abused her as a girl killed himself while awaiting trial. "Even in death," she added, "Epstein is trying to hurt me."
---
In the new Netflix show Unbelievable, the series' climactic scene is not, revealingly, the apprehension of the rapist who has terrorized multiple women across multiple states, and who has eluded capture for years. That element of the story—occasioned by a combination of dedication and dumb luck—is treated for the most part as a plot point on the way to a more sweeping realization of justice: the moment Lilly, one of the women he raped, tells the court, in her own words, about the effects his violence has had on her life. The sleeplessness. The fear. The busted relationships. Unbelievable, which is based on a Pulitzer Prize–winning piece of journalism, treats rape as a double-valenced crime: There is the crime itself, but then there is also a system that blames and disbelieves and asks why were you there that night and had you been drinking and why were you wearing that, really.
Marie, one of the show's protagonists and its most revealing cautionary tale, is initially disbelieved by the detectives who are investigating her case; they do not seem to understand how trauma can lodge itself in the brain, searing some memories and making others fade away. Soon enough, irresponsible media outlets are publishing Marie's picture, accusing her of false reporting; she loses friends and her job and her confidence and her place in the world, all because she did not stay silent.
Unbelievable's title, like Know My Name's, makes a concise argument about subjects and objects. And the series itself is an eight-episode answer to the question of why three out of four sexual assaults go unreported. It explains why, even in an age that romanticizes the telling of stories, silence can seem the preferable option. And it functions, like Know My Name, as an indictment—not just of assailants, but also of a process that inflicts so much in the name of justice. Miller and her family and her friends showed up in court whenever they were asked to, rearranging their lives around other people's calendars. Tiffany was in college at the time of the trial; court dates, both arbitrary and non-negotiable, left her constantly rearranging classes and exams so she could make the five-hour drive to Palo Alto to testify. Miller had a collection of people who spoke and cooperated and contributed and were made to look at pictures of her naked body, pine needles in her hair, projected onto courtroom screens. The trial became, effectively, a second job. It ended with Turner sentenced to six months in jail. He served three of those, and then was released. This is another specter in the book.
"What could I tell them?" Miller asks, after Turner's meager sentencing, thinking of other survivors. "A system does not exist for you. The pain of this process couldn't be worth it. These crimes are not crimes but inconveniences. You can fight and fight and for what?"
Unbelievable involves a sentencing. Know My Name does, too. Neither outcome reads, really, as a happy ending. It is not a joyful thing, when so much work has gone into arguing for survivors' basic humanity. Near the end of Know My Name, Miller talks about finding a new therapist after settling, following her chaotic year, in San Francisco. Miller sees the therapist for months before revealing that she has been sexually assaulted; in response, the therapist asks, "Have you read the Stanford victim statement?"
Miller nods. But she doesn't say more—that she was the victim, she was the author, she was the person whose words had captured something sad and true about this moment. "I wanted to be known as Chanel," Miller writes, "in all my fumblings, my confusion, managing everyday life." Emily Doe, Miller allows, "was defiant and courageous." She "seemed to have all the answers." But she was not Chanel Miller. And she was no longer the author of Miller's story.