The Disparate Reactions to a New Woody Allen Film
The Paris premiere of A Rainy Day in New York highlighted the tension between American morality and France's high-minded belief that the art transcends the artist.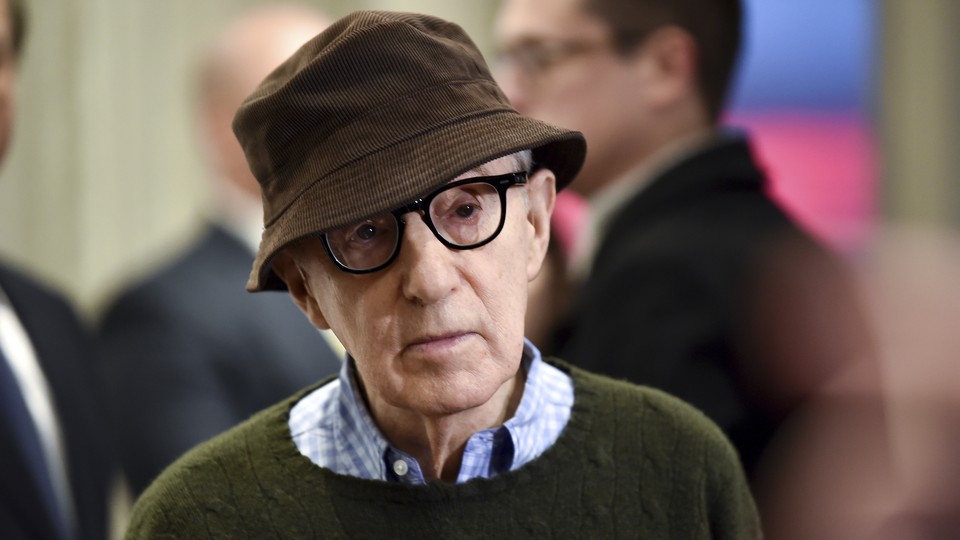 Updated at 1:45 p.m. ET on September 26, 2019.
PARIS—At an art house on the Left Bank, a cinephile's paradise thick with revival houses, moviegoers spilled out onto the sidewalk after the premiere of Woody Allen's latest film, A Rainy Day in New York. The movie, which stars Timothée Chalamet and Elle Fanning, is a throwback—carriage rides through Central Park, cocktail piano at the Carlyle, older men falling for the naive blond coed. The crowd that warm fall evening seemed enthusiastic, as did many French film critics. But you'll have to take their word for it. The movie is playing in France and will open across Europe—as well as in South Africa, and some countries in Latin America and Asia. It will not, as of now, be shown in the United States.
"That's moronic!" A woman outside the theater said. "Why not show it? It's not that bad." "No, no," her interlocutor answered. "C'est la question morale"—the moral issue.
Yes, the moral issue. Amazon Studios, which produced A Rainy Day in New York, dropped the film's U.S. distribution last year after long-standing allegations, in which Allen's adopted daughter, Dylan Farrow, accused him of molesting her when she was a child, were seen in a new light. But the decision also came after it became clear that the economics of Hollywood were changing. "Amazon is facing the consequences of tying its fortunes to someone who had a tarnished personal history and relatively weak box-office appeal to begin with," my colleague David Sims wrote in 2018. (Allen has denied all wrongdoing, though a judge found his behavior toward Farrow "inappropriate." Allen is suing Amazon for breach of contract.)
What's more, his name recently surfaced in connection to the financier and convicted sex offender Jeffrey Epstein. After Epstein committed suicide in federal prison last month, the business columnist James Stewart wrote in the Times that Epstein had once asked Stewart if he wanted to have dinner with him and Allen. (Allen's publicist didn't respond to Stewart or to my request for comment.) These reports and allegations—of older men preying on underage girls—swirled together in the media ether and the public imagination. The journalist Richard Morgan read through 56 boxes of Allen's personal archive in a Princeton library and said the through line was Allen's "vivid obsession with young women and girls."
And so there wasn't exactly an air of samizdat intrigue around the sold-out Paris premiere, which was organized by a Woody Allen fan club at the Christine 21, a theater run by the actress Isabelle Huppert's partner and their son. But the fact that this movie, at turns charming, banal, and problematic, could become subversive simply by being screened tells you something about the disparate cultural moments in America and in France.
So far, everyone's playing to type. America—that is, Amazon—in its righteous moral stance (a stance rife with hypocrisy, though; Amazon won't distribute A Rainy Day but still sells Allen's DVDs and streams some of his films on Amazon Prime). France in its cult of the auteur, its ambivalence about #MeToo, its total commitment to free artistic expression, its high-minded belief that the art transcends the artist. And Allen in his tendency to produce hollow, throwback, pre-feminist-movement fantasies.
Chalamet stars in the film as Gatsby—get it?—a rich Upper East Side kid who plays poker and piano, and has been sent upstate to college by his parents. There, he's taken up with Ashleigh (Fanning), an excitable blonde and aspiring journalist from Arizona. Ashleigh lands an interview for the school paper with one of her idols, the film director Roland Pollard (Liev Schreiber, in sunglasses), and guess what? The interview will take place in Manhattan! Fanning is all exclamation points in this film. She overacts her underwritten role, as if in a permanent state of OMG OMG OMG.
The young couple boards a Greyhound bus to the city, where Gatsby has booked them a hotel suite overlooking Central Park with $20,000 he's won at poker. What American audiences will really miss out on in A Rainy Day is Chalamet. His wordless scene in Luca Guadagnino's Call Me By Your Name marked the arrival of a star, and as Gatsby, Chalamet is far more interesting to watch than anyone else in the film. He seems to be analyzing his role while playing it and also creates the only moment in the film with genuine emotion, even beauty, when he sings the old Chet Baker standard Everything Happens to Me at the piano.
When Ashleigh meets Pollard, he is deep in an existential crisis, pouring booze into his coffee. He confesses that his first wife had gone to the same college as Ashleigh, and he finds himself drawn to Ashleigh's "unspoiled honesty," as he puts it. She can be his muse. She understands him. And so she ditches her age-appropriate boyfriend and spends one life-altering day with three way older men: Pollard; his screenwriter, Ted Davidoff (Jude Law, who pulls off a clever impersonation of Allen); and a lusty actor, Francisco Vega (Diego Luna). Musing on aging, Pollard says in one scene, "What's so sexy about older men and younger women?"
Yes, what is so sexy about older men and younger women? It's difficult to watch Allen's films today and not see their nostalgia as something morally dubious, a temperamental and artistic slant that covers a multitude of sins. Back in 1979, Joan Didion wrote in The New York Review of Books that "the message that large numbers of people are getting from Manhattan and Interiors and Annie Hall is that this kind of emotional shopping around is the proper business of life's better students, that adolescence can now extend to middle age." She was prescient.
After filming, Chalamet donated his earnings from A Rainy Day to charity, writing on Instagram, "I am learning that a good role isn't the only criteria for accepting a job … having witnessed the birth of a powerful movement intent on ending injustice, inequality and above all, silence." He isn't alone here: Greta Gerwig and Ellen Page have said they regretted working with Allen, and Jessica Chastain has suggested that she wouldn't work with him.*  Page went as far as calling her appearance in 2012's To Rome With Love "the biggest regret" of her career: "I had yet to find my voice and was not who I am now and felt pressured, because 'of course you have to say yes to this Woody Allen film.'" Scarlett Johansson, who's starred in three Allen films, has defended him, and so has Javier Bardem. Where you stand on Woody Allen has become one of the fault lines in Hollywood.
Still, the director has a huge following in Europe and beyond, and European co-producers have bankrolled his recent adventures (he just wrapped up shooting a new film in Spain). But in these films, Paris, Rome, and Barcelona are barely more than backdrops. Roberto Benigni lends some local authenticity to To Rome With Love, but otherwise the film is more infomercial than movie, filled with Illy coffee, Intimissimi lingerie, Peroni beer, and an unnecessary scene on a plane with the Alitalia logo in the background. The film piles local cliché upon local cliché—as does Midnight in Paris, Allen's most commercially successful film, in which Owen Wilson plays an aspiring novelist working on a book about a man who works in a "nostalgia shop."
And yet, the nostalgia machine sells.
Reviewing A Rainy Day in New York in the conservative Parisian daily Le Figaro, the critic Eric Neuhoff found Allen "in spectacular form" and thought Fanning's performance was "a revelation." In the conservative weekly Le Point, a critic wrote, "too bad for the Americans, who will be deprived of a small wonder of a romantic comedy." In Le Monde, the critic Thomas Sotinel found the film mixed, but wrote that it ended "on a bitter note," in sharp contrast to the tenderness in its opening scenes. "As if the director had a premonition that he was on the verge of being banned from a city that he might have filmed for the last time."
I'm glad I was able to see A Rainy Day in New York in Paris, even if it confirmed my sense that Allen's work has become stale. By not distributing it in the U.S. but still selling and streaming Allen's other films, Amazon is at once virtue signaling and profiting from Allen's work. I hope the #MeToo movement will end an era in which men abuse women with impunity—but I also hope that it won't lead to artistic censorship.
At the same time, there's something equally cartoonish about how the French cultural establishment, or at least part of it, tends to celebrate art as if it were totally divorced from the artist. Pascal Bruckner, a French public intellectual of the 1968 generation, has decried that the #MeToo movement has led to a "neo-feminist McCarthyism." In early 2018, Catherine Deneuve and 100 other women wrote an open letter in Le Monde saying that some #MeToo-era feminism "goes beyond denouncing abuse of power and has turned into a hatred of men and of sexuality." (Deneuve later said she didn't mean to condone sexual abuse.)
But I have a sense that things are changing here in France, too. In a recent interview on French public radio, Bruckner, who has a new book out about aging, spoke of a "witch hunt" atmosphere around Allen and Roman Polanski, who pleaded guilty in the U.S. in 1977 to having sex with a minor but left the country before his sentencing. Polanski has not been extradited by France and continues to make movies in Europe. Bruckner's interviewers, who are a generation younger, called him on the "witch hunt" line. One accused him of vieux-conisation, literally "old bastardization"—which is basically to call Bruckner a grouch who is out of touch with contemporary culture. In the United States and in Europe, the response to Allen might be, at least in part, generational.
---
*This article originally misstated that Jessica Chastain said she regrets working with Woody Allen.