Rafael Nadal Takes Another Step Toward Tennis History
After a grueling and dramatic final against tournament antihero Daniil Medvedev, the Spaniard inched closer to the men's grand-slam record.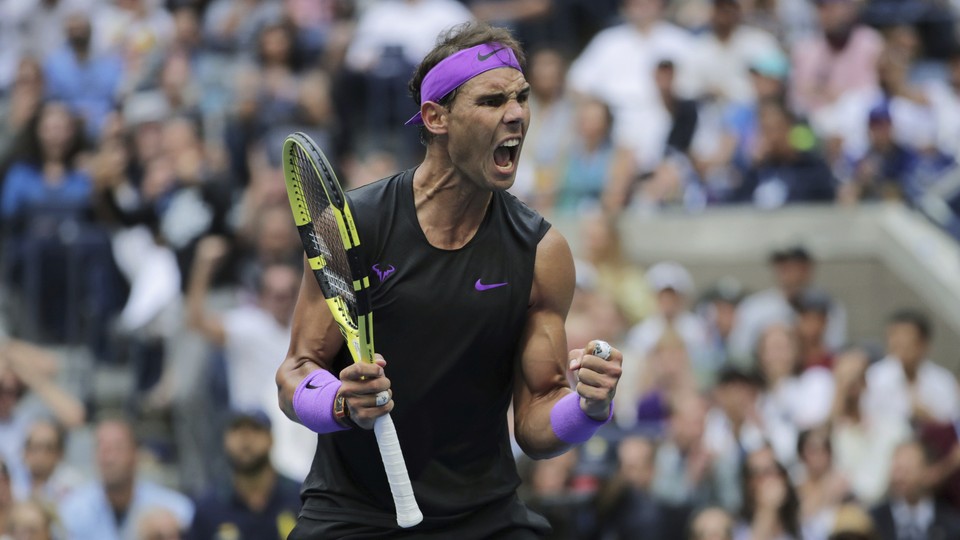 Prior to their matchup in the U.S. Open final yesterday, Daniil Medvedev referred to Rafael Nadal as "a machine, a beast on the court," in what now scans as a moment of foresight. Nadal, in keeping with his characteristic off-the-court humility, downplayed the compliment but lived up to that billing and then some by defeating Medvedev 7–5, 6–3, 5–7, 4–6, 6–4 in one of the most grueling and dramatic grand-slam finals in recent memory. In doing so, Nadal captured his fourth U.S. Open singles title and 19th grand-slam championship overall.
Throughout this year's U.S. Open, Nadal displayed the aggressive tactics he has relied upon all season to avoid the extended baseline rallies that used to be fundamental to his playing style. Nadal served with more velocity than he normally does, in an effort to accumulate aces and end points before they even began, and sought to dictate play with his exquisite forehand.
But in yesterday's final, Medvedev, the 23-year-old Russian who combines a 6-foot-6-inch frame with exceptional foot speed, neutralized Nadal's attempts at aggression and chased down every ball sent across the net. After dropping the first two sets, Medvedev turned himself into the human equivalent of a wall. He put shot after shot in play and showed no signs of fatigue even after double-digit stroke rallies that sent him scrambling all over the court. When serving, he changed up his own tactics, rushing the net without warning and going for broke from the back of the court to keep the Spaniard guessing.
Medvedev's resolve, creativity, and defensive prowess evened the match at two sets all, and his high level of play briefly unnerved Nadal. The fifth set had the two men going toe-to-toe in one lung-busting rally after another, but Nadal played with a bit more tenacity on the points that mattered most. In the face of Medvedev's gutsy, heroic effort, Nadal confirmed his standing as one of the most beastly players in the history of men's tennis.
By winning the final grand-slam tournament of the season, Nadal brought himself within one title of Roger Federer's record for the most slams ever won by a male player. Barring a catastrophic injury along the lines of a ruptured Achilles tendon or torn ACL, Nadal seems more likely to surpass his great rival in that category. He's almost five years younger, and while Federer's longevity in tennis is approximate to Tom Brady's in football, Federer will likely retire before Nadal, meaning that Nadal will have more opportunities to collect grand-slam hardware. Just as important, Nadal is still the best clay-court player in the world by an almost unfathomable margin. He has won the past three French Opens without once being pushed to five sets. He will remain the prohibitive favorite at that tournament until another player proves a worthy adversary.
Whether Nadal chooses to let his pursuit of the all-time grand-slam singles title record define his career—whether it's even a distinction he cares deeply about—he leaves New York looking like the best player in the world and as hungry for success and enthusiastic about the game as he was when he won his maiden slam as a teenager in 2005. Ten years ago, Nadal seemed unlikely to still be one of the best players in the world at 33, a relatively advanced age in tennis. During his first decade on the professional tour, he was plagued by knee tendinitis and had a tendency to succumb to other ailments, such as an abdominal injury at the 2009 U.S. Open. It was widely assumed that Nadal would have a stellar but short career, that his body would break down and force him to retire before he had the opportunity to rewrite the record books. But the emphasis Nadal places on ending points as early as possible, which allows him to avoid long rallies, has helped preserve his body. Over the past two seasons, he's morphed from an injury-addled grinder into the most consistent player on the tour, advancing to at least the semifinals at the past seven grand slams—a mark that neither Federer nor Novak Djokovic, another paragon of consistency, has matched.
In Medvedev, Nadal faced one of the few players with the requisite defensive skills and physical endurance to transform any match into an endless baseline slugfest. Medvedev has been the hottest and most interesting player on the men's tour this summer. He made the finals in each of the three hard-court tournaments he played prior to the U.S. Open, capping that endurance-testing run with a title at the prestigious Western & Southern Open in Cincinnati. He arrived in New York battle-tested and bruised, and quickly assumed the role of tournament antihero, displaying a brand of feisty, crowd-baiting behavior that evoked memories of proud bad boys such as Jimmy Connors and Ilie Năstase.
Medvedev's tennis oscillates between boringly conventional to downright eccentric—at one point, he hit a swinging backhand volley, making contact with the ball at around his shoulders, for a winner. In more ways than one, he is reminiscent of Andy Murray, the lowly member of the "big four." Like Murray, Medvedev is remarkably talented: He hits the ball well from both wings and has exceptional hand skills that allow him to take the ball early and on the rise when he chooses to do so, an aggressive play favored by the likes of Federer. But also like Murray, Medvedev is more inclined to hang back and prolong points using a style that can be almost passive. As Louisa Thomas noted in The New Yorker, Medvedev likes to make his opponents suffer by wearing them down physically, but "often he seems to be the one hurting the most." The same could have been written about Murray, who has always had a gift for making tennis look like a miserable pursuit. Murray is also the only member of the big four who has a losing record in grand-slam finals. As impressive as Medvedev's 2019 season has been, he's amassed a 2–5 record in the finals he's played, a stat that could augur a Murray-like propensity to come up one step short at the biggest tournaments.
It's no secret that the overarching narrative of men's tennis in the past decade has been one of dominance by a select few and that the game has been hungering for a young player with enough skill and moxie to challenge the current dynasty. Medvedev's play will generate further speculation that he can be that figure. Whether the young Russian makes good on his potential, his run to the final served up more proof of just how hard it is to win a grand slam in the era of Federer, Nadal, and Djokovic. The young Russian did everything right and played scintillating tennis. Under different circumstances, his performance would have been more than good enough to win the tournament. He had the bad luck of facing Nadal, one of the sport's greatest champions, on a night when Nadal simply refused to lose.