Jojo Rabbit, Joker, and 5 More Movies to Look for This Fall
The second half of the Toronto International Film Festival featured some of the most hyped new titles of 2019.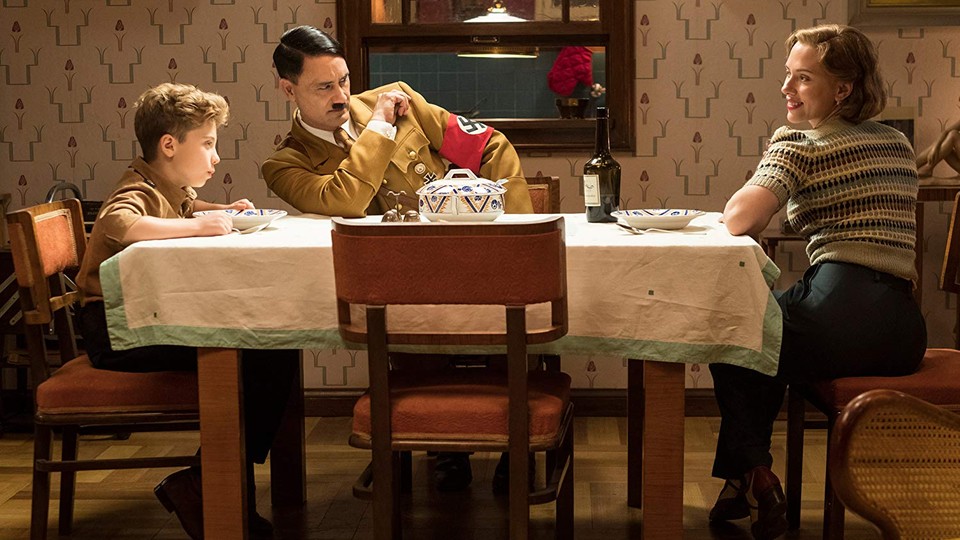 Jojo Rabbit was one of the most hyped entries at this year's Toronto International Film Festival, but looking at the initial reviews that greeted its premiere, you might have figured it was dead on arrival. A high-energy, extremely goofy satire of Nazi Germany from the acclaimed director Taika Waititi (Thor: Ragnarok), the film drew a meager score on the review aggregator Metacritic and negative reactions from each of the major trade publications. In the hotbox environment of fall festivals, that kind of disapproval can spell disaster for a potential Oscar contender. But after such a bland movie summer, polarization seems to be the way to stand out.
Yesterday, Jojo Rabbit won the coveted TIFF People's Choice Award, an audience prize that has for decades served as a launchpad for major awards campaigns. The movie's trajectory may recall 2018, when Green Book debuted to middling reviews and won Toronto's biggest honor on the way to an Oscar for Best Picture. Some of the most controversial films of the season are generating some of the most passionate reactions, between Jojo Rabbit and the fall's other surprising prizewinner, Todd Phillips's unconventional comic-book movie about a maniacal killer clown.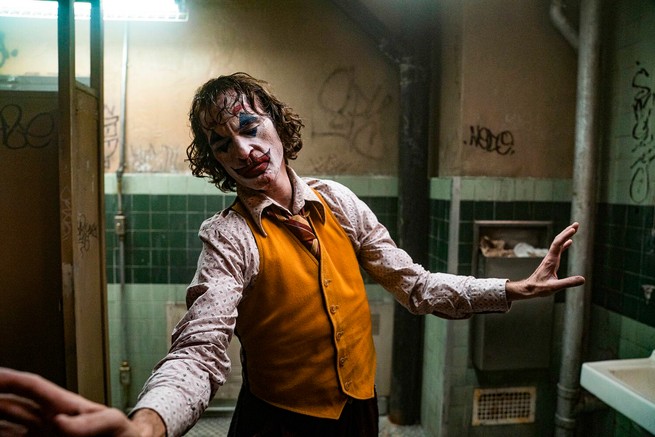 Joker, a stripped-down take on the origins of the Batman villain, won the Golden Lion at the Venice Film Festival, a trophy that's gone to revered works such as Rashomon, The Battle of Algiers, Brokeback Mountain, and, just last year, Alfonso Cuarón's Roma. This movie isn't worthy of those lofty comparisons, but it is slickly made—a compelling and crisply presented homage to Martin Scorsese thrillers of yesteryear, driven by Joaquin Phoenix's larger-than-life performance in the title role. But although Phillips always gave his comedies (including Old School and The Hangover) a harsh, cynical edge, Joker is one-note, a fire hose of misery that works relentlessly to convince the audience of just how serious it is.
Bleakness isn't a problem for Jojo Rabbit, which is set in crumbling Nazi Germany near the end of World War II. The movie portrays life gleefully through the eyes of a child named Jojo (Roman Griffin Davis), who is so devoted to Hitler that the dictator appears to the boy as an imaginary friend, played by Waititi. The writer and director (who is Jewish) uses that sitcom-y tone to underline the foolishness of Jojo's beliefs, which disintegrate when he meets a Jewish refugee his mother (Scarlett Johansson) is hiding in the attic. Many of Jojo's ironic gambits didn't fly for critics, but the anarchic jokes largely landed for me; it was when the film turned more maudlin in its last third that I began to wonder what the ultimate thrust of Waititi's satire really was.
Another divisive work that landed better with me was Uncut Gems, the new film from the Safdie brothers, whose oeuvre includes symphonies of anxiety such as Heaven Knows What and Good Time. Uncut Gems is a compact, gut-churning thriller about a Manhattan diamond dealer (Adam Sandler) who's racing around town trying to pay off his debts while he tries to recover a rare jewel that has drawn the attention of the basketball star Kevin Garnett (who gives a rather excellent performance as himself). The film is a grinding experience driven by a pulsing electronic score and a sweaty, energized, perfectly shrill performance from Sandler that might be a career best. It's likely to spur as many walkouts as standing ovations, but whoever survives Uncut Gems to its Shakespearean ending will probably walk out a huge fan.
James Mangold's Ford v Ferrari is another epic-length event about male egos that's more likely to be a broad crowd-pleaser, telling the true story of Ford's efforts to win the 24-hour Le Mans endurance race. The film boasts plenty of movie-star-caliber charm from its leads, Matt Damon (as the car designer Carroll Shelby) and Christian Bale (as the driver Ken Miles), and some superb racing set pieces. Frustratingly, it ladles in retrograde stock characters such as a concerned wife (Caitriona Balfe) and plucky son (Noah Jupe) who serve mostly to pad an already hefty running time. But the movie succeeds because it never loses sight of the fact that Ford, the ostensible hero of the story, was even more venal and ruthless than its Italian rival in pursuit of victory. The film is a warts-and-all tale of capitalism run amok, and viewers are all the better for it.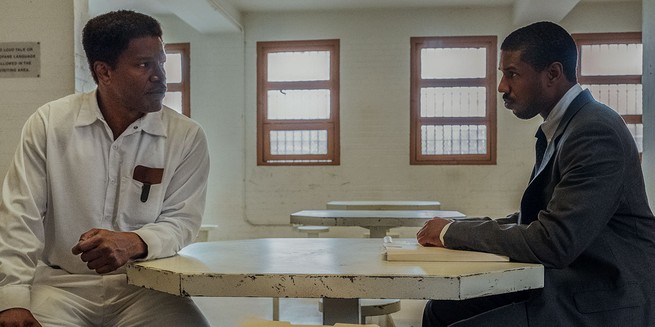 Ford v Ferrari is a satisfyingly grown-up film from 20th Century Fox, a studio that's charting an uncertain path forward after its acquisition by Disney. Other major distributors at TIFF also presented the sorts of midsize adult dramas that used to be the backbone of Hollywood. Along with Joker, Warner Bros. showed Just Mercy, a sober legal drama about the death-row lawyer Bryan Stevenson (Michael B. Jordan) and his efforts to represent clients who were railroaded in the criminal-justice system; it's an emotional if straightforward viewing experience, bolstered by a key supporting turn from Jamie Foxx.
Warner Bros. also has Motherless Brooklyn, a wildly ambitious project written by, directed by, and starring Edward Norton. The adaptation of Jonathan Lethem's neo-noir novel transposes the action into the 1950s and makes the villain an analogue for New York's notorious master builder Robert Moses (played by Alec Baldwin). It's a project that tries to tackle far too much, which is a shame, given Norton's clear passion for the material. Another strange misfire is Fox Searchlight's Lucy in the Sky, a pseudo-biopic about an astronaut (Natalie Portman) who has a nervous breakdown after returning from space and having an affair. It's loosely inspired by the story of Lisa Nowak, but the director Noah Hawley steers away from the lurid details of that case to offer something more dreamlike and atmospheric, neglecting to offer real melodrama in what could've been a juicy personal narrative.
Given the success of Hustlers (which played at Toronto) at the box office this weekend, it's obvious that a little sizzle can help a movie distinguish itself even among the stately Oscar contenders. It's what should help propel Jojo Rabbit and Joker to months of awards buzz even as critics ponder the political and social import of their narratives. The same goes for other TIFF favorites such as Knives Out and Parasite, which work within familiar genres but are unafraid to shout the topical questions they're asking of audiences. With Nazis, comic-book villains, and murderous millionaires, 2019 promises to be a year in moviemaking that won't go quietly.