Tegan and Sara Rewrite the Queer Coming-of-Age Story
By revisiting their teen years, the rock duo's new memoir, High School, and album, Hey, I'm Just Like You, dismantle cultural clichés about adolescence.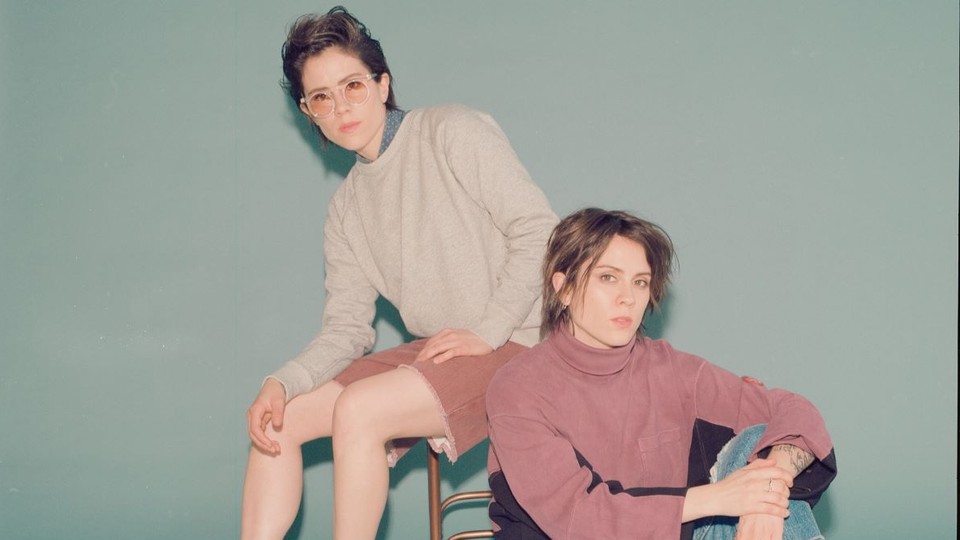 The audience cheered, and Sara Quin scoffed. "Where the fuck were you when I was 15?" she asked the sold-out Murmrr theater in Brooklyn last week.
The question was jokey, but it also wasn't. Sara, of the band Tegan and Sara, had just told a story about the time in 12th grade when she hurled a chair at a classmate who'd sneered during a health lesson, "Fags get AIDS." In her and her sister's new memoir, High School, Sara writes of "the dangerous sound" of her own voice when she confronted the jerk, the "spectacularly metallic" crash of the chair into a desk, and her "heaving sobs" after she bolted from the classroom and hid in the drama department. The adults at the school called her to the principal's office but dealt with her gently. The adults who love her band, listening to her speak in 2019, treated her like a hero.
As she told this story, it had the air of a myth being born—or rather, reborn. Teenagedom might be the phase of life most vividly signposted by pop culture, which has coughed up uncountable tales of bullies and outcasts, cheerleaders and quarterbacks, virginity anxieties and promposals, and so on. In John Hughes movies, and often in real life, teen rebellion stems from a blend of horniness and the quite-plausible fear of turning out like one's parents. For queer youths, though, angst isn't necessarily so ritualized. There's not been a huge library of mainstream work to guide their quest to form an identity, and they may be particularly baffled by dating rituals shaped by the imperative to one day marry and have kids. Lacking models of what their journey should look like only heightens the shock of realizing—and of potentially being ostracized for—one's difference.
A recent boom in queer coming-of-age works has begun to address this problem, and Tegan and Sara's emotionally acute pop-rock has been helping out for two decades. Now the 39-year-old Calgary twins fling open their teenage yearbooks for public consumption. In the new memoir High School, they trade off terse, reflective chapters about their adolescence. On their new album, Hey, I'm Just Like You, they rerecord songs they first wrote as teens. On their current tour, they read from the book, play from the album, and screen old home footage—much of it shot in a perfectly '90s bedroom festooned with Smashing Pumpkins posters and a novelty gumball machine.
The focus on high school may seem strange for adults midway through their career. But Tegan and Sara have reason to dwell on puberty. These are not musicians who fumbled until they found a creative partner; they developed, professionally and personally, in tandem and in youth. One chapter of High School recalls them finding their stepdad's yellow-bodied Fender guitar in a storage closet and then trying to imitate the rockers they'd seen on MTV. "The desire to play it felt instinctive," Tegan writes. The two sisters then began to write music separately, in private—but neither could keep her new hobby hidden from the other for long. During senior year, their sweet-and-noisy duets won out over older and more swaggering rockers in a college radio station's battle of the bands—another moment of could-be movie magic.
But music makes up only a fraction of the book. High School mostly devotes itself to familiar milestones: first kisses and first hickeys, secret crushes and high-stakes sleepovers, wild house parties and wilder sibling fights, a mom finding a bag of pot and a friend finding stashed love letters. While Tegan and Sara are hilarious in their onstage banter, on the page their anecdotes read as spooky, solemn obstacle-running. A melancholy tone runs throughout. Queerness complicates what otherwise might seem like just hijinks.
Take a story that might seem rote: One sister becomes jealous when the other starts to hang out with a new best friend. But that jealous sister, Tegan, didn't know that that friend, Naomi, was hooking up with the sister she'd been spending so much time with, Sara. Tegan felt great disorientation and hurt at being shut out of hangouts, and Sara felt shame and anger for having to shut her out. At their concert in Brooklyn, Sara elaborated that she experienced her sister's envy as a form of homophobia: It was as if Tegan's prying was the world's prying. Along similar lines, late in the book the twins' generally hip and understanding mom flips out upon discovering Sara's sexuality. She does so partly out of anger for having been lied to previously—but also, it feels, out of ingrained bigotry. "I wanted you to have a great life, to get married, to have a family," she cries.
Rock and roll provided a medium through which the twins could excavate their feelings without coming out explicitly. When Naomi left for an exchange program and found a boyfriend, Sara's heartbreak expressed itself in lyrical code. "The words 'You' and 'I' helped shape a one-sided conversation and a place to confess," she writes in the press materials for Hey, I'm Just Like You. "This is my go-to as a songwriter now, but at 16 it felt like an epiphany." The album opens with one of the first songs the twins wrote after discovering their stepdad's guitar. "If I hold my breath until I die, I'll be alright," goes the chorus: a perfectly ambiguous lyric, able to communicate the bottling up of universal anxieties as well as the specific anguish of the closet.
The music they recorded to cassette tape back in the '90s resembled the knotted, ragged rock of their idols: Kurt Cobain, Courtney Love, Ani DiFranco. The versions they've rerecorded for 2019 demonstrate that the songwriting essence of the band has stayed constant over decades. One sister will lay down a verse, and the other will complicate it, with choruses that create a roller-coaster sense of acceleration. Part of the point of the new album, they said onstage, was to highlight their underrated talent as teenagers, and many of Hey, I'm Just Like You's songs are good enough to slot into a playlist of Tegan and Sara's highlights. I particularly love the ebullience of "We Don't Have Fun When We're Together Anymore," which uses darts of sarcasm to describe burning out on a friend: "Have another drink, it'll make you cool."
The production choices Tegan and Sara made for these new-old songs are far from their grungy origins, though. Instead, Hey, I'm Just Like You delivers the bright keyboard thicket that the band perfected on their 2013 popular breakthrough album, Heartthrob. One bracing moment comes in the form of a huge electronic bass drop on "Don't Believe the Things They Tell You (They Lie)," nearly re-creating the raves they once snuck off to without their mom's permission. Other synth-driven, party-oriented moments could be heard as building on styles long associated with queer joy, such as disco and new wave. They also evoke the shimmery soundtrack of a John Hughes production, imagining the kind of teen movie that should have existed all along.