Nature Writing That Sees Possibility in Climate Change
A pair of authors tries to maintain optimism about the world's changing landscapes—but at what cost?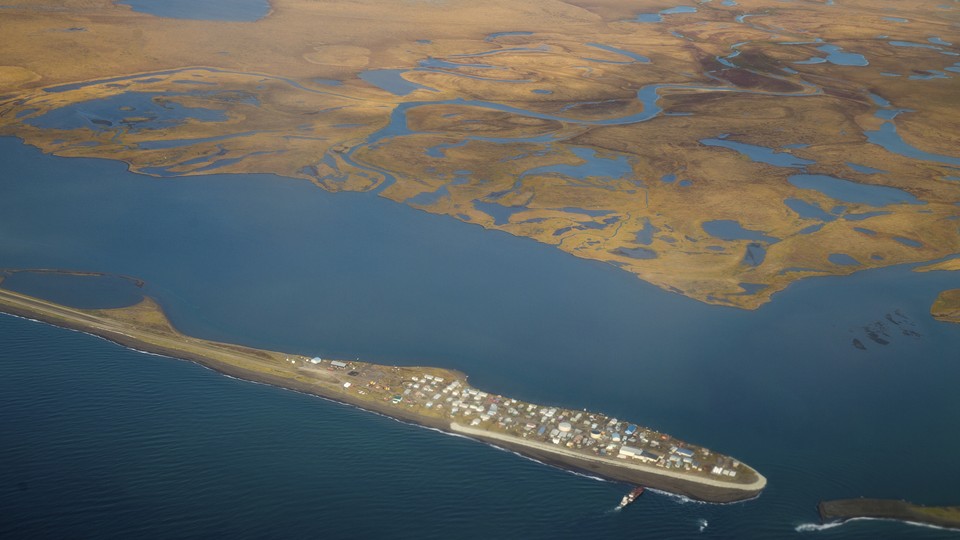 In October, the residents of Newtok, Alaska, are expected to begin relocating because of climate change. And it's not just the people who are moving. The town is packing up everything—including its school and airport—and starting over on higher ground nine miles away. Sitting between two rivers on the state's southwestern coast, Newtok voted to move in 1996, but governmental red tape and the project's high cost, more than $100 million, have contributed to the delay. As rising tides claim their land and record-breaking heat melts the permafrost beneath their homes, Newtok's 354 residents hope to complete their move by 2023. "We cannot wait anymore," the village's relocation coordinator told Senator Lisa Murkowski of Alaska in August.
Residents of other Alaskan towns and villages may soon be saying something similar, if they aren't already. Ninety-two miles east of Newtok, the 350 people who live in Napakiak are retreating from the Kuskokwim River, moving back their houses and other properties one by one from the eroding riverbank. Twice they have had to move the village cemetery. "It's a constant race against time, and right now the local grocery store, the fire station, and a city building are top of the list for relocation," a city-council member told the news agency AFP earlier this year. He added: "Who knows what we are going to face in the next 10 years."
The U.S. government's 2018 National Climate Assessment provided some idea, finding that 49.4 million "housing units" are located within shoreline communities across the country and that flooding "from rising sea levels and storms is likely to destroy, or make unsuitable for use, billions of dollars of property by the middle of this century."
Amid this destruction, a pair of new books suggests, may lie the secret to surviving it. In Surfacing, the Scottish essayist and poet Kathleen Jamie recounts her 2014 visit to Quinhagak, a coastal village of some 700 people located south of Napakiak. Five years earlier, while watching the Bering Sea swallow their land, creep closer to their homes, and threaten their community, Quinhagak's residents, most of them indigenous Yup'iks, invited Rick Knecht, an archaeologist from the University of Aberdeen in Scotland, to help them preserve what the water was taking away. Jamie reports that that erosion of a mile-long stretch of beach had revealed a 500-year-old village filled with Yup'ik artifacts: "line weights, harpoon heads, jewelry, wooden arrow-shafts, fishing weights, darts, models of animals, even ceremonial dance-masks, ritually broken after use." The discovery of these objects soon led to a renewed interest among the Quinhagak community about a way of life that had all but been forgotten. Before Jamie joined Knecht in Alaska, the archaeologist had told her that the site, named Nunallaq—or "Old Village"—"was revitalizing a damaged culture" and "developing resilience and confidence" among Quinhagak's residents.
Warren Jones, the former president of the village corporation that owns the land in Quinhagak and most of the businesses that operate on it, tells Jamie how the dig inspired the first ceremonial dance in the village in a hundred years. Jones credits interest in Knecht's work to an increase in young Quinhagaks attending college, and believes what's happening there can show other Alaskan villages how a return to traditional ways of life can prepare them for the future. As one village elder tells Jamie during a discussion about hunting, "We gotta remember. If the planes stop flying and no food comes in, we gotta remember how to live."
With Surfacing, Jamie doesn't join the chorus of voices calling for immediate action to prevent the effects of climate change from getting worse. She admits to feeling "powerless to resist" the "global forces and corporations" blamed for the crisis. She can't, however, be accused of throwing in with the climate defeatists. Surfacing is a work of cautious optimism, with the author occasionally tilting too far toward wide-eyed hope. "If you imagine all the incidents the people here spoke of," she writes of Quinhagak, "all the looking and listening, the stories and encounters, remembered and repeated and layered over thousands of years, you might indeed come to know your own backyard. And how it might help you."
Such stories are not, of course, found only in Alaska. Later in the book, Jamie spends time at an archaeological site named the Links of Noltland in her native Scotland. Buried for 5,000 years, the site is home to a recently exposed seaside settlement from the Neolithic and Bronze Ages. As steady winds erode human remains and other evidence of communities that existed on the spot for 700 years, archaeologists race to save as much of it as they can. The subsistence farmers who lived here, Jamie writes, practiced "a way of life that bound you inescapably." More than once, archaeologists tell her that these people "just got on with it"—the business of living.
"Does this matter, is the question," Jamie wonders. "Do we want to know how it was to be human, here, five thousand years ago? Do we want to know where we're coming from as we cruise into the future? What we were, or might be again? How we 'engaged,' if that's the word, how we configured our relationship with the rest of the natural world, with the planet."
Jamie appears content to let the reader answer these questions, and she moves on to essays about losing her parents, her bout with cancer, and the 1989 Tiananmen Square protests in China. For Terry Tempest Williams, there is no moving on from such questions. The Utah-based conservationist's new book, Erosion: Essays of Undoing, reads like a longer, louder, and less searching book than Jamie's. "Without a respect for origins," Williams declares, "the human spirit falters."
In her impassioned collection of essays, poems, and interviews dating back to 2012, Williams returns often to the idea that in order to adapt to the climate crisis, everyone will need to understand "what indigenous communities have always known, and are increasingly willing to share—that we are one with the land, not apart from it."
The veteran nature writer Barry Lopez makes a similar argument in his recent, career-spanning book Horizon, and like him, Williams understands that her observations—and, ultimately, her faith in humanity and optimism about its future—come from a place of privilege. While everyone is experiencing the effects of climate change, it's easy to write "Our undoing is also the making of our becoming" when the ocean isn't lapping at your front door. "I have the privilege of looking forward," Williams admits in Erosion, later adding, "This is who I am—Boom! A white woman of privilege born of the Covenant—I am not on the outside but inside."
Williams's impatience with subtlety, penchant for aphorisms ("Wilderness is a necessity, not a luxury"; "The silence before us is time"), and wide embrace of repetition threaten to dull the book's message early on. But the more she repeats her arguments—sometimes within the same paragraph—for saving public lands, standing up to the oil and gas industries, and building "another world in the ashes of this one," the more effective Erosion becomes.
Williams's and Jamie's books arrive late in a year that has already seen climate literature advance in intimate (Margaret Renkl's Late Migrations), imaginative (Karen Russell's Orange World), and authoritative (Lopez's aforementioned Horizon) ways. On their own, Surfacing and Erosion aren't quite at the level of those works. But taken together, their disparate approaches to the same idea —"To belong to a place and a group of people saves our lives," as Williams puts it—prove to be, almost despite themselves, encouraging.