The Plan to Make Harvey Weinstein a Hero
She Said, the behind-the-scenes telling of one of #MeToo's most consequential journalistic stories, treats villainy as a systemic proposition.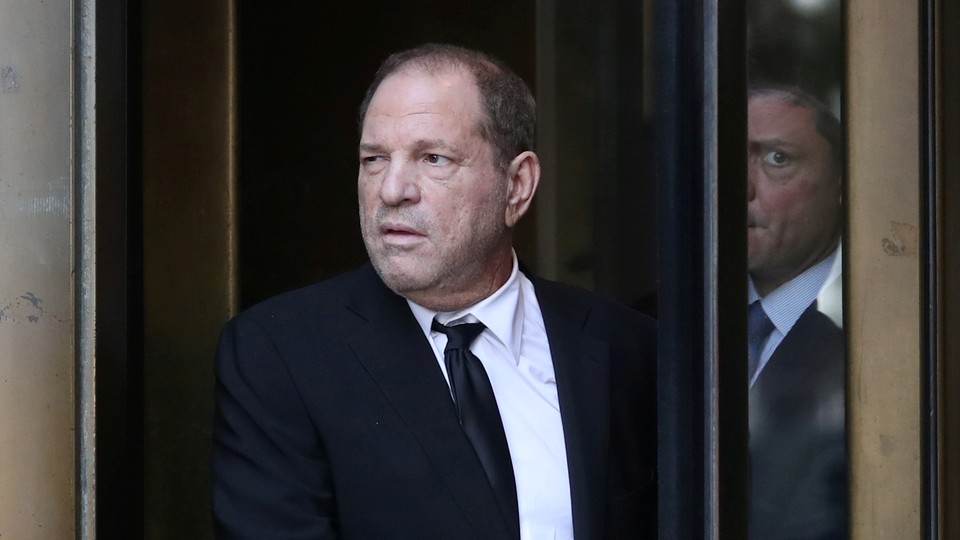 "You should be the hero of the story, not the villain. This is very doable."
In December 2016, the lawyer Lisa Bloom sent a memo to Harvey Weinstein. Written as an audition of sorts—Bloom signs it with a polite request that Weinstein put her on retainer—the document offers a point-by-point insight into the mechanics of reputation-laundering. It includes breezy suggestions about the philanthropic projects Weinstein might engage in to shield himself from accusations of sexual misconduct (including a particularly ironic proposal to establish a Weinstein Foundation dedicated to gender parity in Hollywood). It proposes that Bloom conduct an interview with Weinstein "where you talk about evolving on women's issues." The memo's bulk, however, is reserved for ideas about how the producer might discredit the women who had, and who might still, come forward to accuse him of abuse. Primary among them was the actor and activist Rose McGowan, who had accused Weinstein of rape in a 2016 tweet and whose story Bloom's memo proposed to neutralize—ostensibly with the help of compliant media outlets—as the ravings of an unreliable narrator.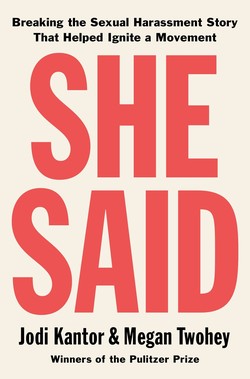 The memo is reprinted in full in Jodi Kantor and Megan Twohey's new book, She Said: Breaking the Sexual Harassment Story That Helped Ignite a Movement. And the document is, even within an exploration of the failing systems that held Weinstein in their protections, striking. Bloom, who is often identified in the media as a "civil-rights attorney"—she has represented accusers of Bill Cosby, Bill O'Reilly, Jeffrey Epstein, and Donald Trump—is sometimes treated, herself, as the hero of the story. But in She Said, Bloom becomes an avatar for a system that can easily confuse villainy with its opposite. Bloom was, among other things, the defender who, when the story of Weinstein's alleged abuses broke in 2017, characterized him as merely "an old dinosaur learning new ways": awkward, out of date—pitiable, maybe, but not a predator. Weinstein paid Bloom, Kantor and Twohey report, $895 an hour.
Investigative journalism is a justice of last resort: Whistle-blowers often send their messages and make their calls with the hope that wrongs, having proved resistant to righting by other means, might be tried in the open air. She Said, as both the product of such journalism and an exploration of it, is by turns triumphal and cautionary. What does justice, for survivors of sexual harassment and abuse, really look like? How can wrongs that are so intimate be, in a public way, righted? Kantor and Twohey, writing a professional memoir that often reads as a riveting work of true crime, offer damning evidence for what is by now a familiar theme: a legal system that promises blindness and balance—the mechanisms through which truth might be finally determined—and too often comes up short. She Said finds Kantor and Twohey (and the extensive team of editors, lawyers, and fact-checkers who bolster their work) exposing not merely Weinstein, but also the system that kept him, at the expense of so many others, safe.
"I feel equipped to help you against the Roses of the world," Bloom had noted in that 2016 memo, "because I have represented so many of them."
Lawyers in general, acting as both the foot soldiers and the brand ambassadors of the American justice system, do not come off well in She Said. In addition to Bloom, there is Bloom's mother, the lawyer-crusader Gloria Allred: "While the attorney cultivated a reputation for giving female victims a voice," the authors write, "some of her work and revenue was in negotiating secret settlements that silenced them and buried allegations of sexual harassment and assault." There is Lanny Davis, the lawyer and political operative, who offered the Times reporters this statement in an interview: "So let's say for now, even on a background basis, that I need to find out what my limits are legally, even if on background I am confirming settlements." There is David Boies, perhaps best-known for his work successfully defending the marriage rights of same-sex couples, who makes many appearances attempting to delay the Times investigation. (Boies told Kantor and Twohey that he had been unaware of some of Weinstein's most egregious tactics—the use of spies, for one thing, to gather opposition research on journalists and accusers; Boies ultimately told them, though, that he didn't have "any regret that I represented him the way I did.")
Linda Fairstein (yes, that Linda Fairstein) also makes an appearance in She Said: The attorney accompanied Weinstein, along with Bloom and the attorney Elkan Abramowitz, as the producer paid a surprise in-person visit to the Times just before the publication of its initial story about him—a final, desperate act that seemed designed by turns to intimidate and to charm the journalists away from publication.
It is not long, in the book, before the well-oiled machinery of Weinstein's protection apparatus begins to creak and whine. Kantor and Twohey describe what amounts to a Potemkin defense strategy directed at them with increasing urgency: Weinstein's defenders—including the man himself—alternately yell at them, cajole them, beg them, and threaten defamation suits against the Times. But the team denied until it could deny no more. On October 5, the day the Times pressed Publish, Bloom sent a memo to the board of the Weinstein Company: "This is the worst day," it read. "This is the day the New York Times came out with a largely false and defamatory piece, in a major violation of journalistic ethics … "
It would be easy to read Bloom as a scapegoat. (McGowan, for one, has argued that Bloom be disbarred.) But the lawyer, like her erstwhile client, is also emblematic of a much more sweeping problem. Bloom, in She Said's nuanced telling, appears to have exploited a legal system that is all too easily bent toward the interests of the powerful. She now tells Kantor and Twohey that she regrets having defended Weinstein. She suggests that she, like so many others, had been deceived by Weinstein's manipulations. "I was naive," Bloom tells the reporters in an email included in the book. Yesterday afternoon she offered, on Twitter, another note of contrition: "To those who missed my 2017 apology, and especially to the women: I am sorry."
MeToo, since long before Kantor and Twohey's Weinstein exposé, has been deeply concerned with questions of justice and its uneven distribution: Tarana Burke established the movement in 2006 as a resource for women and girls of color from low-wealth communities—for people, in other words, who have particular reason to mistrust the American justice system. "Our vision from the beginning," the MeToo movement notes today, "was to address both the dearth in resources for survivors of sexual violence and to build a community of advocates, driven by survivors, who will be at the forefront of creating solutions to interrupt sexual violence in their communities."
Even as MeToo became a hashtag and a mass movement, it retained that sense of earned mistrust about what "justice" might achieve for survivors. MeToo operates within the same system, after all, that learned of Jeffrey Epstein's repeated abuse of vulnerable girls and found the correct response to be, effectively, a light slap on the wrist. It operates within the system that decided the appropriate confinement time for Brock Turner, the Stanford student convicted of sexually assaulting an unconscious Chanel Miller, was three months. It operates within the system that declined, despite the ample evidence at its disposal, to arrest and prosecute Weinstein back in 2015. It operates within a system that keeps finding new ways to argue that the powerful should be the hero of the story, not the villain. Last year, when Bill Cosby was convicted of assaulting Andrea Constand—after more than 50 women came forward to accuse him of abuse, and after an earlier mistrial—the women reacted with joy. They also, however, reacted with shock.
So while there is triumph in She Said—the book is a tale of investigative reporting's power to nudge the world out of its complacencies—there is also a sense of necessary open-endedness. The book functions, as many critics have noted, as a feminist All the President's Men. But while the earlier work offered the satisfactions of a singular climax—Nixon resigned, the end—She Said, to its credit, offers no such tidiness. It offers, on the contrary, something much more productive: a challenge. An opportunity. The trial here is still ongoing. The jury is still out. The journalist offers the evidence; it is for the rest of us to decide what the justice looks like.