The Sweetly Subversive Marriage at the Core of Schitt's Creek
One of the Emmy-nominated sitcom's secret strengths is its portrayal of long-term partnership—as a bond that is as eccentric as it is affectionate.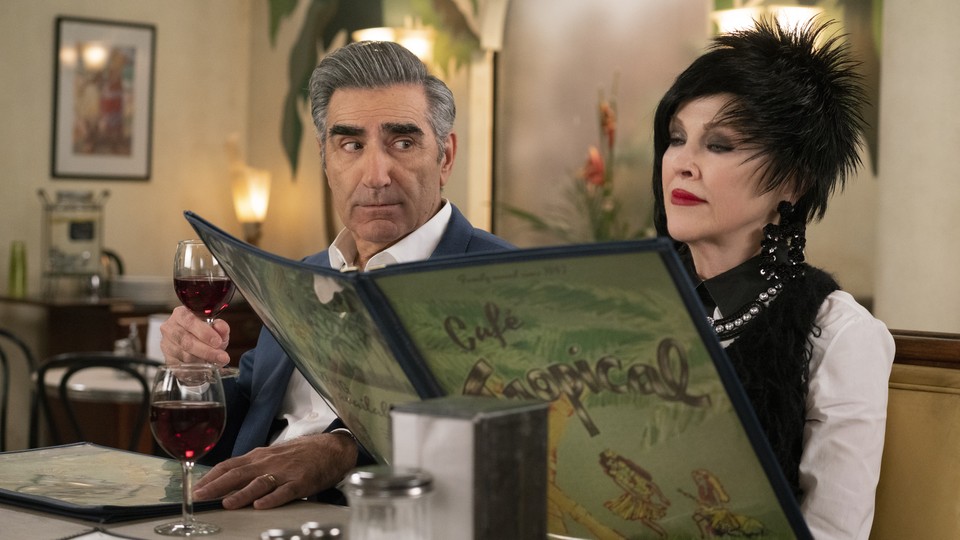 Moira Rose, the grandiloquent matriarch of Schitt's Creek, has suffered plenty of indignities since her formerly wealthy family was forced to relocate to the rural town they'd once purchased as a joke. Over the show's first four seasons, the onetime patrician, played by Catherine O'Hara, lost her friends, her acting prestige, and a handful of her beloved wigs. Still, it was a misunderstanding in Season 5 that most emphatically propelled Moira's anxiety: Upon returning from a film shoot, she discovered a stack of love letters addressed to her husband, John (played by Eugene Levy). As a distraught Moira insisted there was "a perfectly logical explanation" for the letters, the news spread through town, eventually prompting John to reveal the truth. "You wrote those letters!" he told his wife. "That week on Sunrise Bay ... you were in a body cast; they wouldn't let you take it off. You were writing with your left hand!"
That this exchange doesn't occur until the final minutes of the episode is only one example of the absurdist joy of Schitt's Creek, which was nominated for awards in four categories at this year's Emmys (Comedy Series, Lead Actor Comedy Series for Levy, Lead Actress Comedy Series for O'Hara, and Contemporary Costumes). The series is a delight not just because of its comedic timing, but also because of the tenderness with which its primary couple approach their relationship. Moira and Johnny Rose face constant, often hilarious hurdles, but their irritation is rarely directed at each other. As John, Levy is confused and sometimes bumbling—a familiar archetype for straight husbands on TV—but he never regards his wife as an object of contempt, even when her sleep deprivation and separation anxiety lead her to do silly things, like forget she'd once written him steamy love letters. The reason he'd revisited them, after all, was that he'd missed her while she was away.
Schitt's Creek, like Catastrophe, is the rare family sitcom that doesn't rely on tired gendered tropes to portray conflict within its central heterosexual partnership. The husbands on older series such as Married ... With Children, The King of Queens, and even Everybody Loves Raymond seemed to crackle with one-sided resentment toward their beautiful but annoying wives. Those on more recent shows, such as Black-ish and even Modern Family, rarely pull their weight in their households. (And some of the most compelling family-oriented series of recent years, such as One Day at a Time and Better Things, are anchored by single mothers.)
But Schitt's Creek's Johnny Rose showers Moira in adoration. He gathers their children around the telephone to wish her well on her first day of shooting; he admonishes them not to touch her wigs because he knows the hairpieces matter to her. Even in moments of suspicion, Moira regards him with nearly unwavering amusement and affection. They laugh loudly and often. They are far more committed to each other than to their (adult) children, far more content to luxuriate in their romance than to see themselves as parents first. (In this, they diverge markedly from Catastrophe's Rob and Sharon, who were consumed by the task of raising young children for much of the show's four seasons.) Johnny and Moira's refreshing dynamic pays off for viewers, especially given how rare it is for shows to depict an older couple facing life troubles that aren't, as O'Hara recently noted to the Los Angeles Times, "just about death, divorce, and disease."
Much of the actors' onscreen rapport can be traced to their long history of collaboration. O'Hara and Levy first performed together in 1974, and they credit their shared artistic sensibility to Second City, the comedy theater where they first met. (O'Hara, then a waitress, later went on to replace Gilda Radner.) Though their own brief romance didn't last, the pair played a couple in the 2000 comedy Best in Show, and ex-lovers in the 2003 mockumentary A Mighty Wind. When Levy and his son, Dan (who plays David, one of Moira and Johnny's children), initially conceived of Schitt's Creek, they knew O'Hara was their Moira. "She was our first choice, yes. She's always our first choice," Eugene Levy told Vulture in 2015.
The Levys' trust in O'Hara—and the latter's admiration for Eugene—shaped the process of writing and fine-tuning Moira both before and during filming. In a 2014 joint conversation with BuzzFeed News ahead of the show's release, O'Hara spoke glowingly about "working with a friend who you love and respect." This sense of trust also animates the characters' marriage: Moira and Johnny are clearly a team who choose each day to face down their struggles together—even when the place where they've woken up that morning is itself the struggle. To the extent that they express frustration toward each other, the root cause is usually one partner's failure to inform the other of new burdens so that they can be shared.
Late in Season 5, for example, Johnny pulls a muscle in his back. The episode gives Levy the chance to play around with physical comedy, and O'Hara dramatizes Moira's concern for her injured husband. "John, how was I to know you were in peril?" she asks, upon learning of his pain. "You keep everything inside, like a bashful clam!" Moira Rose isn't written as a natural caretaker, and yet her protective instincts shift into overdrive whenever she perceives Johnny to be in danger. Schitt's Creek reveals this facet of her love in the same way it tells its broader story: with depth and riotous humor.