Saturday Night Live Made a Mistake Hiring Shane Gillis
The news that the show had hired its first Chinese American cast member was quickly overshadowed by reports that another new hire had a history of racist remarks.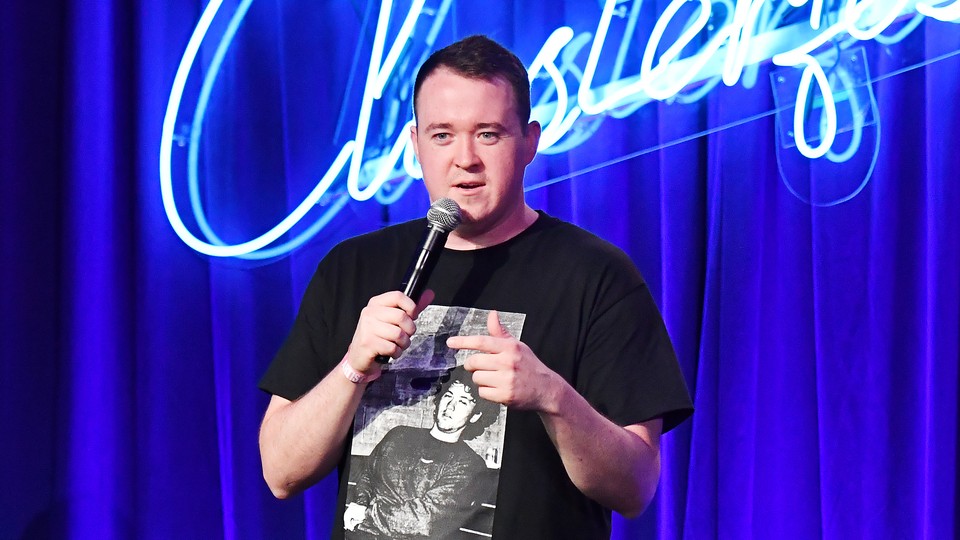 "I'm happy to apologize to anyone who's actually offended by anything I've said." That was new Saturday Night Live cast member Shane Gillis's attempt at a mea culpa, posted to Twitter at 10:45 p.m. last night, for the trove of racist and homophobic remarks that was being newly circulated and dissected online hours after his hiring was announced. Even by the standards of the self-serving "phantom apology" many public figures rely on these days, the statement was flimsy. It's hard to watch the clips in question—including one in which Gillis uses the phrase "fucking Chinks"—and to then accept the comedian's explanation that he was merely pushing the boundaries and taking the risks required to create great comedy.
In case it wasn't clear, nothing in the extended digressions about Chinatown or what counts as (in Gillis's words) "nice racism" qualifies as great comedy; it doesn't even rise to the level of intelligible conversation. When SNL announced its three new hires yesterday, much of the initial excitement focused on the casting of Bowen Yang, the first Chinese American actor in the show's 45-year history. (The comedian Chloe Fineman also joined Yang and Gillis.) But any elation quickly dissolved as clips of Gillis began spreading on social media, including footage of him aggressively mocking Chinese accents, casually dropping racial slurs, and generally ruminating on all kinds of tired and vile stereotypes with his podcast co-host, Matt McCusker.
It is not unusual for reporters and comedy fans to trawl through the comedic history of a newly announced SNL player. When Jon Rudnitsky was brought aboard in 2015, he was castigated for several ugly tweets in his past; while he weathered that storm, he only lasted a year on the show and largely as a background extra. Melissa Villaseñor was similarly criticized for offensive jokes in her Twitter history, many of which she deleted; she later called the posts a failed attempt to be edgy. In both cases, the SNL producer and creator, Lorne Michaels, silently waited out the online blowback. But Gillis's case will be harder to ignore.
Megh Wright of Vulture has already extensively reported on Gillis's history of lazily offensive comedy, most of it from podcast episodes as recent as 2018. A subreddit devoted to his podcast (which has already been locked from public viewing) is reportedly "filled with homophobic slurs," while one Philadelphia comedy-theater owner told Wright she had banned Gillis "because of racist, homophobic, and sexist things he's said on and offstage." After years in the Philadelphia scene, Gillis moved to New York and was this year named one of the "new faces" at Montreal's Just for Laughs festival, a crucial showcase for up-and-coming comedy talent.
Gillis's stand-up routines are, of course, far more polished than the podcast excerpts. One Comedy Central clip is about how white people like country music because "you can understand all the lyrics"; Gillis later mocks the assumption that he'd be a Trump voter (while saying he didn't actually vote for Donald Trump). Watching Gillis onstage, it's clear what might have appealed to Michaels and to SNL head writers Colin Jost and Michael Che; the latter, especially, is fond of prodding "liberal kids [in] coastal cities" and might have been drawn to Gillis's more "red state" mentality.
Gillis's defense that he's simply taking "risks" in the name of a good laugh is euphemistic and disingenuous at best. There are plenty of provocative comedians who do not have a bad-enough reputation to get banned from stand-up clubs, or episodes of podcasts dedicated to ranking which races are best at comedy. Aside from the racist remarks, what stands out most from this particular episode of Matt and Shane's Secret Podcast is a sense of resentment as the two hosts discuss their hatred of successful comics like Chris Gethard and Hasan Minhaj, and criticize a Rolling Stone list of comics to watch that doesn't include any straight white men.
Backbiting in the comedy scene isn't a rare phenomenon, but Gillis's grousing underlines just how little respect he has for any diversity of voices in a medium whose purported values he's invoking to defend himself. His tweeted statement suggests anything terrible he might have said was all to help develop his craft, and yet his conception of that craft is frustratingly narrow. Decades after its debut, Saturday Night Live remains a career pinnacle that so many comedy professionals aspire to; the question now is whether Michaels and NBC will reflect on what it would mean for working and aspiring comics if the show included Gillis in the cast.