Five Songs That Explain the Cars' Influence
A. C. Newman of the New Pornographers dissects how the late Ric Ocasek shaped his music.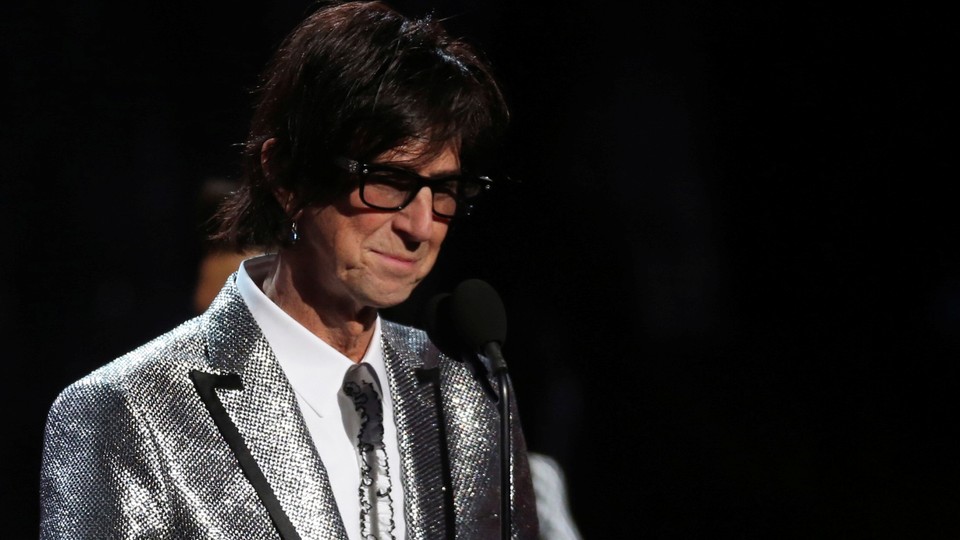 When news of Ric Ocasek's death broke earlier this month, the range of artists who grieved publicly—Beck, Ice T, Nile Rodgers—showed the wide influence the Cars achieved as one of the most popular new-wave bands ever. One of the sharpest and most apt tributes came from A. C. Newman of the Canadian indie-rock band the New Pornographers. "I don't even need to listen to the first Cars album, just press play in my brain," he tweeted. "It's cued up." Another thought: "The deep in the pocket minimalist groove combined with the maximalist wall of vocals, that is my favorite part of the Cars' magic."
The specificity of his appreciations wasn't surprising. With their intricate but immediate rock that features bright keyboards and cliché-tweaking lyrics, the New Pornographers are one of the proudest descendants of the Cars working today. By phone, Newman selected some of his favorite songs from Ocasek's catalog to dissect. His band's eighth studio album, In the Morse Code of Brake Lights—which coincidentally features an automotive theme throughout, just as many Cars songs did—comes out Friday. This conversation has been edited.
"Good Times Roll" (1978)
A. C. Newman: When I was 10 years old, what I wanted for Christmas was the Cars' album. Now, after Ric Ocasek's passing, I realize [that] subconsciously, I've taken a lot from the Cars' music. In  "Good Times Roll," that offbeat syncopated groove—almost an angular reggae—that's a go-to of mine. In particular I think of "Jackie" from Mass Romantic. I was trying to figure out, what can we do in the second verse to kick it into another gear? And I wasn't sure exactly when I was doing it, but I gave it that "Good Times Roll" groove. It's so effective.
Because I've never been a guitar hero—I've never been particularly great at playing an instrument—I loved the amazing economy in the Cars' music. They were all good players, of course, and when Elliot Easton had to, he could shred on guitar. But for the most part, everything was very simple and in its place and arranged very nicely. There've been times when I thought I must have gotten that from the Pixies. But no, it goes back to the Cars.
They're one of the biggest influences not necessarily in the way I write songs but the way I arrange them. And the attitude as well. They're singing about the same girl that the Everly Brothers and Buddy Holly sang about, but this time she's got drip-dry gloves and nuclear boots and rock-and-roll hair. It's not jokey. It's just something a little off.
Spencer Kornhaber: What works about that syncopated riff?
Newman: It's just in the pocket. They're locked in like a machine. It's on the off beat, but you can feel the other beat in there. I love how Elliott Easton's high guitar only comes in every bar or two.
"You're All I've Got Tonight" (1978)
Newman: We'd been practicing when we found out he died, and I had my guitar in my hand. That was the first thing that occurred to me to play. [Mimics the riff from "You're All I've Got Tonight."] Such a monstrous, simple guitar hook.
That whole first album, it's hard for me to talk about the songs separately. "Good Times Roll" and "You're All I've Got Tonight" and "Just What I Needed" and "My Best Friend's Girl"—they all seem like they're of a piece. It's so rare for a band to come out of the gate that good and that immediate.
Some records that people talk about as the greatest of all time have something more cerebral going on. Like [the Beach Boys'] Pet Sounds or [the Zombies'] Odessey and Oracle or [Love's] Forever Changes, which are albums that I really adore. Albums like the first Cars album don't get enough credit. Because from the second you hear them, they plug into your pleasure zones. That's something I've always admired: the ability to be interesting but so immediate at the same time. You can't dismiss it as Top 40 radio rock, because they invented it. That was basically the beginning of the '80s sound, but it happened in '78 and '79.
"Let's Go" (1979)
Newman: It seems like an empty gesture to start looking for deep cuts by the Cars, because most of their songs were hits, and their hits were generally the best songs. "Let's Go" takes me back to a very specific place. I remember being a kid and being at the Pacific National Exhibition in Vancouver. All the rides are lit up and "Let's Go" by the Cars is playing. The chorus hits—"I like the night life, baby!" My mind took a snapshot of that moment, looking up at the Mad Mouse or whatever ride it was and thinking, This is so cool. It's only years later, when I become a musician, and I think, I love the groove of the song, I love the keyboard line, I love the way the bass works.
Kornhaber: That song makes me think of an amusement park too. It might be the keyboards. What do you make of them?
Newman: I love the simplicity of it. Greg Hawkes seemed like he rarely ever played chords. He just played these cool keyboard lines. That's another thing the New Pornographers stole. "Let's take their syncopated groove and their cool, monophonic synthesizer sound."
"Touch and Go" (1980)
Newman: It was really the only hit from Panorama. It has a very interesting, off-kilter beat. It's got a keyboard playing pretty straight quarter or eighth notes through it. The bass line is minimal and experimental. Then, once you get to the chorus, it becomes like a Buddy Holly song. It's the Cars taking it too far.
Panorama is the first album where people were going, "I'm not too sure about what you're doing here, Cars," but "Touch and Go" worked very well. I remember when "Shake It Up" came out [in 1981], going like, "Oh, I'm glad that this is a hit. The Cars are back."
Kornhaber: Every band has that album that tests their popularity.
Newman: Yeah, but they only had one out of five! And they were putting out records so quickly that it didn't matter. It doesn't matter if you have a massive hit in '79 but then you have a middling album in 1980 and then you're back on top in 1981. Who cares?
"'Since You're Gone" (1981)
Newman: I love the weird intro to that song. It opens up into more of a pop song, but in the beginning it's kind of brooding. That's a cool move for a pop band in 1981. I really love the Ric Ocasek vocal delivery where he goes, "I can't help it!" He does this great pseudo-new-wave Bob Dylan thing.
He was such a strange rock star. When you're 10 years old and you're seeing a band, you're not thinking,  What should a rock star look like? It made me think a rock star can be this tall, weird, gangly guy. Even though [the Cars' bassist] Benjamin Orr sang most of the hits and he was the pretty boy, it was Ric Ocasek who jumped out more. Later, when I decided I wanted to play music, I would look at these bands that didn't really look like rock stars, and that would inspire me: Hüsker Dü in 1984 or R.E.M. during Murmur. You don't have to look a certain way. You can create your own cool.
[After the Cars], you started to see these rock stars that were kind of weird looking! It was almost as if major labels were looking for these guys. You had Joe Jackson. Or Donnie Iris. Or Moon Martin. Are people actually looking for these weird guys with glasses and bowl cuts? Or are these guys trying to look like this purposefully because they want to look like the Cars?