Madonna at War
Her 17-date Brooklyn residency forgoes many of the greatest hits and fleshes out her Madame X secret-agent character to spectacular effect.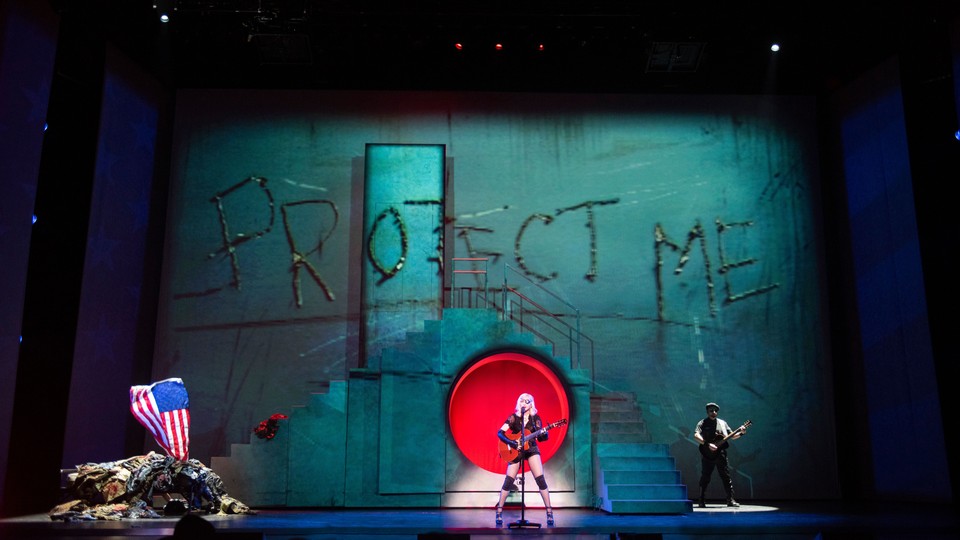 Madonna has banned cameras and phones from her performances at the Brooklyn Academy of Music's Howard Gilman Opera House, but images will live on in attendees' nightmares. They'll not forget the traumatizing intro segment of chest-shaking gunshots and big onscreen bullet holes and a slain dancer. Or the apocalypse pangs later: a pianist in a gas mask, some riot-gear-clad ballerinas, pictures of burning forests projected behind her. Or—causing the biggest shiver at Thursday night's show—how Madonna sat down next to a random crowd member and interrogated him about not having a date to her concert.
The abusement was the amusement, and the amusement was epic. "Artists are here to disturb the peace," read the words typed out against a black backdrop at the start of the show, and the James Baldwin quotation proved malleable enough to explain the many confrontations of Madonna's quite special Madame X tour. Rather than try to sell out arenas after a decade without a hit and the release of what's arguably her oddest album, the 61-year-old icon has posted up for intimate residencies in a very few cities. Seventeen shows in Brooklyn kick off the gambit, with many tickets pricey enough to deserve censure by Elizabeth Warren.
Did Madonna give fans, some of whom sported the eyepatches and red suspenders that've defined her latest makeover, their money's worth? She certainly got hers: At one point she took a selfie on a Polaroid camera and auctioned it off for $1,000. Kowtowing, clearly, wasn't on the agenda. She joined the stage more than an hour after the advertised 9:30 p.m. showtime. She forwent many frothy hits—"Hung Up," "Ray of Light," "Material Girl"—for less-banging songs off Madame X. Themes of violence, Armageddon, and abortion punctured the promise of escapism. Yet when the lights went up around 1 a.m.—blaring hot and white as Madonna and her dancers marched down the center aisle and out the theater doors—all I saw were grins and tears from the wowed faithful.
Format-wise, the event was less rock concert than a collage of Broadway musical, multimedia art installation, dance-troupe reverie, stand-up night, and draggish pop revue. The set comprised moving staircases with compartments for performers to spring from and for her, at one point, to recreate the S&M writhing of her "Human Nature" video. Footage projected across the stage—sometimes even onto the surrounding walls—teleported the concert to fantastical locales. The most spellbinding transformation saw Madonna singing "Frozen" under a gargantuan version of her daughter Lourdes doing yoga. Don't laugh, do cry: The moment made for a moving statement on motherhood from someone whose status as a public parent has been all too questioned and contested. She also brought out her kids Stella, Estere, and Mercy James for an adorable "Express Yourself" singalong.
Such personal touches helped ease the tensions of the performer's Madame X era. Her promotional material has told, told, told fans that the album's titular secret-agent character is a shapeshifting saint–prostitute–dance instructor. But it hasn't convincingly shown Madame X as anything other than Madonna coming back from a stint in Lisbon wearing black garters. The BAM show didn't quite fix that, but it did sell Madonna's recent influences more ravishingly than the album itself did. One long, gorgeous segment conjured a Fado club with colorful tiling. Another brought in a troupe of traditional hand drummers to thunder through "Batuka," one of a number of relatively shapeless Madame X songs improved in person by intensity and imagery. For the lead single, "Medellín," footage of the Colombian singer Maluma popped up in various places around the set, making him seem like heartthrob Tinker Bell.
Such moments of joy and silliness radiated as vividly as the flintier, dramatic material did. The Madame X character, it became clear, embodies a pop star's messiah complex in a time of global crisis. No subtlety complicated the onstage military-funeral interlude, or the footage of Madonna releasing doves from a New York City rooftop, or lyrics equating all oppressed people—poor, gay, Palestinian, you name it—as beneficiaries of her saintliness. Late in the evening, she gave remarks about preferring love to popularity and freedom to either, and said her purpose was to be a voice for the voiceless: a typical self-justification from any leader in a cult of hero worship. But the power of a show as successful as this is that it beams you directly into a warm, sassy, transfixing human's brainspace and makes you believe in its rightness. What better entertainment could there be than leaving the theater feeling like a pop star might just save the world?