Lamar Jackson and the NFL's Quarterback Double Standard
As the league looks to the future, the way many analysts talk about black players such as the Baltimore Ravens passer still belongs to an ugly past.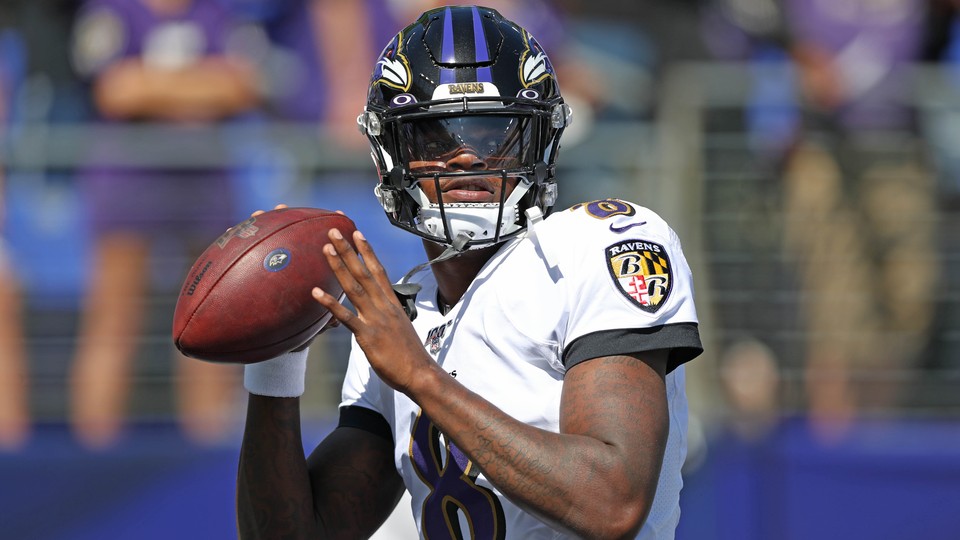 You'd be hard-pressed to find a player in the NFL who has had a better game this season than the Baltimore Ravens quarterback Lamar Jackson. In a 59–10 victory over the Miami Dolphins to kick off the Ravens' schedule earlier this month, Jackson completed 17 of 20 passes for 324 yards and five touchdowns. He zipped the ball to receivers on slant routes. He stepped into 80-plus-yard bombs. Maybe his most impressive throw came with the score already 21–0 and Baltimore driving once again into Miami territory, when Jackson loosed a deep pass with a snap of his wrist. Thirty-three yards later, the ball settled in the hands of the barely open receiver Willie Snead for another score. It was a flawless play on an almost flawless day: Jackson's passer rating was a perfect 158.3.
When reporters asked Jackson afterward to talk about his outing, he quipped, "Not bad for a running back." He was referring to a line of criticism that has followed him throughout his career. After a three-year stint at the University of Louisville, where he threw for more than 9,000 yards, ran for 4,000 more, and won a Heisman trophy, analysts wondered in advance of the 2018 NFL draft whether Jackson should switch positions. Even as he took over for the Ravens' incumbent quarterback, Joe Flacco, midway through last season and led the team in a 6–1 run to a playoff berth, Jackson faced questions about his credentials as a passer.
This year, Jackson followed up his Week 1 performance by throwing for two more touchdowns and running for 120 yards in a win over the Arizona Cardinals last Sunday. His torrid start reflect both the standard growth of a promising young player and an offensive scheme tailored to his talents. His comments, though, show an awareness of the tropes still circulated about black quarterbacks. If Jackson is one of the many avatars of football futurism currently reshaping the sport—a player who can pick apart and dart through a defense to equally devastating effect—much of the criticism surrounding him illustrates one of the ugliest ways in which the NFL remains stuck in the past.
In the buildup to the 2018 draft, the former Buffalo Bills general manager and then-ESPN analyst Bill Polian offered his perspective on Jackson. "I think wide receiver," Polian said. "Exceptional athlete, exceptional ability to make you miss, exceptional acceleration, exceptional instinct with the ball in his hand." The subtext could have filled a stadium. The coded phrases employed for black versus white football players are familiar to anyone who follows the sport; this rhetoric has been a plot point in Friday Night Lights and fodder for parody in Key and Peele. In 2010, a study published in the Howard Journal of Communications analyzed the language used over a decade of Sports Illustrated's pre-draft quarterback descriptions. "The data show that Black quarterback prospects are overwhelmingly portrayed as being very athletic," researchers found, "but lacking mental abilities."
Jackson's young career can be read as a testament to the tedious work of overcoming those preconceptions. Even after the Ravens coach John Harbaugh said, "He's a quarterback through and through" upon drafting him at the end of the first round, Jackson practiced early on in gimmick roles complementing Flacco. Once Jackson stepped into the starting job at the midpoint of his rookie season, his coaches leaned on the running game to an uncommon degree; the predictable offense got bogged down in a playoff loss to the Los Angeles Chargers. Despite the unhappy ending, Jackson's introduction was one of the NFL calendar's most exciting story lines: a first-year quarterback thrust into a makeshift system piloting a sub-.500 team all the way to the playoffs. A contingent of Ravens fans, though, spent long stretches of that final game booing as Jackson struggled to complete passes.
This season, with Flacco gone to Denver and Jackson entrenched as the franchise cornerstone, the Ravens have reshaped their offense to make use of Jackson's do-it-all skill set. "It's not that there is anything new in there, concept-wise, that has never been done in football before," Harbaugh told ESPN before the season. "But the way we put it together, to me, is unique and different." Jackson's 37 passing attempts last week—out-routes, deep shots, screens, the full gamut of textbook quarterbacking—were a career high, as was his rushing total. He high-stepped past a linebacker for one fourth-quarter first down and arced a tight 41-yard throw to Marquise Brown down the sideline for another. The Cardinals first-year head coach, Kliff Kingsbury, voiced the dilemma Jackson presents opponents, saying, "He can stand there and throw it and beat you that way, and he can beat you with his legs." Jackson himself was more straightforward: "I just had to move the sticks."
Jackson's arrival coincides with a broader reimagining of the NFL game, in which teams are turning away from the former ideal of the statue-still pocket passer. Coaches like Kingsbury, who built a reputation as an offensive guru over six years coaching Texas Tech, have imported college concepts that rely on quarterbacks being able to do more than just complete throws. Kyler Murray, who averaged a Jackson-esque 11.6 yards per pass attempt and 7.2 yards per rush during his own Heisman-winning junior season at Oklahoma, was this year's top overall pick for Kingsbury's Cardinals. Some observers positioned last Sunday's matchup between Jackson and Murray as a hopeful harbinger, a look at a future NFL freed from both strategic orthodoxy and racist positional typecasting.
But the present NFL still runs largely on retrograde thought. The ESPN commentator Stephen A. Smith apologized, in April, for having referred to the quarterback prospect Dwayne Haskins as "more of a runner than a thrower"; Haskins had rushed for just 108 yards over his final season at Ohio State. The forward-thinking coaches pervading the league have thus far held to a type: young and white. (It is difficult to imagine a black coach being afforded the chance to head up an NFL team after compiling a losing record in college, as Kingsbury did.) In a league in which 70 percent of players are black, just nine of the 32 starting quarterbacks that opened the season were. Despite the MVP- and Super Bowl–laden résumés of players such as Cam Newton, Russell Wilson, and Patrick Mahomes, the double standard that pioneering black quarterback James Harris experienced in the '60s and '70s largely remains in place: "In the NFL, each interception meant my time might not be long."
After Jackson's press conference following the Week 1 win, footage emerged of the Ravens' players and coaches celebrating in the locker room postgame. In the video, a voice from offscreen announces Jackson's perfect quarterback rating. The room bursts into applause. Then Jackson looks in the direction of the camera, hoists his eyebrows, and hunches into the posture a running back uses to take a handoff. Clapping gives way to laughter. Everyone gets the joke.