The Irishman Makes Perfect Sense for Netflix
Martin Scorsese's upcoming gangster epic is very long, very good, and ideal for at-home viewing.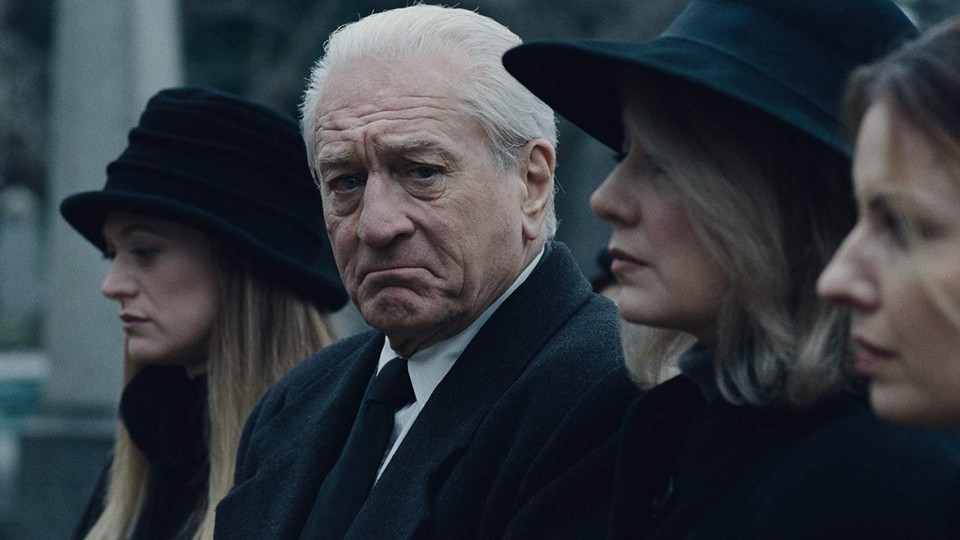 Martin Scorsese's new film, The Irishman, plays at "a certain pace," as the famed director explained in a recent interview. It's a gangster picture from the acknowledged master of the genre—the first Scorsese has made since 2006's Oscar-winning The Departed—but it deliberately lacks the kinetic energy of earlier masterworks such as Mean Streets or Goodfellas. With a Herculean running time of three hours and 29 minutes, The Irishman is a ruminative and rueful viewing experience; after its September 27 premiere at the New York Film Festival, it drew the kinds of raves typical of any major Oscar contender.
Scorsese and his producer, Jane Rosenthal, first began work on The Irishman in 2007, with plans to make it with his usual distributor, Paramount Pictures. But the studio eventually rejected the movie, perhaps seeing its $159 million budget as too big a gamble despite the presence of stars such as Robert De Niro, Al Pacino, and Joe Pesci. Netflix snapped up the project, willing to float the money in return for the prestige that comes from working with one of cinema's most venerable auteurs. "We couldn't get the backing," Scorsese said at the NYFF Q&A session after the film's first screening. "There was no way, for years … it's a costly experiment. But Ted [Sarandos] and everyone at Netflix said they'll go with it."
Netflix's incursion into the world of moviemaking has been rapid and fraught. Though the company has backed down on its initial demand that films be released in theaters and online simultaneously, it still gives its biggest projects only a three- or four-week "window" in cinemas before putting them on its streaming service. That means major theater chains, which insist on a three-month window of exclusivity, refuse to show Netflix movies. As a result, The Irishman will have a limited release on November 1 before hitting Netflix on November 27. The movie is so excellent, and is generating so much hype, that it probably could've been a huge profit-maker had it been widely released. At the same time, the film's "certain pace" and long running time actually make it ideal for at-home viewing.
Like many critics, I loved The Irishman and was intrigued by how it seemed to be in conversation with Scorsese's filmography. The movie begins with a camera moving through a crowded room, a shot that recalls some of the director's most famous crime sagas. But this time the viewer is exploring a retirement home rather than a bustling, mobbed-up bar. While the camera still alights on De Niro (Scorsese's most frequent collaborator), the character he's inhabiting is old and sleepy—a former Mafia hitman pondering his legacy as he nears the end of his life. De Niro plays Frank Sheeran, a real-life figure who claimed to have killed the notorious Teamsters president Jimmy Hoffa, as well as others. Though the details of Sheeran's biography have been challenged by experts, the stories he told are a good match for Scorsese: They encapsulate so many of the tropes of power and violence in 20th-century America that the director has explored time and again.
In The Irishman, Pacino plays Hoffa, and Pesci (who hasn't appeared on-screen in nine years) is the Pennsylvania mob boss Russell Bufalino. Scorsese allows the three 70-something actors to portray the characters as younger men by using digital de-aging technology to smooth their faces out and present them over a 50-year period; it's a bizarre and at times unsettling gimmick that contributed to the film's gigantic budget. But just as the running time is better suited to an at-home viewing situation, in which people can hit pause and take bathroom breaks, the strange CGI smoothness of De Niro's and Pesci's edited faces will probably look more natural on a smaller screen.
Last year, Netflix muscled its way into the Oscar conversation in a major way for the first time by acquiring Alfonso Cuarón's Mexican epic Roma, which ended up winning trophies for directing, cinematography, and foreign-language film. It was a curiously incongruous project for the streaming platform, a movie literally designed to be seen on the widest screen possible and with a sophisticated sound system that few theaters possess. Audience anticipation for that film prompted Netflix to change its rules and release Roma exclusively in cinemas for a few weeks—an odd move for a company trying to fracture the traditional model of moviegoing.
Meanwhile, Scorsese, despite being a legendary film preservationist, has spoken frankly about the dramatic evolution of the medium. "The cinema I grew up with and that I'm making, it's gone," he told the Associated Press in 2016, before the premiere of his last film, Silence (a Paramount production that was largely ignored at the box office). "The theater will always be there for that communal experience, there's no doubt. But what kind of experience is it going to be? Is it always going to be a theme-park movie? I sound like an old man, which I am."
It's fitting that Scorsese's first collaboration with Netflix, a company that doesn't prioritize communal viewing, is a movie told over an epic timeline but on an intimate scale. Yes, The Irishman spans decades, but it's a quiet experience, an attempt to understand a man who lived in the background of history while apparently having significant influence over it. The story unfolds mostly via conversations rather than action sequences, and the film is more frequently punctuated by bouts of humor than by bloody violence. The Irishman could almost function as a TV miniseries, a technological marvel trying to push new boundaries in visual effects while telling an archetypal tale. That makes it a fascinating and suitable vehicle for Netflix as the company forges a new path in a changing industry.