The Welcome Rise of the Stripper Ensemble Film
Hustlers, the new movie anchored by Jennifer Lopez and Constance Wu, joins a slew of recent productions that focus on the bonds between dancers.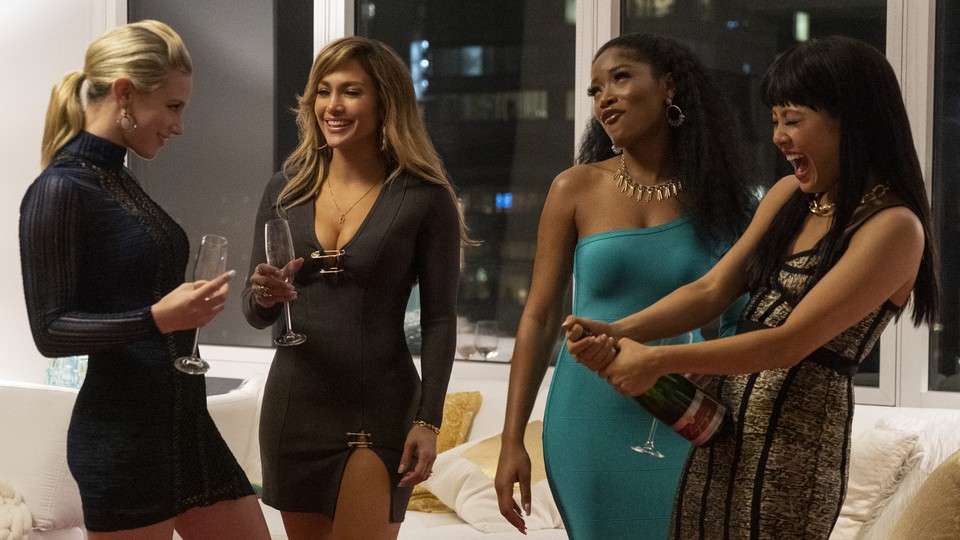 In Hustlers, the new movie about a group of strippers who orchestrate an ethically dubious scheme to line their pockets at the expense of male patrons, Jennifer Lopez plays a scheming vixen, but she's also a tender mentor. As Ramona, she takes Constance Wu's Destiny under her wing—or, more accurately, into the warmth of her massive fur coat. The younger woman is awestruck by Ramona's moves and her charm.
Destiny and Ramona make an unlikely but fierce pair from their first meeting in Lorene Scafaria's film, which is based on Jessica Pressler's 2015 feature in The Cut. Though the legal and emotional toll of the duo's swindle eventually wears on them, their connection is genuine, as are the relationships between the other members of the movie's ensemble. They're bound together most obviously by their fraudulent schemes, and yet Ramona, Destiny, Mercedes (played by Keke Palmer), and Annabelle (Lili Reinhart) show one another a level of compassion that other people have largely denied them.
Hustlers is, on its face, an upbeat true-crime romp full of jazzy dance numbers, flashy mid-2000s fashion, and lurid heists. But Scafaria's film departs from the tired tropes that animated earlier works about transgressive women, and about strippers in particular. The characters celebrate holidays together and attend family funerals; they swoop in when male partners flee. "I'm so proud of you," Ramona tells Destiny during one especially festive gathering. "We don't need anyone else, do we?" Like other recent films about strippers—such as the sultry Magic Mike movies and the earnest Gene Graham documentary released in June, This One's for the Ladies—Hustlers stands out for its empathetic ethos, and for taking the time to delve into the complex motivations and interpersonal dynamics of its ensemble.
Many depictions of strippers, and of sex workers more broadly, fixate on the experiences of individuals or on the competitiveness within the industry. Sometimes the effect is comedic: Nearly two decades ago, for example, Lopez acted alongside an onscreen stripper very different from Wu's Destiny. In a 2001 Saturday Night Live sketch, the singer and actor plays an over-the-top version of herself who becomes enraged when a gay exotic dancer named Mango (Chris Kattan) encroaches on her spotlight. "You're gonna be bigger than Jennifer Lopez!" the director tells Mango at the end of a shoot for the singer's music video. This prompts an exasperated sigh from the diva, who goes on to physically fight her rival in a later scene. Though the skit was clearly an exaggeration of the hostility that can emerge when entertainers are pitted against each other, its perspective was hardly unusual. Overtly or otherwise, many works from the '80s and '90s made the case that exotic dancers, especially women, are catty careerists.
In the 1983 drama Flashdance, Jennifer Beals plays Alex, an ambitious ingenue who works as a welder during the day and as an exotic dancer at night. Alex's network of support comes not from the women she performs with, but from her boss at the steel mill (who also pursues her romantically) and from her mentor, who encourages Alex to stick to her plan of attending ballet school one day. In Flashdance, the other exotic dancers aren't villains, but they're still a distraction from Alex's more respectable dreams.
The protagonist of the chaotic 1995 film Showgirls has a more malicious edge: Elizabeth Berkley's Nomi arrives in Las Vegas and systematically poisons every relationship she enters, including her professional interactions with other strippers. Nomi is jealous, violent, and hypersexual. Not a single character in the film, least of all the protagonist, is granted an arc that bends toward redemption. The movie was a critical and commercial failure at the time of its release, but it's gone on to become a camp classic and has played into cultural conceptions about the industry. Like Showgirls, 1998's The Players Club features a crew of strippers who sometimes hurt one another in pursuit of power and money. Directed by Ice Cube and starring LisaRaye, it, too, became a cult classic.
During the years leading up to the SNL skit—and its humorous encapsulation of the notion that strippers hate sharing the spotlight—a slew of new TV shows and films echoed these familiar perspectives about dancers. The 2000 HBO docuseries G String Divas inspired Roselyn Keo, the woman in Pressler's story whom Wu's character is based on, to accept a manager's invitation to perform at his club. The series followed women who danced in a now-defunct Pennsylvania club, presenting their stories less through a collective lens and more via siloed vignettes. Later productions, such as the 2008 film The Wrestler, concentrated on the relationships between strippers and the men in their lives.
The past several years, however, have seen a notable shift. Steven Soderbergh's 2012 film Magic Mike, which followed a group of male strippers led by the preternaturally talented Mike (Channing Tatum), ushered in a wave of movies exploring the friendships that blossom between dancers both onstage and in the back room. The 2015 sequel, directed by Gregory Jacobs, saw a retired Mike returning to his old career for one last show—driven chiefly by the desire to reunite with his former colleagues.
The Magic Mike films' focus on heterosexual male dancers, most of whom were white, made its eroticism more palatable to some audiences. Graham's This One's for the Ladies dispenses with that concern altogether, instead spending time with those who face compounded stigmas. In the NC-17-rated film, Graham's subjects dance provocatively, but they also speak candidly about racialized economic inequality, homophobia, and the communities that buoy them when they feel most hopeless.
Though This One's for the Ladies zeroes in more noticeably on the reciprocal relationships that dancers can have with their patrons, both Graham's production and the Magic Mike films emphasize the professional and personal ways in which dancers support one another—especially in the face of outside judgment. The 2018 dramedy Support the Girls applies this principle to a less sexually explicit setting—a "sports bar with curves" where Regina Hall plays Lisa, a general manager who takes great pains to protect her crew of underpaid and forcibly underdressed waitresses from the customer harassment that their corporate mission invites. Lisa's care begins with the specific indignities her employees face in the workplace but extends far beyond that.
That theme surfaces in Hustlers, too, which frames the dancers' friendships as necessary to their economic and emotional survival. For the cast member and film consultant Jacq the Stripper, the reason for the movie's rare attention to its characters' interiority and interpersonal relationships was simple. "I felt so respected for my opinion and my expertise, coming from my background where sex work is stigmatized and considered not real work," she told Vulture. "It's really important to have compassionate and authentic representation of sex workers in mainstream media. And the only way that's going to be achieved is by hiring sex workers to play the parts and to consult on these films." It's an intuitive conclusion to draw. And yet the idea of focusing on community ties, and of exploring the complexity of women's friendships, has often been reserved for movies that feature characters in more genteel occupations. The joy of Hustlers isn't just in the schemes of its titular women—it's also in the fact that they orchestrate them together.