A 'Ridiculous' Emmys Night for Fleabag
The acclaimed series created by Phoebe Waller-Bridge swept the comedy category, beating out heavyweights such as Veep and The Marvelous Mrs. Maisel.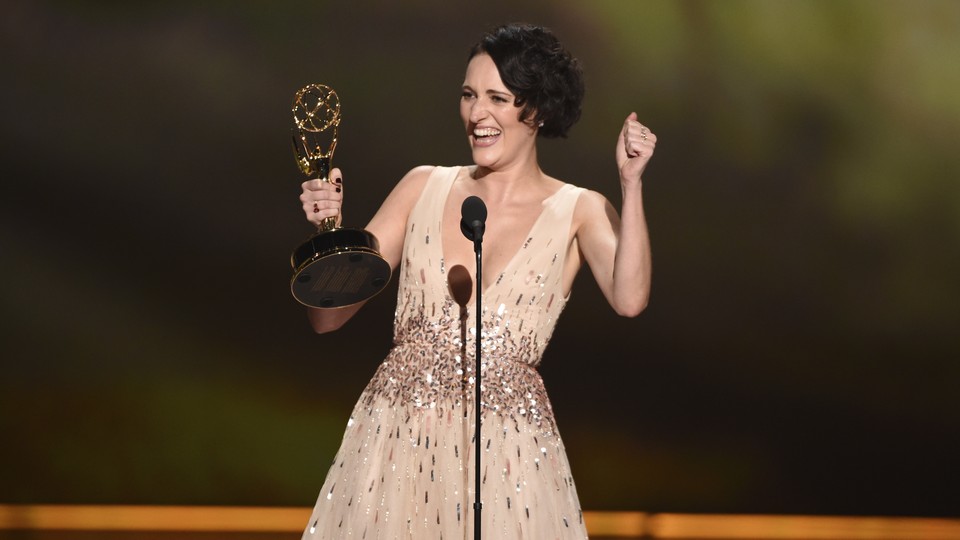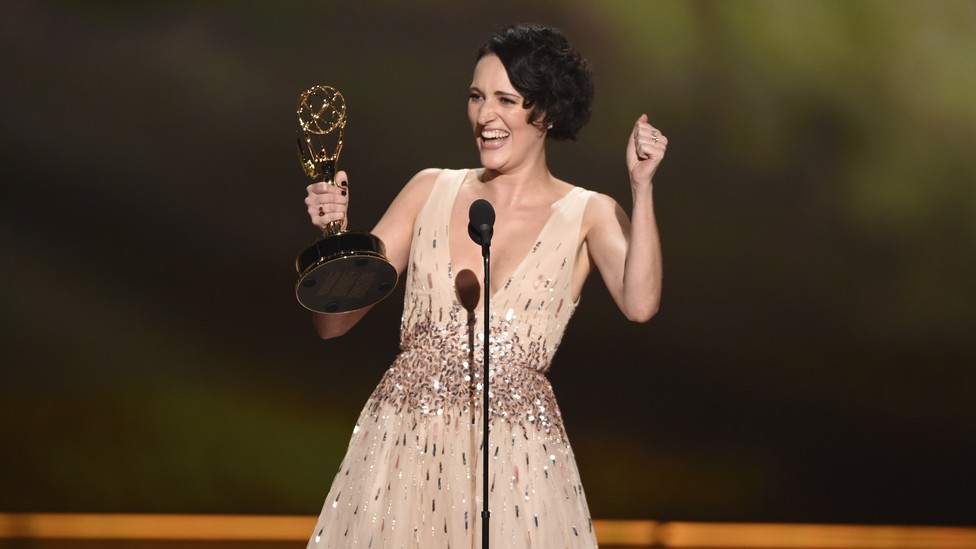 Updated at 11:14 p.m. ET on September 22, 2019.
Phoebe Waller-Bridge has had a wild year. In May, the second and final season of her dark-comedy series, Fleabag, was released to widespread critical acclaim. Months later, she performed the one-woman play on which the Amazon Studios show was based for the final time at London's 760-seat Wyndham's Theatre. Just last week, the theater company announced it would screen a taping of that production in cinemas across the United States.
And tonight, Waller-Bridge won her first-ever Emmy—for Outstanding Writing for a Comedy Series for Fleabag. "I'm properly shaking. Oh my God, look at her!" Waller-Bridge said, pointing to the trophy after taking the stage at the 71st Primetime Emmy Awards. "I find writing really, really hard and really painful," she said. "I'd like to say, honestly, from the bottom of my heart, that the reason I do it is this," she added, addressing both the massive auditorium crowd and audiences at home.
Fleabag, which Waller-Bridge created, wrote, and starred in, is a work of astounding wit and empathy. Over the course of two seasons, the series followed the trials and sporadic growth of its titular character, a deeply complicated woman who struggles to reconcile her sex addiction and misanthropy with the demands of self-actualization. The writing is concise, sharp, and delightfully hilarious. In one Season 2 episode, Fleabag's sister (played by Sian Clifford, who was nominated for a Supporting Actress award for her performance) complains about an ugly haircut and exclaims, "I look like a pencil!"
The show's second season presented a refreshing exploration of the sisters' relationship, and that tenderness extended beyond the script. Soon after Waller-Bridge's writing win, the show's director, Harry Bradbeer, was awarded a trophy of his own. After noting that "something like Fleabag only comes along once in your life," he expressed gratitude toward Waller-Bridge for trusting him with her vision: "Thank you for coming into my life like some kind of glorious grenade."
Waller-Bridge and Fleabag (co-produced by the BBC) managed to land two more surprising wins tonight. The auteur claimed the award for Outstanding Actress in a Comedy Series, beating out Julia Louis-Dreyfus, the much heralded star of Veep, and Rachel Brosnahan, of the Emmy favorite The Marvelous Mrs. Maisel. Naturally, Waller-Bridge approached this win with the same irreverence that animates her series: "I find acting really hard and really painful, but it's all about this," Waller-Bridge said, jokingly echoing her earlier acceptance speech.
Before the end of the night, Fleabag won the biggest award it was nominated for: Outstanding Comedy Series, beating out heavyweights including The Marvelous Mrs. Maisel, Barry, The Good Place, and Veep. "This is just getting ridiculous," Waller-Bridge quipped after taking the stage yet again, this time with her cast and crew. "Fleabag says thanks," she added.
The appeal of Waller-Bridge's work, whether Fleabag or Killing Eve, stems in large part from its subtle yet unflinching examination of women's interiority. Waller-Bridge's characters are complex, but they're not written as psychological case studies. Fleabag, despite her self-hatred, is still allowed to feel good, to experience moments of satisfaction and breakthrough amid her suffering. Waller-Bridge relished writing the show's small rebellions. "The thing I really got off on was putting a female character out there that was all-knowing about sex and one step ahead, who knew what the guys were thinking before they thought it and yet still played slightly dumb to them," Waller-Bridge told The Cut in 2017. "Oh God, it brought me so much pleasure."
The actor and writer has never seemed naive about the importance of her work in a television landscape that remains dominated by men. As she said early in the ceremony, "It's really wonderful to know a dirty, pervy, angry, messed-up woman can make it to the Emmys." Whether she was talking about herself or Fleabag was for viewers to decide.