How Brett Kavanaugh Got the Last Laugh
Far beyond the news it breaks, The Education of Brett Kavanaugh is a grim reminder: Many Americans still doubt the seriousness of sexual-misconduct allegations.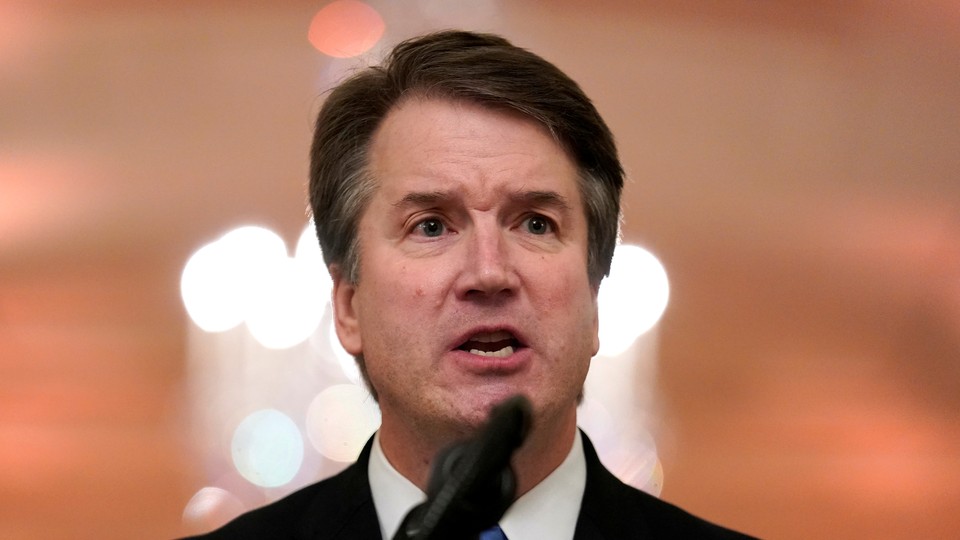 On Sunday morning, Senator Ted Cruz made an appearance on This Week. The interview's first question, given the shape the weekend's news cycle had taken, was unsurprising: The host asked the senator about the new book The Education of Brett Kavanaugh, an adaptation of which had been published the day before in The New York Times. The essay—written, as was the book itself, by the Times reporters Robin Pogrebin and Kate Kelly—doubled as news: It suggested, for one thing, that Kavanaugh might have misrepresented his past while testifying before the Senate Judiciary Committee last year. It also suggested that the allegations brought against Kavanaugh by Deborah Ramirez, a classmate of his at Yale, were better corroborated than the American public had been led to believe. And it suggested that another classmate had heard a similar story—involving another woman.
The revelations brought the reactions you'd expect: Several Democrats called for Kavanaugh's impeachment, while the man who nominated him to the Supreme Court offered a duo of tweets both supporting Kavanaugh and vaguely threatening the Times for reporting on him. (Donald Trump punctuated those thoughts with a hashtag that might seem, to anyone who paid attention to the events of last year, redundant: #ProtectKavanaugh.) Cruz, however, took a different tack: When the show's host, George Stephanopoulos, asked him about the new information—and about the call his fellow Texan and the presidential candidate Julián Castro had made for Kavanaugh's impeachment—the senator, before saying anything else, shook his head, apparently amused at the absurdity of the whole thing. And then he laughed.
Call it the Overton chuckle: the lol that works as rhetoric. The information the new book was bringing to light, Cruz was suggesting to This Week's audience, was not merely irrelevant; it was in fact so fundamentally inconsequential as to be, literally, laughable. Some things are worth arguing about, and some things are simply not, and Cruz did not need to utter a word to tell you which category he believes the Kavanaugh news to occupy.
Laughter often works that way in politics—derisive, dismissive, weaponized. The Kavanaugh confirmation process itself, in its tangle of tragedy and farce, was a blunt reminder of that. Laughter was there when pundits, in reaction to Christine Blasey Ford's initial claim about Kavanaugh—that he had drunkenly assaulted her when she was 15, making her fear for her life—dismissed her recollection by mocking its gravity. (Remember "seven minutes of heaven"?) Laughter was there in the revelation of Kavanaugh's in-joke-infused high-school yearbook ("Renate Alumnius," "Beach Week Ralph Club," "Devil's Triangle"). It was there in the joking emails Kavanaugh and his inner circle exchanged while he was working in George W. Bush's White House. It was there in the sneering derision with which Kavanaugh replied to the questions of Democratic lawmakers during his testimony before the Senate Judiciary Committee, denying that he had ever engaged in sexual misconduct. It was there in his attempt, unsuccessful but revealing, to turn Senator Amy Klobuchar into a punch line.
And laughter is there, aptly enough, in the book that shaped this weekend's news cycle. The Education of Brett Kavanaugh is in one way, as the past days' events have made clear, a breaker of news. It is even more powerful, however, as a revision that adds to the existing story rather than fundamentally changing it—a deeply reported retelling of the confirmation fight that many Americans experienced as a cut whose wounds never fully healed. (Pogrebin and Kelly, who also covered the story for the Times as it played out last year, spent the next 10 months both retracing it and filling in the lines.) The process, culminating in the paired testimonies that brought the logic of "he said, she said" to a grotesque new level, was about justice both in the most sweeping sense and in the most quotidian. It was a contest that asked questions about what is valued in America, and what will be dismissed. It was a struggle over who gets to tell the jokes—and who gets laughed away.
Ford, in her initial letter to Senator Dianne Feinstein, and then in subsequent retellings of her story, mentioned in particular her memory of Kavanaugh and his friend Mark Judge laughing as Kavanaugh pinned her down, fumbling with her clothes, crushing her under the weight of his body. The way they seemed to be bonding through her panic. The way they turned her alarm into their joke. Indelible in the hippocampus is the laughter.
Ramirez made a similar point to The New Yorker, when last year she alleged that Kavanaugh had mockingly waved his penis in her face at a party at Yale, in front of a group of fellow students, when they were both freshmen. The others found the whole thing funny, Ramirez thought at the time, in part because she was so sexually inexperienced. (A practicing Catholic, Ramirez had not planned or wanted to touch a penis until she was married.) Here, again, as Ramirez tells it—in part through previously unpublished interviews with Pogrebin and Kelly—the laughter was a source of exclusion. The other students decided what was funny. They decided she was the joke. That was part of her pain. "Kiss it," one of her classmates said, Ramirez recalled, as the organ she initially thought was a plastic prop was thrust in her face. They were laughing, she said. "Brett was laughing."
The Education of Brett Kavanaugh puts forward another, hazier allegation: Max Stier, another Yale classmate, had seen, they write, "Mr. Kavanaugh with his pants down at a different drunken dorm party, where friends pushed his penis into the hand of a female student." It's a claim that comes with caveats, the most significant being that the woman in question, declining to be interviewed by the authors, has reportedly told friends that she does not recall the episode. (The Times, as part of the widely criticized rollout of its reporters' story, initially neglected to note that in its adaptation of the book.) The new claim, the authors report, was not investigated by the FBI. Nor was Ramirez's claim, in full: Ramirez, they note, provided a list of 25 people who might have corroborated her story. Those people went uninterviewed. As my colleague Matt Thompson put it last year, "This was never about finding out the truth."
The investigation that wasn't was, however, an apparent act of protection. It was a grim reminder of the inequalities of our empathies. In-groups and exclusions; in-jokes and the opposite: This, too, is a theme of The Education of Brett Kavanaugh. Pogrebin and Kelly dedicate many pages to a consideration of Kavanaugh's rapid rise through Washington's legal ranks, aided—elevated—by a network of well-connected friends. The book furthers the claim that Anthony Kennedy made his final decision to retire from the Supreme Court only after receiving assurances from President Trump that Kavanaugh, Kennedy's former clerk, would be his likely replacement. (Trump may have been inclined to take Kennedy's preferences into consideration in part because Kennedy's son Justin had been an executive at Deutsche Bank, in a role that found him working closely with Trump's son Don Jr.) Kavanaugh got to the nomination in the first place, Pogrebin and Kelly also report, through the efforts of the Trump White House counsel Don McGahn—whom Kavanaugh worked with in the Bush administration and whom Kavanaugh counted as a close friend. A career can be its own kind of in-joke.
There are many, many stories like that in the book: the status quo, maintaining itself. The old boys' clubs, exerting their inertias. "What happens on the bus stays on the bus," Kavanaugh said in a speech, speaking winkingly of an outing in law school. "What happens at Georgetown Prep stays at Georgetown Prep," he joked, on another occasion, of his antics as a teenager. He paused, mock-musingly. "That's been a good thing for all of us, I think."
Us is a heavy word. It is also a revealing one. The Kavanaugh fight, like the #MeToo shift that preceded it, revealed not only stories, but also schisms. It laid bare the ambivalence with which many people still regard sexual abuse. Many Americans, hearing the stories the women told, interpreted them as profoundly serious and therefore worthy of alarm. Many others, it became clear, viewed those same claims as the opposite. Just a boy being a boy. Just locker-room talk—harmless, victimless, inevitable—put into practice. The kind of behavior that, as Ted Cruz would later suggest, merits little more than a dismissive chuckle.
The Kavanaugh contest, despite its blunt conclusion—the confirmation vote was held on a Saturday, and Kavanaugh was sworn in later that day—left the matter open. It offered no resolution. Its promised FBI "investigation" proved a farce in the guise of a fix. It lived the logic of confirmation bias all too literally. It gave the president's tweeted call—#ProtectKavanaugh—its revealing redundancy. It gave the in-jokes the last laugh. This weekend, The New York Times, publicizing its essay on The Education of Brett Kavanaugh, did so in part with a tweet that began like this: "Having a penis thrust in your face at a drunken dorm party might seem like harmless fun. But … "
The paper quickly deleted the tweet and apologized. Its mistake, however, was clarifying: It summoned the divide. It suggested the extent to which some kinds of sexual misconduct are still assumed to be, essentially, jokes. It hinted at the way laughter can belie impunity. There was the woman, once again, disclosing her pain. And there was the paper of record, talking about "harmless fun."