How the Cleveland Browns Are Bucking NFL Convention
In trying to reverse a generation's worth of losing, the team is loading up on stars and embracing the hype.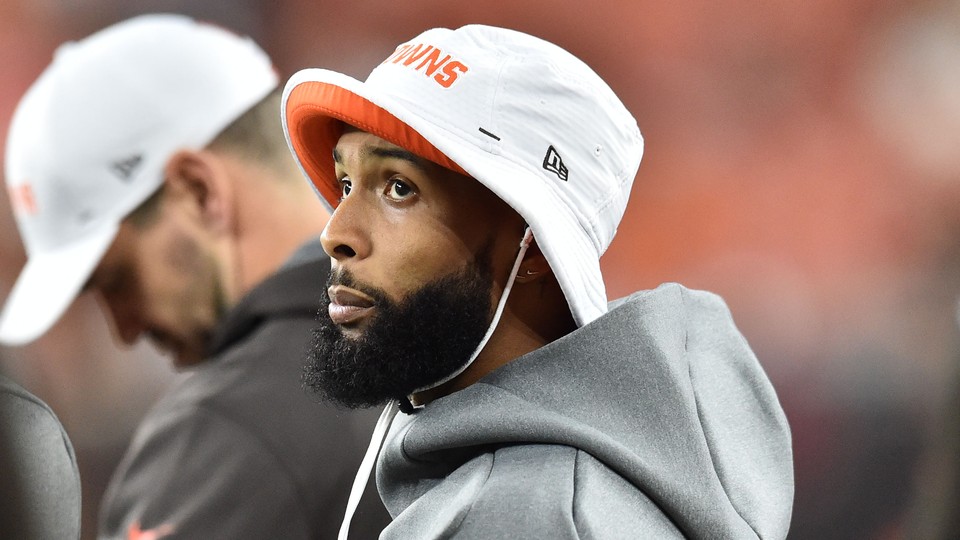 The NFL's most heavily hyped team hasn't had a winning season in a dozen years. The Cleveland Browns last made the playoffs in 2002 and last won a playoff game in 1995, when their then–head coach Bill Belichick led them to a wild-card-round victory over the New England Patriots. In 2016, Cleveland won just once, and in 2017 not at all. Now the Browns are being spoken of as "true contenders" with "boundless possibilities" on the cusp of a potential "Golden Era." Sports Illustrated has tabbed Cleveland to win 11 games and its division. One fan tattooed his leg in preemptive commemoration of a championship.
There's reason for all the optimism. Extended losing begets high draft picks, which beget talent. The Browns have two top-flight up-and-comers in the second-year quarterback Baker Mayfield and the third-year pass-rusher Myles Garrett, the former finishing second in Rookie of the Year balloting last season and the latter making his first All-Pro roster. After a rocky start to 2018 and subsequent shakeups—Mayfield stepped in for the injured incumbent starter Tyrod Taylor; the head coach Hue Jackson, who had presided over the 1–31 stretch the two years prior, was fired—Cleveland won five of its last seven games to finish with a 7–8–1 record. Then, in March, the Browns swung a trade with the New York Giants for Odell Beckham Jr., one of the most highly paid and least coverable wide receivers in the league.
Turnover is common in the NFL; of last year's 12 playoff teams, eight hadn't made it the year before. There is a growing sense that it's finally Cleveland's turn. But the anticipation surrounding the Browns, feverish even outside of northeast Ohio, suggests more than just the standard appetite for a long-awaited event. NFL convention holds that champions are born of hierarchy, careful planning, and individual sacrifice. These Browns were built quickly, and built on stars. They amount to a bet: that sheer talent, not institutional practice, can win the day.
During Cleveland's hot stretch to end the season last year, the former defensive coordinator Gregg Williams acted as interim head coach. But when it came time to select a full-time replacement in January, the Browns promoted Freddie Kitchens, who after Jackson's firing had stepped into the role of offensive coordinator for the first time in his NFL career. Kitchens's resume, made up mostly of stints as a little-known position coach, didn't match those of fresh hires around the league. "It takes some guts to do what they did," Kitchens himself said, adding, "I know that I am not a popular choice."
Kitchens was popular, though, with his young quarterback, whose gutsy temperament and downfield accuracy jibed with Kitchens's air-it-out attack. Over the eight games in which Kitchens called plays, Mayfield threw 19 touchdowns. "Baker Mayfield wanted Kitchens," the NFL reporter Mike Florio said of the hire, "and Baker Mayfield gets Kitchens." It was a rare amount of sway for a team to grant any player, much less one entering just his second professional season.
The move was also in keeping with what has become an organizational trend of prioritizing the acquisition and development of skilled players over team doctrine. Beckham was available for a trade likely because of his history of missteps in New York, where he had left the field early, questioned his coach's play-calling, and skirted an off-season drug scandal; the general manager John Dorsey jumped at the opportunity to add him. After the new coordinator Steve Wilks installed a liberating defensive system this off-season, Garrett anticipates career-high sack numbers. Dorsey puts his philosophy in straightforward terms: "You can't have enough competitive football players." The general manager has been accused of taking the ethos too far; in February, the Browns signed the running back Kareem Hunt, a former Pro Bowler who was dismissed from the Kansas City Chiefs last season after a hotel surveillance video showed him shoving and kicking a woman. The league has suspended Hunt for the first eight games of the upcoming season.
Offering second chances to perpetrators of violence is, controversially, a familiar move in the NFL. But in other ways, the Browns stand in contrast to league orthodoxy, old and new alike. The Patriots remain the standard-bearing franchise, and Belichick's "do your job" mantra—wherein a player is useful to the degree that he enacts, not transcends, the game plan—has become the template for team-building. The 33-year-old head coach Sean McVay, whose Los Angeles Rams lost to the Patriots in last year's Super Bowl, has an offensive approach so potent that analysts have wondered whether he can simply cycle through quarterbacks in perpetuity. The power afforded to both coaches, and to their imitators and offshoots across the league, reflects a distasteful reality of pro football. Games are grueling, and players' careers contingent; the way to lasting success is by having the right person calling the shots.
Some observers have found precedent for Cleveland's approach in the NBA, where the Philadelphia 76ers turned years of losing, via a couple of fortuitous draft picks, into a franchise-defining superstar tandem. Basketball is by nature a more star-dependent game, but Browns fans surely have similar hopes for the coming season. The players are dynamic enough to make best-case scenarios easy to imagine: Garrett dipping past blockers and dragging down quarterbacks, Mayfield reeling off four- and five-touchdown games, Beckham streaking away on slant routes and floating in midair to snare passes one-handed.
Football is more complicated than what makes the highlight reel, of course. The subtext of Belichick's New England dynasty is that what fans love about the sport has little to do with winning; sound blocking and attentive defense, not improbable sideline catches, produce Super Bowls. Detractors might point out Cleveland's weaknesses in the less flashy portions of the roster: a questionable offensive line, a lack of overall depth. A 2–3 start could quickly remove the shine from the decision to retain Kitchens, and the summer of optimism could come to seem like another instance of false hope for a fan base conditioned to it. Mayfield has noted a backlash building among the stodgier segments of the football community. "People want to see us lose," he said last month, "just because the hype is so real."
This highlight-reel quality, though, accounts for the team's broad appeal. They figure to be fantasy football made actual, all big names and big plays. Theirs is an optimistic approach in a city trained to expect the worst. "I plan on being there for the next five years and trying to bring as many championships there as possible," Beckham said over the off-season, "turning into the new Patriots." The Browns will have taken an uncommon route to get there.