When the Scam Is the American Dream
On Becoming a God in Central Florida and The Righteous Gemstones, two shows about self-delusion and wealth, expose the costs of worshipping success.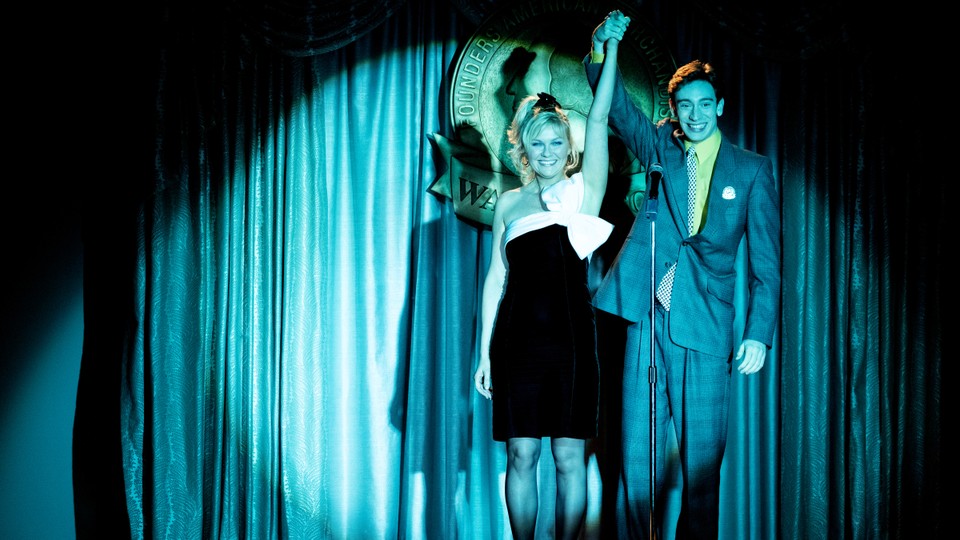 This article contains spoilers through the fifth episodes of On Becoming a God in Central Florida and The Righteous Gemstones.
The Showtime series On Becoming a God in Central Florida is a curio of a television show. Set in 1992 in an Orlando suburb, the pitch-black comedy about desperation, anxiety, and self-delusion is not afraid to be deeply weird: Its heroine, Krystal (Kirsten Dunst), is a scrappy single mom and water-park employee who begrudgingly joins FAM, a cultlike multilevel-marketing company, after her late FAM-following husband leaves her in massive debt.
Since the show began airing in August, Krystal has struggled to balance her distaste for the pyramid scheme and her need to pay her bills, while remaining optimistic that if she directly appeals to the system's leaders, she'll be able to succeed. During last night's episode, she finally realizes how trapped she is within FAM when she meets with the company's mastermind, the enigmatic Obie Garbeau II (Ted Levine).
Garbeau prefers to be heard, not seen: He communicates with FAM members by recording "advice" onto cassette tapes, available for mandatory purchase. In the episode's thoroughly unsettling opening scene, he is recording one of those tapes. With his Colonel Sanders–like mustache brushing against the microphone, he muses about his vision of success: "Oftentimes at night, I dream about America," he begins. "I dream about a land so rich in opportunity it geysers up from the ground like oil bursting to touch the heavens." As he speaks, a montage plays with shots of cowboys and rocky mountains, accompanied by the cry of a bald eagle.
The over-the-top monologue, of course, looks nothing like the America his FAM followers actually live in: Krystal, for instance, is punished for trying to sell FAM products her own way (through an exercise class at the water park where she works). The geyser of opportunity, it seems, comes with a set of rules and restrictions.
Episode by episode, On Becoming a God has been skewering the concept of the American dream, observing it as a con the haves orchestrate to prey on the have-nots. But in this mid-season entry, the show drives the knife in deeper: Krystal may be trying to rise through the ranks in order to earn bonuses and get out of debt, but she realizes that there's no way to do so without lying about her success and taking advantage of others—in other words, doing exactly what Garbeau does. In that regard, the series has reached its timely thesis: To pursue the American dream is, too often, to corrupt it, eventually tarnishing the idea of success itself.
Krystal, after all, had been the paragon of anti-Garbeau-ism since the day her late husband brought his tapes home—yet by Episode 5, she's expounding the virtues of the "system." And though she tells herself she's unmoved by FAM (she's just trying to rise through the ranks, earn bonuses, and get out of debt), she's become a poster child for the scheme, extraordinarily good at executing FAM's ideas. She's a self-starter: She recruits her neighbor when she realizes he's at a vulnerable moment in his life. She's her own boss: She overpowers Cody (Théodore Pellerin), her recruiter (or "upline"), and manipulates him into seeing her as a love interest. She's a winner: At Garbeau's McMansion, "Paradise Cay," she orders Cody to propose to her onstage, a grotesque display of affection she concocts to impress Garbeau.
The latter stunt doesn't work, and this only frustrates Krystal further. She began the series hoping to make enough money to raise her daughter. But midway through the season, she's dreaming of never being poor again and going to greater lengths to attain her goal. Worse, her pursuits are taking her away from home; she spends most of her time in Paradise Cay determined to meet Garbeau. It's as if her original intentions have been overshadowed by her new ambitions.
---
On Becoming a God isn't the only comedy tackling this hypocrisy. The Righteous Gemstones, HBO's provocative comedy about a televangelist family in the South, also complicates the American dream in its latest installment. Told mostly through flashbacks set in 1989, its fifth episode finds a young Eli (John Goodman), the Gemstone family patriarch, and his wife, Aimee-Leigh (Jennifer Nettles, of the country-music duo Sugarland), strolling across a picturesque plot of land on which they're hoping to put down roots. The couple joke they'll build houses for each of their children so they can keep them close forever. Then Eli proposes, "Maybe we'll build our own amusement park with our own roller coasters."
"You are getting out of hand now," Aimee-Leigh warns. "We've already been so blessed."
"We worked hard," Eli counters. "And there's much more blessings to come."
Flash forward three decades, and it turns out they're both right. The Gemstones have indeed been blessed—with wealth and power—but the plot of land they surveyed in 1989 hasn't turned into an amusement park for the community; it's become a gated complex with mansions for each of the Gemstone offspring.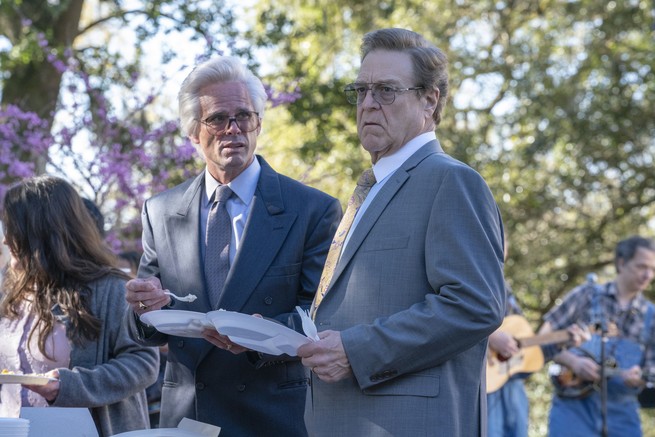 Despite coming from a completely different background, Eli suffers a fate similar to Krystal's. The flashbacks make clear that as a young man building a family, he'd meant well in expanding the Gemstones' churchly influence. When he throws his daughter a birthday party complete with ponies, a clown, and a bouncy house, his father gives him some advice. "All a preacher needs is four walls and some willing souls, and a good book," the elder Gemstone tells Eli. "All this excess is obscene." So Eli tries to keep his children grounded: He refuses an obnoxious birthday gift—a toy Corvette—from his brother-in-law "Baby" Billy (Walton Goggins) and disciplines his son after he acts out at school.
But those efforts aren't enough. Eli's ambition, coupled with the fear of losing his wealth, motivates his need for that obscene excess. Only now, what's left is a family with incompetent heirs fueled not by faith, but by power. The family church has turned into a capitalistic behemoth that travels abroad to ludicrously baptize people in wave pools. Jesse (Danny McBride), the eldest of Eli's children, spends most of his time trying to cover up a video of him doing drugs with a topless woman. In fact, while the late Aimee-Leigh had asserted herself as an equal to Eli, the women of the Gemstones are now largely seen as accessories, casualties of the men's overwhelming self-interest and desire to advertise family values without following them. (In an earlier episode, Jesse's wife is about to defend the church against an accusation of sexism when she pauses to ask him if she's allowed to speak.) The empire Eli built may be as large as the one he'd envisioned, but it's been built on layers and layers of greed.
To people like Baby Billy, though, the tragedy lies in having a vision in the first place. "People in America got it backwards," Baby Billy whines in the episode, frustrated he can't make his dream—to, as a washed-up musician, go back on tour—come true. To him, America isn't a place of freedom and opportunity; it's a place where prospects are dangled in front of people, ensnaring them into believing that anything is possible. The dream becomes a joke.
That bitter conclusion can be applied across industries and geographies. As the NPR critic Linda Holmes wrote in her review of On Becoming a God, the dream gets warped into becoming about "extravagance without work." "People don't join FAM being promised only the traditionally defined 'American dream' of home and family and cars and nice vacations," she pointed out. "They join because they're told they can be idle millionaires—even idle billionaires."
That's a bleak takeaway for two comedies, but even in real-life cases, the allure of excess and the corruption of the American dream can be, by turns, funny and devastating. Onlookers of the Fyre Festival created memes out of the incident; meanwhile, much of the Bahamian staff went unpaid for months. The college-admissions scandal attracted both gleeful commentary about celebrity children and sympathy for duped students. The hoax of the blood-testing company Theranos led to parodies of the founder Elizabeth Holmes, but the operation also conned average Americans who'd hoped to avoid needles while getting their blood drawn. And these scams have only attracted more scrutiny: The Fyre Festival led to two competing documentaries. The college-admissions scandal has yielded a Lifetime movie and a limited TV series to come. The fall of Theranos has produced a book, a podcast, and a documentary, with two forthcoming films to boot.
And besides, the comedy of corruption has made for fruitful television already; Succession, Schitt's Creek, and Arrested Development are all deft send-ups of the 1 percent. On Becoming a God and The Righteous Gemstones enter more difficult territory, providing snapshots of well-intentioned, regular Americans who end up desiring too much. They may follow dramatically different characters in dramatically different dominions—one's a pyramid scheme, the other a megachurch—but they're both about the tragedy of wanting more. In the age of comfort TV, these are two shows that are distinctly uncomfortable to watch, and that reveal a sad, surreal, and often funny truth about the American dream: To attain it, dreamers run the risk of blindly believing they're entitled to anything.
Then again, what else can they do? At the end of Sunday's On Becoming a God, Garbeau refuses to listen to Krystal's pitch, which she delivers earnestly with a binder outlining her business plan step by step. He instead embraces Cody, who has no ideas or experience, but manages to murder a pelican and bring it as a bloody offering. Krystal made Garbeau feel like a mere businessman; Cody made him feel like a god worth worshipping.
No wonder Krystal's angry. Garbeau, the self-obsessed scammer, is the epitome of success, the one whose method is supposed to turn people into billionaires? It's so blatantly unfair and utterly ridiculous, the only thing anyone can do is laugh.