Why Woodstock Can Never Happen Again
A new documentary explores the original organizers' ingenuity and naïveté, revealing the exact reason the concert is unreproducible.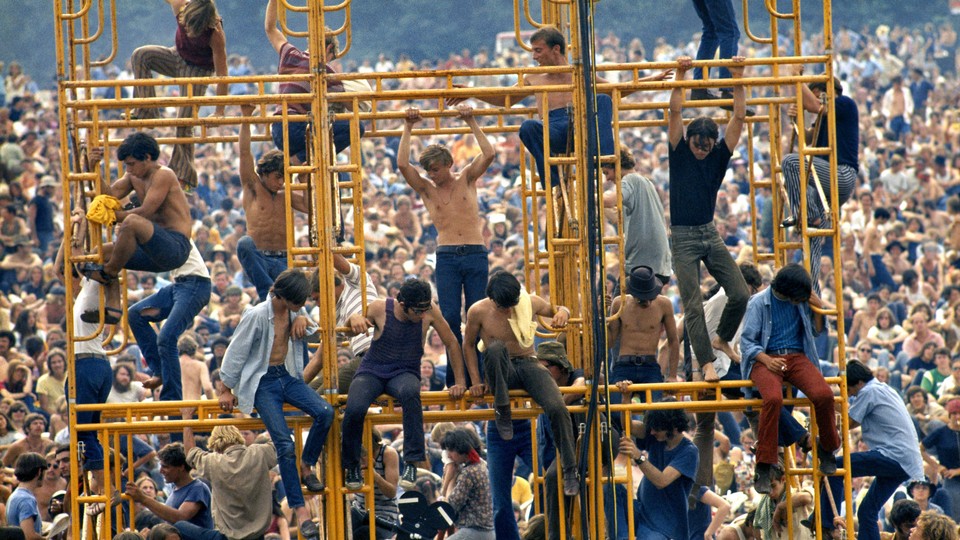 In the final moments of PBS's Woodstock: Three Days That Defined a Generation, a new documentary packed with remarkable images of the epochal 1969 music festival, comes perhaps the most remarkable shot of all: the view from a helicopter above the fest, taking in what 400,000 hippies looks like. The frame is filled entirely with people-as-dots, a gobsmackingly huge number of them, crammed against tents and equipment rigs. It could be a picture of a humanitarian crisis, but the previous hour and a half has made the case that Woodstock was basically paradise on Earth. "It was a mark in cosmic time; I have no doubt about that," one of the attendees reflects in the voice-over. "I'm not saying it never happened before, or it never happened again, or that it couldn't happen in the future. But that—that stopped the clock for three days."
The question of whether the 1969 upstate New York fete could ever happen again is now not only a cosmic matter, but a practical one. And the answer appears to be no. After months of drip-dropping news about financing and permit problems, Michael Lang, the original fest's co-founder, recently announced that the planned 50th-anniversary edition would be canceled. Lang's previous two attempts are not renowned for conjuring the classic Woodstock mystique. The 1994 iteration had muddy mosh pits and rageful heavy metal. The 1999 version had riots, fires, and sexual-assault allegations. But could something like Woodstock happen again? Has it already, many times over, under other names, in the 50 years since Jimi Hendrix shredded "The Star Spangled Banner" and Jefferson Airplane awoke the crowd at 8 a.m. with "morning maniac music"?
Barak Goodman's PBS documentary joins a catalog of works immortalizing the Boomers' signature bacchanal—a catalog that is growing yet again for the occasion of Woodstock's 50th anniversary. Michael Wadleigh's definitive 1970 film, Woodstock, is playing in movie theaters again. Rhino Records' new Woodstock: Back to the Garden box set compiles the festival's musical performances across 38 CDs and 432 tracks. (If you didn't spend $800 on the limited-edition compilation, too bad, because only 1,969 copies were printed.) By contrast, Woodstock: Three Days That Defined a Generation focuses not on the music—although some skin-prickling performances do get a revisit—but on the audience, the execution, and the politics. It presents Woodstock as a social object.
The conventional view of the festival depicts it as a somewhat spontaneous gathering in a dairy farmer's pasture, but the PBS documentary demonstrates the planning and promotional effort involved. The founders Artie Kornfeld, Michael Lang, John P. Roberts, and Joel Rosenman weren't exactly event professionals (Lang, for example, ran a pot-paraphernalia shop in Florida), but they did spend time researching practical questions of sanitation and stagecraft. An international ad campaign persuaded young people to pilgrimage across countries and continents to attend. The wrangling to secure a venue was a bit like what Lang went through in attempting to mount Woodstock 50; townspeople near the initial site voted to thwart the plans, which sent the Woodstock organizers scrambling with only weeks left.
Goodman's film also reinforces the sense that Woodstock was somewhat a product of naïveté, and that it took advantage of an era in which rules were less calcified than they are today. For security, the organizers flew in the hippie collective called the Hog Farm. At the airport, the group's leader, Wavy Gravy, a combination clown-shaman adept at using his open-mouthed grin as a disarming tool, told a reporter, "Mostly we're going to try to be groovy and spread that grooviness through everybody." Food was cooked largely by amateurs, and attendees bathed nude in streams and ponds. Days before the festival was set to start, the construction foreman told organizers that they were so behind schedule that either the stage or the fence around the venue could be built—not both. So the fence was scrapped, and Woodstock became a free festival.
The loss of ticket-taking was only one in a long list of potentially catastrophic snafus. Jam-packed country roads became parking lots as people just took their car keys and walked miles into the festival. The gridlock in turn meant the bands couldn't get to the fest; organizers scrambled for helicopters while having Richie Havens, the first artist to arrive, play an unscheduled and understaffed set. Food ran out, medical supplies ran out, and a downpour transformed the grounds into a mud pit. When the fest ended and organizers toured the mess, they feared they'd come across dead bodies. But they didn't find any. Miraculously, they felt, Woodstock worked.
Unmentioned in the documentary is that three people did die at Woodstock. They're not part of the popular myth of utopian peace and love, which Goodman's film not only repeats but states so forcefully as to be making an argument. Multiple attendees testify to the life-changing power of linking up with so many young people on their wavelength: anti-war, antiestablishment, plugged in to the same music and the same drugs. While the festival clearly teetered on disaster throughout, generational camaraderie and sensibility supposedly kept it stable. "We tried to let the audience know, in every way that we could, that we believed in them," Rosenman says in the film. "That inside them was a loving nature, a decency, and a fineness of spirit."
The political tensions of the day contributed in surprising and heartening ways, too. Much of the country leered at the hippies—news coverage made Woodstock out to be all mud and misery—and yet conservative-leaning natives of Sullivan County donated groceries when the fest's food ran out. New York Governor Nelson Rockefeller, after threatening to send the National Guard to end the fun, airlifted in medical supplies and doctors. When Max Yasgur, the Republican dairy farmer whose pasture hosted Woodstock, addressed Woodstock's crowd, it was with great praise: "The important thing that you've proven to the world is that a half a million kids … can get together and have three days of fun and music, and have nothing but fun and music." In a weird way, then, Woodstock wasn't the counterculture simply arriving—it was the counterculture winning over some of those it was rebelling against.
If Woodstock can't exist today, perhaps that's because its point about harmonious mass hedonism was made so vividly back then, and on some level, has been proved time and again. The counterexamples are famous, of course, running from Altamont (the late '69 Rolling Stones show marked by murder and overdoses) to Fyre (the 2017 hype fraud in the Bahamas). Relatively peaceful Coachellas and Glastonburys, meanwhile, happen at regular, uncontroversial intervals while ever so often producing iconic performances of their own. Their attendees may not think of themselves as avatars of radical grooviness, as the hippies did—though certain venues, such as the sprawling campsite of Bonnaroo, do evoke that spirit—but they're also not so desperate for a sense of agency as a peer cohort. One Woodstock-goer marveled, "Oh my God, there are this many people in the world that think like I think." Today's kids and young adults can figure that out on TikTok, and take advantage of it by Instagramming their (intergenerational) Burning Man experience.
The industry that has sprung up around mass concerts also makes it hard to imagine something quite like Woodstock happening again. The original fest's $3.1 million cost (15 million in today's dollars) was largely footed by Roberts's wealthy family; today, few mega-events happen without the profit-seeking practices of conglomerates such as AEG or Live Nation. Those companies weren't involved in Woodstock 50, and Lang now blames his unconventional financial backer, the marketing firm Dentsu Aegis Network, for the festival's failure.
Money would have killed the point, anyway: Whereas the magic of Woodstock '69 came partly from the accident of fencelessness, tickets for Woodstock 50 were reportedly going to go for $450. A price tag that high isn't so uncommon in the world of live music these days, and thus many young people must find their community and mass kicks in other ways. At Lollapalooza in Chicago this past weekend—whose attendance count of 400,000 is the same as the original Woodstock's—the big viral moment didn't come from any act onstage. It came from a group of non-ticket-holders rushing toward the fence, jumping it, and knocking it down.