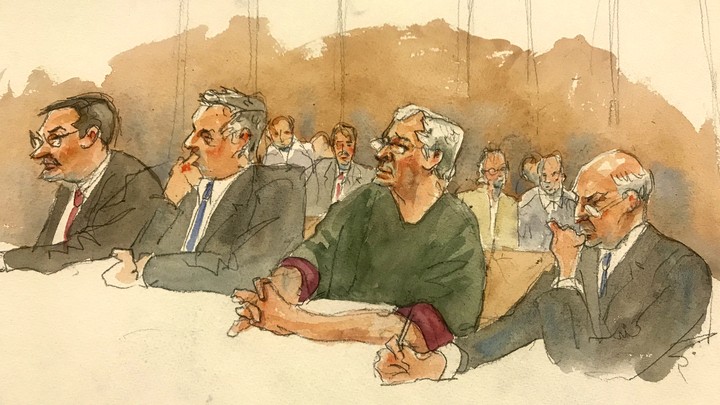 "The reckoning of accountability begun by the voices of brave and truthful victims should not end with Jeffrey Epstein's cowardly and shameful suicide."
That was Sigrid McCawley, a lawyer for Virginia Roberts Giuffre, speaking about the news that broke this morning: Jeffrey Epstein, the sex offender who was awaiting trial on charges of sex trafficking, reportedly hanged himself in his jail cell. McCawley was acknowledging the questions that hover in a fog around Epstein's death, just as they hovered around Epstein's life: Could it be more than mere coincidence that his death followed Friday's unsealing of approximately 2,000 pages of Epstein-related court records? Why, given that Epstein had last month been found in his cell with marks on his neck, wasn't he under suicide watch? How did he manage to evade accountability, this final time?
McCawley was also making a different kind of acknowledgment: Those questions are not the primary ones that matter in this moment. The most urgent question, instead, is the one that McCawley answered on behalf of Giuffre this morning, as the lawyer declared that "the victims await the true justice they have sought and deserve." What will Epstein's death mean for the reckoning sought by the women who have accused him of abuse? Will the alleged victims—alleged being the correct word, but also, under the circumstances, a callous word—find justice, despite it all?
Read: When Jeffrey Epstein joked about sex abuse
McCawley's answer: Yes. Which is the same answer that was given by many of Epstein's other accusers this morning, as they have made clear that, where their cases are concerned, Epstein's death is not an ending, but instead the start of something else.
"I am angry Jeffrey Epstein won't have to face his survivors of his abuse in court," Jennifer Araoz, who has accused Epstein of raping her when she was 15 years old, said this morning. "We have to live with the scars of his actions for the rest of our lives, while he will never face the consequences of the crimes he committed, the pain and trauma he caused so many people." She added, however: "Epstein is gone, but justice must still be served. I hope the authorities will pursue and prosecute his accomplices and enablers, and ensure redress for his victims."
Lisa Bloom, the attorney who represents many of the women who have made similar accusations against Epstein, put it like this: "Predator Jeffrey Epstein killed himself. On behalf of the victims I represent, we would have preferred he lived to face justice. Our civil cases can still proceed against his estate. Victims deserve to be made whole for the lifelong damage he caused. We're just getting started."
Brad Edwards, who represents several others of Epstein's accusers, shared that sentiment: "While we engaged in contentious legal battles for more than a decade, this is not the ending anyone was looking for," he said in a statement. "The victims deserved to see Epstein held accountable, and he owed it to everyone he hurt to accept responsibility for all of the pain he caused."
These are not merely notional nods to accountability; they are hints at the strategy Epstein's accusers will enact, now that Epstein will no longer be present to defend himself in a criminal trial. "Obviously, criminal charges can't be lodged against a dead person," Paul Callan, a legal analyst for CNN, put it on the network this morning. "The question is … can civil cases for money damages be brought by other and new victims? And the answer to that is yes … So his suicide will not end coverage and interest in the Jeffrey Epstein case."
Justice can take many forms. It can take the form of those civil suits. "I am calling today for the administrators of Jeffrey Epstein's estate to freeze all his assets and hold them for his victims who are filing civil cases," Lisa Bloom tweeted. "Their lives have been shattered by his sexual assaults, their careers derailed. They deserve full and fair compensation NOW." Speaking on MSNBC, Bloom elaborated: "They can still bring a civil case against his estate, and we are on the verge of filing one," she noted. She added: "They deserve compensation."  
Justice can also take the form of investigation: Journalists, following the lead of the Miami Herald's standard-bearer, Julie K. Brown, can keep pursuing the story—solving, potentially, some of the many mysteries that still obscure the sharp truths of the Epstein case. They can convert questions into answers.
And justice can take the form, too, of governmental inquiries. It can be found through hearings as to why Epstein was not under suicide watch at the time of his death. It can be found through investigations into how, precisely—for so many years—Epstein was able to evade full accountability for his reported predations. The public has a right to know, Lois Frankel, the co-chair of the Democratic Women's Caucus, said in a statement today, "why a prolific child molester got a slap on the wrist instead of a long prison sentence." She added: "With the obvious end to criminal proceedings against Epstein, it is important that the U.S. House Committee on Oversight and Reform begin its investigation immediately."
Epstein, for so long—for far too long—found refuge in evasion. He used his apparent fortune as an armor against accountability. He bought a mansion with thick walls and heavy doors and locked safes meant to keep his secrets. He—and sometimes, shamefully, the media that covered his activities—trafficked in euphemism, disguising the horrors he was accused of in slippery forms of storytelling. He sold himself as a genius who had his reasons. The gilt disguised the guilt: Epstein operated, even in his public movements, within a haze of impunity. Mystery itself became his protest of plausible deniability. How did he amass his fortune? Why didn't his associates question him? How could he have escaped a full measure of justice?
The court records that were unsealed on Friday included a partial transcript of a deposition Epstein had given in September 2016. It reads, in retrospect, as its own kind of indictment—not only of Epstein himself, but of the system that enabled him, a system accustomed to giving the benefit of the doubt to the wealthy and the well connected. Asked in the questioning whether it was standard procedure for his former girlfriend, Ghislaine Maxwell, to bring underage girls to him for purposes of sexual abuse, Epstein replied simply, "Fifth."
Asked whether Maxwell was "one of the main women" who engaged in that procurement procedure, he replied, again, "Fifth."
Asked whether Maxwell met one of the girls she recruited at Donald Trump's Mar-a-Lago resort, he replied, again: "Fifth."
Asked whether he was a member of Mar-a-Lago in 2000, he replied, "Fifth."
Epstein did what any lawyer would tell him to do: Avoid incriminating himself. To plead the Fifth so often that the pleading itself came to double as a miasmic refrain. Epstein evaded, and evaded, and evaded. In death, however, he can evade no longer. Cases will go on. The women will keep speaking. And, just as significant, they will keep being heard. The process that takes a person from "alleged victim" to "acknowledged victim" is another means of accountability. To be believed is another form of justice. "He ruined my life and a lot of girls' lives," Michelle Licata, one of Epstein's accusers, told the Miami Herald last year. "People need to know what he did and why he wasn't prosecuted so it never happens again."
We want to hear what you think about this article. Submit a letter to the editor or write to letters@theatlantic.com.
Megan Garber
is a staff writer at
The Atlantic
, where she covers culture.