The Patriarchal Allure of The Family
A new Netflix series delves into a shadowy religious group with long-standing political ties to Washington. Is it as powerful as the show suggests?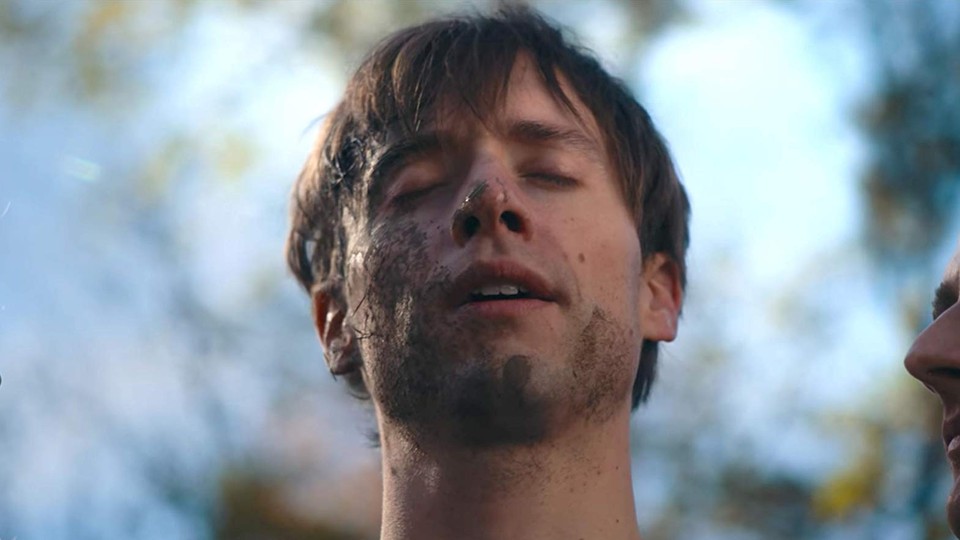 In 2007, Senator John Ensign of Nevada was a glittering star in the Republican firmament, with a maple-syrup tan, born-again bona fides, and presidential ambitions. He was one of a handful of congressmen who lived in a C Street row house owned by an organization known as "the Fellowship," an unorthodox group home that the New Yorker once likened to a frat house for Jesus. The Fellowship's members crossed party lines, but they had a few things in common. They were male. They were white. They paid a token fee to occupy rooms rented out by a nebulous faith group that encouraged them to believe that they had been chosen as leaders by God himself, and that none but God could judge them.
For Ensign, at least, it didn't quite work out that way. In 2009, he was forced to confess that he'd been having an extramarital affair with the wife of his staffer and friend Doug Hampton. Then it emerged that Ensign's parents had given the Hamptons a "gift" of $96,000 after Hampton discovered the affair, while Ensign had helped Hampton get a lobbying job at a Nevada-based consulting group. Ensign moved out of the C Street house, and his fellow Republican senators reportedly distanced themselves from him. He left office in 2011 and returned to working as a veterinarian in Las Vegas, where he also volunteers for a charity offering low-cost spaying and neutering services. There are some ignominious second acts in American politics, but the path from one of Jesus's own representatives on Earth to a humble agent in the fight against animal overpopulation nevertheless stands out.
But what happened to the Fellowship? The Family, a five-part documentary series by Jesse Moss that debuted on Netflix earlier this month, makes the case that this shadowy religious organization best known for the moral incontinence of some of its members is actually one of the most nefarious operations in American politics. Based in large part on the 2008 book of the same name by Jeff Sharlet, The Family draws a through line from the Fellowship to President Donald Trump, casting the latter as a crucial component in the Fellowship's quest for global domination. Members of Congress, Moss and Sharlet argue, are secretly lobbying for an invisible organization that's been "hiding in plain sight" for the past eight decades. The Fellowship, Sharlet says in one scene, is "the darkest expression of religious life that I've found in 20 years." (It's hard to hear this quote and not immediately think about a few other potential contenders.)
Over four and a bit hours, The Family tries to expose an institution whose most prized currency has always been secrecy, delving into its origins at the hands of a Norwegian minister and fervent capitalist, its ties to some of the world's nastiest autocrats, its more recent amity with Russia, and its eager embrace of Trump as a "wolf-king" who can change the course of history. Moss embraces the stylistic trappings of conspiratorial exposés to tell his story—dramatic reenactments, a plinky and faintly menacing piano score, selective splicing of clips featuring Maria Butina and Muammar Qaddafi. And yet, as the series continues, it's unclear whether the Fellowship is as powerful as it would like to be, or whether its aura of mystery is its most distinct asset. In one interview, Doug Coe, the Fellowship's former longtime leader, is likened to the Wizard of Oz, the enigmatic architect of a kingdom. But Oz was also just a man behind a curtain with a prodigious gift for self-aggrandizement. At times, The Family's willingness to buy into the Fellowship's mythology to tell a more compelling story seems to distract the show from the core of the real con.
In 2002, Sharlet was only beginning to carve out a career as a writer when he applied to live at Ivanwald, a sort of dormitory in suburban Washington, D.C., for young men of faith whose backgrounds implied both privilege and political connections. Sharlet had recently met with a friend, Luke, a "promising guy" with an upper-middle-class upbringing and a "fine trajectory to his life," who'd abandoned everything to join what his family feared was a cult. Luke told Sharlet that this was nonsense, and that he was simply living with a bunch of other guys who were followers of Jesus. He invited Sharlet to join them. Moss re-creates this interaction with actors, and in the scene, the dramatized Luke has the kind of vacant smile on his face that implies either total spiritual and emotional peace or devotion to Charles Manson.
Ivanwald, Sharlet found out, was an enclave where young Christian men could eat meat, study the Gospels, play basketball, and be indoctrinated into a group that promised them exceptionalism. Coe, the purported leader of the Fellowship, had long expressed admiration for the ways in which leaders engendered loyalty through brotherhood, citing Hitler, Mao, and the Mafia as inspiration. The residents of Ivanwald learned to be humble by submitting to God and doing menial work. The Fellowship, in the meantime, was building relationships with people in power, establishing an 8,000-square-foot townhouse in D.C. where Fellowship-affiliated congressmen could live, hosting the National Prayer Breakfast once a year, and making overtures to world leaders with the capacity to advance a Christian agenda.
The first episode largely re-creates Sharlet's account of his exposure to Ivanwald, in scenes that (despite casting James Cromwell as Coe) aren't nearly as compelling as the talking-head analysis of what's actually going on. The second breaks down the two scandals that threatened to derail the C Street house: Ensign's very public affair, and South Carolina Governor Mark Sanford's admission in 2009 that he'd also been unfaithful, in a speech that outed the Fellowship as a "Christian bible study" group that Sanford had been leaning on for support. (In doing so, Sharlet explains, Sanford violated the first rule of C Street, which is never to talk about C Street.) The revelation that not one but two Republican members of a shadowy faith group had fallen from grace led to feverish speculation about the Fellowship, including a lengthy 2010 New Yorker feature that likened the group to "a kind of theocratic Blackwater."
Moss delves into the Fellowship's history, and along the way provides a fascinating portrait of an organization that seems uniquely motivated by power. The Ivanwald approach to Christianity, Sharlet reveals, is a limited one—the organization has only minimal interest in the Bible and leans on an unorthodox interpretation of Jesus as a brawny avatar of alpha masculinity, a kind of spiritual Navy SEAL or post-career Peyton Manning. Jesus, in the Fellowship's eyes, isn't the Lamb of God so much as a license to expand and project patriarchal power. The young men of Ivanwald are told repeatedly that they've been chosen by God to be future leaders, significant cogs in a worldwide spiritual offensive. Coe, meanwhile, uses the truism that Jesus sat down with sinners to justify building dubious relationships with genocidal tyrants such as Omar al-Bashir, General Suharto, and Siad Barre. "Most of my friends are bad people," Coe once said. In the period after the Soviet Union was dismantled, he visited 16 bloc countries in 16 days.
In its third episode, The Family explores the recent ties between the Christian right and Vladimir Putin's Russia. (Doug Burleigh, one of the Fellowship's current leaders, was interviewed by the FBI about his dealings with the convicted Russian agent Maria Butina.) The fourth details the Fellowship's previous relationships with dictators, and its ongoing attempts to enforce "Christian" and anti-LGBTQ policies in countries such as Romania, with gay marriage in the United States seeming at this point like a lost battle. Along the way, Fellowship-affiliated congressmen seem depressingly eager to embrace strongmen under the pretense of Jesus's name. Senator James Inhofe tells the Nigerian dictator Sani Abacha that he "loves him." Representative Mark Siljander travels to Libya, where he asks Qaddafi for forgiveness for the U.S. bombing that killed his daughter. (Siljander was later sentenced to a year in prison for accepting stolen funds from a charity with ties to terrorism.)
Almost everything Moss details is egregious: the elected representatives working not for their constituents, but in the service of an unaccountable faith leader with a yen for global bully boys, one who is so willing to build back-channel relationships with foreign regimes that he is, in Sharlet's words, either hopelessly cynical or hopelessly naive. The "rhetorical self-empretzelment," in one observer's words, that leads evangelical Christians to embrace Trump not because of his principles, but because of the brute force that he represents. Still, it's hard to believe after five episodes that the Fellowship has more political influence than any K Street lobbying shop or Christian coalition. Its most prized stars, Ensign and Sanford, now languish in the shadows, although Sanford apparently still believes so fervently in his own status as a predestined leader that he's even now considering a run for president.
What's almost more interesting about the Fellowship are the elements that Moss notes but doesn't dig into. This is a group that sees privilege as potential, whiteness as power, masculinity as proof of leadership prospects. In the first episode, Sharlet describes how Ivanwald had an equivalent arm for women, Potomac Point, but while the young men were being groomed for future authority, the women were being "mentored in service" and directed toward future relationships with Ivanwald members. The Family similarly hints at the extent to which the Fellowship identifies whiteness as a pivotal component of God's chosen agents. One member, former Representative Zach Wamp of Tennessee, says on camera that the group needs to diversify. And yet Russia remains idealized by both the religious right and white nationalists, presumably not just for its supposedly muscular leadership and "traditional values."
The Family seems to think it's only telling a compelling story if the Fellowship is actually a potent political force. But there's something fascinating, and tragic, in the way it documents a group of ordinary men so easily convinced that they're exceptional, even to the point of being handpicked by God like ripe fruit in a celestial grocery store. It's a thread in contemporary politics that runs all the way to Number One Observatory Circle, if not the White House. That politicians are, instead, chosen by voters is an inconvenient fact that keeps interrupting so many careers. But it is, nevertheless, a fact, and one that Ensign, Sanford, Siljander, Wamp, and so many of their former congressional colleagues each has to attest to.