Taylor Swift Finds Her Faith on Lover
The pop star pushes herself in surprising ways on her new album, to mixed but often moving results.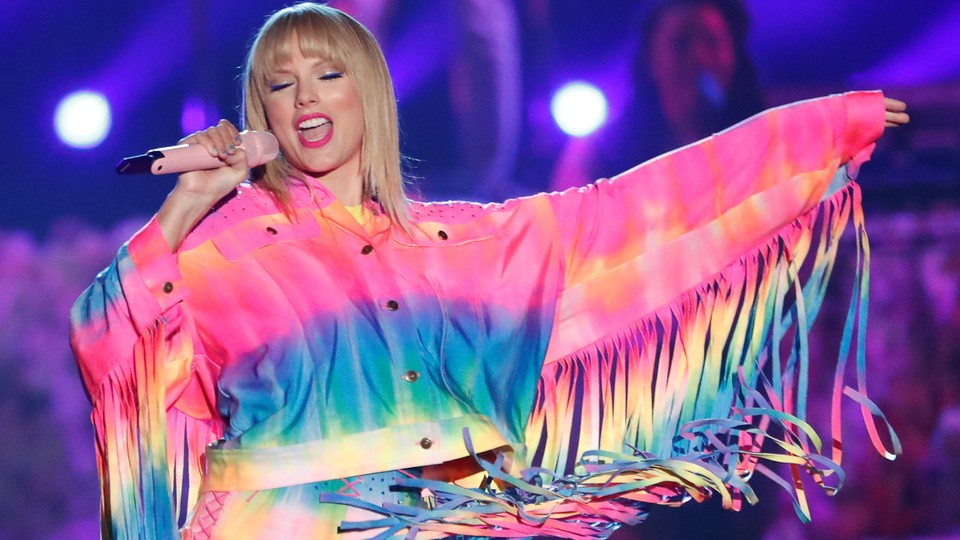 When an artist's work becomes synonymous with the term diaristic, it's easy to feel that there's little left unknown about her life. Taylor Swift has been not-so-subtly addressing her nonfictional exes and besties and rivals and romances in lyrics for years. One song on her new album, Lover, reveals the very block on which she first shacked up with one of her beaus. But it's still surprising to hear her talk about certain subjects in song. Like her faith.
When Swift swam into the country mainstream with her twangy 2006 self-titled debut, there were light mentions of prayer amid her swept-up love ballads. She's used only the most generic religious references—a stray "Lord save me," for example—since then. Now, with Lover, she acknowledges her actual beliefs and lack thereof. On "Soon You'll Get Better," a tender banjo piece about her mom's cancer diagnosis, she sings, "Holy orange bottles, each night, I pray to you / Desperate people find faith, so now I pray to Jesus, too."
What a jolting line—shifting from the secular, imagistic, everything-is-enchanted sort of mysticism Swift has always excelled at to one rooted in actual theology. Significantly, the couplet comes from real-life struggle. Writing in Elle recently, Swift said that her mother's illness "taught me that there are real problems and then there's everything else. My mom's cancer is a real problem. I used to be so anxious about daily ups and downs. I give all of my worry, stress, and prayers to real problems now."
Lover is an album of revelation through pain that sees Swift pushing herself in surprising ways. Her motifs include heaven, angels, devils, the colors pink and gold, and the notion of rebirth, all of which inform a solid new chapter in a long-running narrative. Back in 2014, Swift's "pop"-makeover 1989 presented her as a cosmopolitan conquerer: a woman of the world collecting famous friends and accomplishments to the laudatory blare of keyboards. Winning pop culture's popularity contest came with inevitable complications, and the chaotic Reputation offered a joking-but-not-really embrace of the drama. She's now claiming transcendence with Lover, but it's the hard-earned, hard-kept kind, with musical wobbles—in sonic character and in quality—to match.
The opener, "I Forgot That You Existed," rates as a misfire with a message. Pert piano and squiggly synth elements recall the cloying tropical pop that Ed Sheeran has played with on his recent albums; her sing-talky delivery resembles him, too. She's telling someone who betrayed her that she doesn't even think about them anymore, and the fact that she's written a song about how much she doesn't care is surely part of the not particularly funny joke. This is as petty—and flimsy—a song as Swift has written. That is, however, the point. She's saying goodbye to all the silly score-settling.
Well, sort of. The pulse-quickening next track, "Cruel Summer," seems to bait her rival Kanye West with its title (the name of his 2012 crew album) and its flashing indicator light of a beat (which could have been off of that album). Really, though, the song's closer in character to Bleachers, the rock band of Swift's recent chief collaborator, Jack Antonoff. His flair for '80s FM drama—gated drums, goofy vocoder—meets her storytelling chops, with noirish verses alternating between excellent, swirling choruses. She's describing a romance of "unbreakable heaven" that arrived among scandal, and the bridge climaxes with her lover "grinning like a devil."
Love is heaven and love is hell—Swift's on a duality kick, and it's resulting in some of the most intriguing lyrics of her career. She's been accused of "playing the victim" over the years, but the misty synth ballad "The Archer" owns that criticism in a stark, admirable way. Maybe she does ask for trouble, and maybe she does "jump from the train" to "ride off alone": There are no excuses in the song. Her writing is like a sharp double-edged blade elsewhere, too, especially when trying to swing at complex, bittersweet feelings. On "I Think He Knows," she cops to being turned on by "his hands around a cold glass." For "Death by a Thousand Cuts," she nails an introspective scene: "I take the long way home / I ask the traffic lights if it'll be alright / They say, 'I don't know.'"
Reputation raided rap production to create noisy hybrids with warmly addictive choruses, and Lover continues in that direction but with a lot less noise and slightly worse choruses (where'd Max Martin go?). The songs set a mood and stay in them; often the beat leads the way, with sometimes stiff results. Worst are the performatively chipper bids at radio play: the singles "ME!" and "You Need to Calm Down," plus the corny sock hop of "Paper Rings" and the Anglophobic-disguised-as-Anglophile reggae of "London Boy." The political clapback of "The Man," in which she imagines how her publicist would have less to do if Swift weren't female, takes what was good about the sound of 1989 and executes it with irony in the place of emotion.
It's the more ambivalent, unclassifiable, sonically adventurous side of the album that instead deserves the classic Swift-fan obsession. The wintry and poignant "Cornelia Street" airs premature pain for a breakup that she hopes never happens. Her producers go wild with the trippy and polyphonic "Death by a Thousand Cuts" and with the murmuring atmospherics of "False God" (Swift's first sax spot?). You'd call the title track a reversion to Swift's old country style if the coat of reverb on it wasn't as thick as the silt on the Titanic. "It's Nice to Have a Friend," another standout, whose nostalgia seems to reach not only backwards in time but forward, features an eerie combo of steel drum and choral harmony as Swift paints a muted portrait of a wedding.
Swift's early albums mentioned marriage, too, but usually in the clichéd manner of a young person pining for a fairy-tale ending. The vision of settling down as a capstone—as some culminating spectacle—is a common one, but it's also one that plenty of grown-ups who once held it eventually realize was short-sighted. Swift's realized the same, as demonstrated when the title track (and its moving video) dreams of comfort rather than head rushes and diamonds. During the wonderful bridge of "Daylight," the album's closing track, she rebukes her old vision of love as "black-and-white" or "red." Rather, it's "golden like daylight." Lover's love is the type that is patient and kind—the kind learned from reading holy books, living long enough, or both.