The Nostalgic End of Fleabag
As the groundbreaking show concludes with a final theater run in London, audiences are left to grapple with its meaning.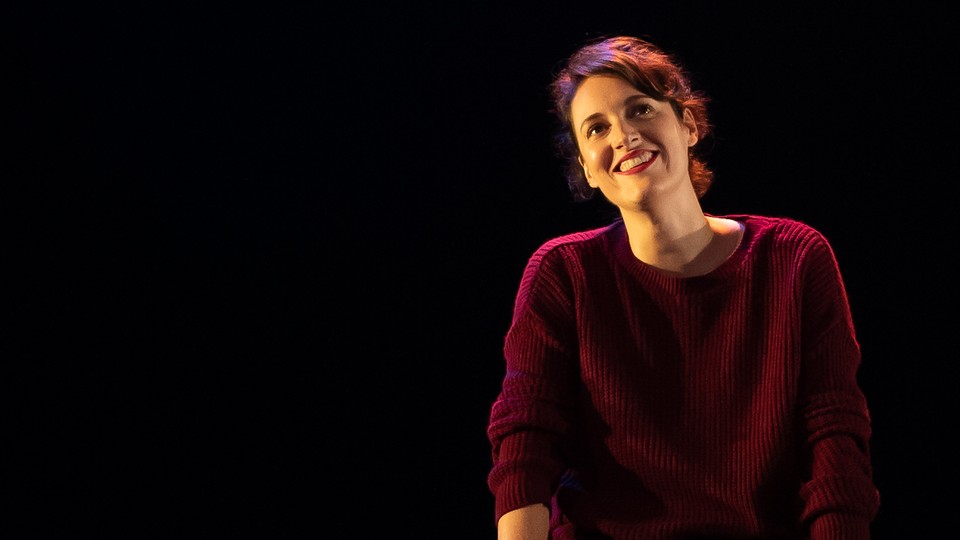 "I am obsessed with audiences," writes Phoebe Waller-Bridge in the introduction to the playtext of Fleabag. "How do you make an audience laugh in one moment, then feel something completely and profoundly different in the next?"
The actor and writer has had six years to find out. Fleabag began as her one-woman play at the 2013 Edinburgh festival, before spawning two seasons of a BBC television show, which now streams on Amazon Prime. Millions of viewers have fallen for the titular character—she is never referred to by her real name—in a story that dwelled on grief, sex, and terrible life decisions. Now, the original play has just started a sold-out run at the 760-seat Wyndham's Theatre in London's West End. This is Fleabag's final outing: Waller-Bridge has declared the television series dead, and says she will not perform the one-woman show again.
That sense of an ending gave Wednesday's opening night a strange atmosphere. In the audience alongside reviewers were actors from the television version, and other celebrities such as Bohemian Rhapsody's Rami Malek. They mingled with superfans who had paid up to £127.50 for a ticket from the official retailer (and those who had paid far more from touts). This collision of classes is an old promise of the theatre, all the way back to Shakespeare's Globe, where the court and the groundlings watched the same actors perform the same play—while also watching each other.
The night also demonstrated the currency of celebrity. There is only one Phoebe Waller-Bridge to go round, making her physical presence incredibly valuable. As both an actor and a writer, she is in high demand; she reportedly had to pass on writing for the second series of Killing Eve because her schedule is packed with Bond films and Star Wars cameos and God knows what else. Seeing Waller-Bridge do Fleabag this one final time, therefore, carries potent bragging rights. People I know keep posting Instagram pictures of the set, despite it being ... a single chair.
It felt less like a traditional theater performance and more like a rock concert: Everyone knew the words. As a play, Fleabag gets its emotional punch from a twist—a revelation of its protagonist's bad behavior—and so the story line is inevitably less powerful on subsequent viewings. But that didn't seem to matter to the crowd. Just as everyone attends a Rolling Stones gig expecting to hear "Gimme Shelter," so this audience wanted to hear about Tube Rodent, and the guinea-pig café, and Fleabag's sister's monthly hair crisis. They saw the punch lines coming. They didn't care. The laughs started even before the first joke was out.
This was an encore performance in every sense of the phrase: a lap of honor for a beloved national treasure. When it was revealed last year that the most-watched show on Netflix was The Office, followed by Friends—a cozy sitcom now old enough to vote—it was confirmation that the array of choice offered by modern life has, paradoxically, driven many of us back to our comfort zones. Yes, Netflix has Chinese-language dramas about an emperor's wives, and Israeli military thrillers, and French shows about celebrity agents. Such riches! And yet we scroll past these for another dose of Ross and Rachel.
Fleabag's opening night was also notable for the presence of Britain's feminist aristocracy, including its grand duchess, the journalist Caitlin Moran; the lawmaker Stella Creasy; the host of the BBC's Late Night Woman's Hour, Lauren Laverne; and the host of The Guilty Feminist podcast, Deborah Frances-White. From the start, the show has been held up as a groundbreaking feminist show, and a show particularly aimed at women.
Much has been written about how Fleabag is frank in its discussion of sex, and how it allows a female protagonist to be flawed, selfish, and self-destructive.  The main character discovers that she and her sister are "bad feminists" for saying they would trade five years of their lives for the perfect body. She and her friend Boo, played in the TV series by Jenny Rainsford, sing nonsense ukulele songs about "modern women." Fleabag talks about periods, and cystitis, and being attracted to Barack Obama. This focus feels both liberating—women can be rude, too!—and limiting. Why is all this just for girls? Why can't a woman's art be universal, in the way that Portnoy's Complaint, that masturbation odyssey, is a Great American Novel, rather than a Great Male American Novel?
The truth is that Fleabag has been branded a female show because that's what the market demands. "Happy GIRLS thinkpiece season," tweeted the writer Heben Nigatu when Lena Dunham's show returned in 2014. A decade earlier, she would have greeted the arrival of Sex and the City think-piece season. Every few years, a drama comes along that is presumed to epitomize the female experience, allowing any number of theses about the "modern woman" to be hung on it. It is no coincidence that these shows are often explicit—talking about sex makes the connection between performer and viewer an intimate one—and that their protagonists are white and rich. The "universal" female experience is only one step more inclusive than the "universal" male one.
The oddest thing is how each show is presented as transgressive, iconoclastic, a revolt against the norm. When, come on, really—a "universal" female show about a Christian virgin would be more rebellious at this point. My suspicion is that audiences just like to hear attractive young women talking about sex, and the feminist gloss is a self-soothing addition. Just as every generation thinks it has discovered sex, every generation apparently thinks it has discovered making rude television programs.
That's not to say that the stage version of Fleabag is not daring. Watching it after the television series reminded me how much more cruelty and fallibility a theater audience will tolerate. In her grief over Boo's death, Fleabag has casual sex with an acquaintance in a café. He mistakes her guinea pig, Hilary, for a rat, and kicks it against the wall. This drew gasps from the audience—the television fans did not see that coming, at least—and provided an intriguing barometer for modern taboos. Anal sex, no. Animal cruelty, yes. Trying to comfort Hilary the next day, Fleabag listens to the guinea pig chattering in pain, and slowly, slowly crushes Hilary to death. Her obsessive, self-destructive need for sex killed Boo, and now it has killed Hilary, too. Television audiences might forgive the former, but were deemed too delicate for the latter.
At the end of the play, Waller-Bridge emerged back onstage for the first of three curtain calls, and the crowd rose to its feet. It was as if she had just delivered a particularly well-received best man's speech, a linguistic tour de force with a home crowd cheering her on. It was a fitting farewell to Fleabag think-piece season.