The VMAs Were the End of Reality
Missy Elliott's brain-bending aesthetic coursed through standout, surreal performances from Lizzo and Miley Cyrus.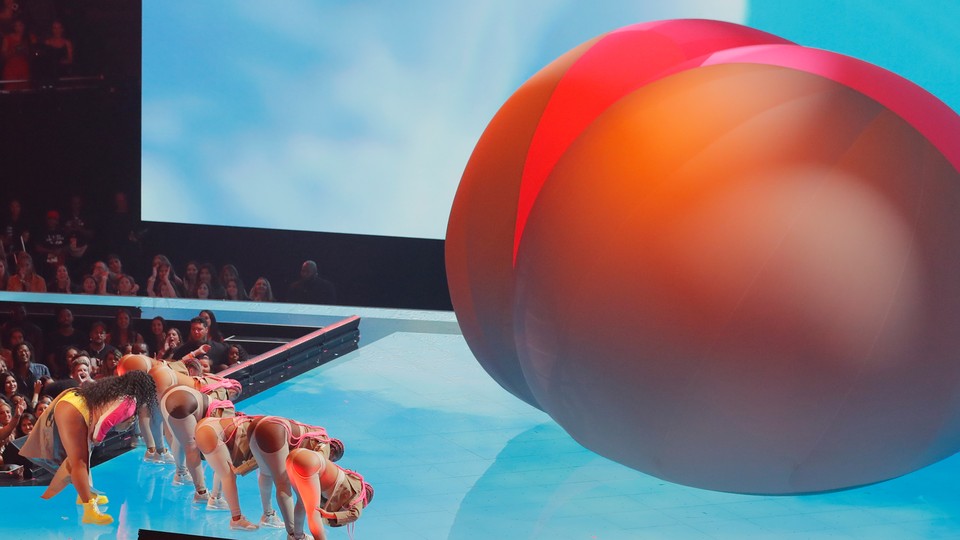 Certain famous women get pestered with a crass question: "Is that ass real?" Viewers may have said those words aloud during Lizzo's performance at the MTV Video Music Awards last night, but for very defensible reasons: Behind the singer/rapper and dancers, there bobbed a big butt. Two disembodied mounds, joined by a red strip, undulated with a kind of merry disregard for the music's rhythm, like a farm animal might when in sight of a square dance. Lizzo's performance was raging, luminous, inspirational, talent-packed—the best set of the show. But part of the time spent watching it involved wondering whether that was a giant ass balloon behind her, or if it was giant-ass CGI.
The possibility of CGI was on the table, given what else happened in the evening. Taylor Swift opened the show with a re-creation of her Pride float of a music video for "You Need to Calm Down," and as her squad of queers vogued and snapped, the lyrics of her song popped in the air. Or at least that's how it looked on TV: There was Swift's set, and there was God doodling on it. Award shows and concerts have gone a long way in using large LCD screens and props to fortify the fleshy attractions, but this wasn't that. It was augmented reality; Pokémon Go with an arena budget. The audience members in the room were missing out on the full picture, though I would hope that MTV directed them to an app where they could view the show in its full confusion.
Social media put award shows into ongoing crisis years ago, and the VMAs—once a reliable source of zany scandals and career-crowning moments—have been especially snoozy and pointless lately. Their relevance remains questionable; the ratings stink, and it's quite clear that they mostly give big awards only to artists who show up. But last night's event did have a pulse, despite the bland, befuddled comedy of the emcee Sebastian Maniscalco and an odd thematic emphasis on the host state of New Jersey. Partly the show benefited from exciting rising voices—Lizzo, Rosalía, H.E.R.—getting the mic. Partly it appeared emboldened by an epiphany: The VMAs should embrace the possibilities of music as videos. The performances shouldn't look like the Grammys; they shouldn't try to be concerts. They should be vertigo-strange. They should trick the camera. They should defy reality.
Swift's opener didn't really gel: Blame rote choreo, shoddy sound, and the way the word art underscored that she was marketing the kids-meal stuff from a relatively mature album. Still, she gave rise to one of the most lovably surreal moments of the night. Both times she won awards, she brought up the "You Need to Calm Down" cast of LGBTQ celebrities, and even went so far as to cede her first turn at the mic to her co-producer Todrick Hall (she's been reading the ally playbooks, and good for her!). When the team came to the stage the second time, the presenter John Travolta—already legendary for one awards-show mix-up—appeared to try to give the trophy to Jade Jolie, the drag queen playing Swift, rather than to Swift herself.
Later attempts at play-school fantasy worked better than Swift's opener. The Latin pop-rap titans J Balvin and Bad Bunny wore proportion-distorting costumes and bobbed around in a Day-Glo desert with emoji-like characters milling about and 3-D cartoon icons rotating overhead. Yoshi's Story isn't just a story! Lip-synching was even more flagrant than usual, but that's what visuals are for: The new superstar Lil Nas X's Tron army looked credible, and Normani—the Fifth Harmony singer/dancer amid a solo-career launch—shimmied across a powder-pink basketball court while her name popped above her like the Looney Tunes title.
Even the more "traditional" performances benefited from treating the venue not as a concert stage but as a movie set. Shawn Mendes and Camila Cabello's "Señorita" took cues from Lady Gaga and Bradley Cooper's time-stopping Oscars performance and had the camera press in, in, in as the two rumored lovers came within millimeters of kissing. More convincing drama still: Miley Cyrus's gorgeous new single, "Slide Away," was filmed in black-and-white, with her hair styled to look as if it'd just been dunked in the ocean of sorrow she sings about. The best special effect, however, was her voice, which she used in a way that suggested the lane once occupied by Aerosmith's power ballads has been empty for way too long.
In an era of deep-fake videos and simulation anxieties, it'd be easy to criticize the cybernetic vision of pop artistry onstage last night. But the truth is that surreality can be just the escape that addled minds need—as seen in the career of the legacy star of the night, Missy Elliott, to whose ingenuity all the show's trippy highlights were indebted. Her new EP may not have scrambled many neurons, but the medley she performed before she accepted the Video Vanguard Award probably did. She began with a dance troupe—first wigged, then bald—in a hall of mirrors. Soon, a photo-realistic version of her in her famed garbage-bag suit spiraled toward the rafters. The real Missy, it was revealed, was still on Earth, rapping into a fish-eye lens. The "Pass That Dutch" cornfield materialized; a UFO sucked up some digital sucker.
How much of this happened in the room? Well, plenty, which Elliott highlighted when she dedicated her award to "dance communities" around the world. But she's always known that the magic of the music video—live or prerecorded—is in the way human performance can be so extraordinary that it blurs into impossible, and in the way cinematic tricks can be so convincing that they blur into real. Don't try to find the line. Don't try to understand. It's your flippin vinyet vignette, c'mon.