Missy Elliott Is Reclaiming Her Legacy
The first collection of new music from the rapper since 2005, Iconography doesn't quite do what Elliott is known for: pushing boundaries.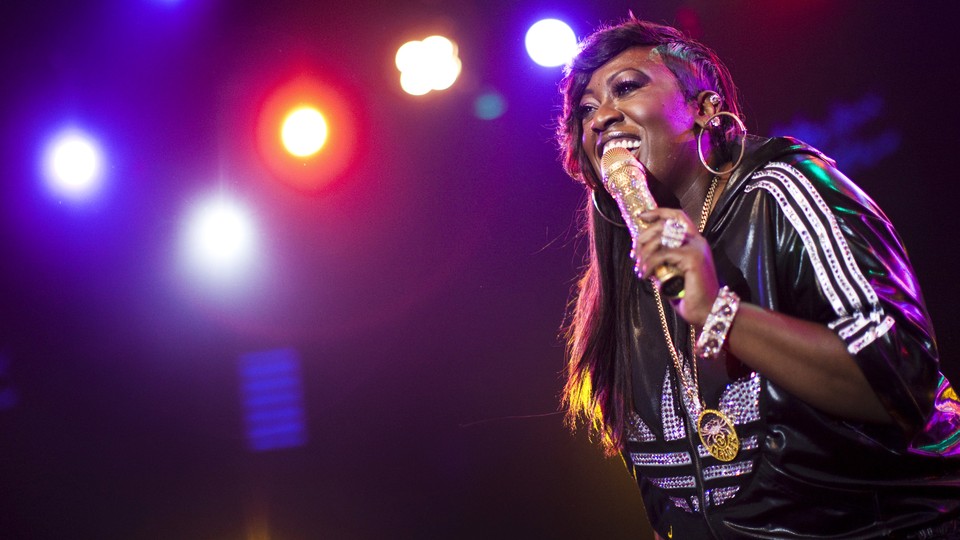 Who else has as strong a claim to the title of coolest person in the world? What other superstar is so associated with the idea of the future? Missy Elliott hee-howed new phrases into the lexicon. She brought breakdance to bhangra. She pioneered the music video as a freaky channel-surf of unlikely gyration and unlikelier clothes before anyone else so whacked the world. "Just make sure you ahead of the game," she once rapped, and she led by example.
So there's something odd about the way she's marketed Iconology, a five-song EP that represents her first collection of new work since her 2005 album, The Cookbook. "Let's #ThrowItBack to a time when music just felt good and made us want to dance!" she tweeted when announcing the project. "Throw It Back" is the name of the lead song, in which Elliott works over the phrase in such a way that it's clear it means multiple things. But one of those meanings is, literally, throwback. The song's video begins in a museum. Very not future.
After helping reshape the look, sound, and gender dynamics of pop and rap from the early '90s to the mid '00s, Elliott now ranks in the D'Angelo Hall of Fame for Legendary Absences. Since 2005, she's rapped on other people's songs, popped into Katy Perry's 2015 Super Bowl show, and fired off occasional singles of her own. But mostly she's been teasing fans. A planned album in 2008 was scrapped. In 2015, she said that a new record was imminent and explained her hiatus as a result of battling the autoimmune disorder Graves' disease, needing to recover from how hard she worked in the first phase of her career, and the tyranny of her own high standards. This year, Pharrell Williams, one of her two primary production collaborators (the other is Timbaland), told the New York Post, "Missy will play you the hottest song and you will be so hype and then she won't put it out … You will be looking at her like, 'Are you kidding me?' But Missy is a perfectionist. She wants the best results."
Given that supposed thirst for excellence, Iconology is a little perplexing. The EP isn't bad, for sure. But Elliott plays things so cool that her effortlessness sometimes resembles lack of effort. "Throw It Back" has a bass line that paces like a junkyard dog, with odd punctuations of sleigh bells: a very Missy beat, but the kind we've heard before. Her lyrics consist of dryly delivered, list-like brags, with cute callbacks to earlier glory—"Flip it and reverse it, stupid with the verses"—but no moments of new glory. The song comes more alive with the characteristically trippy music video, featuring braids as jump ropes, semi-CGI dancers twisting backwards and forward, and yellow Afro wigs as pom-poms. Missy stands in the middle of the color swirl; she looks a little bored.
The EP picks up somewhat after the opener. "Cool Off" ventures into the itchy-fun genre of bounce, with Elliott bleating out feisty slogans that double—again—as references to her earlier work: "Body shaped like a fisheye lens." The song's an energy pill, and here's hoping it generates a TikTok dance craze of some sort. Next comes the slack-tempo electro-funk of "DripDemeanor," which wafts with the purply essence of Prince as Elliott drawls raunchy come-ons. It's a reminder that no one talks about the body in quite the way she does, somehow both anatomical and sweet. To close out, Elliott reasserts her chops as a singer-songwriter with two versions of "Why I Still Love You," a catchy doo-wop diss of a treacherous lover she can't quit. One version is Lizzo-like with nu-Motown instrumentation; the other is a cappella, as if to note that Elliott's most fearsome weapon is her voice.
Each of these songs, solid though they are, feels driven by a desire to make a point. They're not as free and weird as even Elliott's relatively underrated latter-day singles, such as 2015's "WTF" and 2017's "I'm Better." Why is she back with this material, in this moment? Elliott is set to receive MTV's Video Vanguard Award on Monday night, after years of fans clamoring for her to win it. Perhaps she cleared out her musical cabinets and put out Iconography to capitalize on the occasion. Perhaps it's meant to refresh audiences on her appeal before she takes a risk with something new. What's obvious is that she wants to reassert her legacy in a moment when rap is popular, quirky, visual, and allowing space for female stars. The "Throw It Back" video even starts with the rapper-singer Teyana Taylor teaching a child who Elliott is. The best lesson, though, wouldn't be in throwing it back—it'd be in kicking ahead.