Lana Del Rey's Obituary for America
Heavy and beautiful, the singer's new album, Norman Fucking Rockwell, tells of women holding on in desperate times.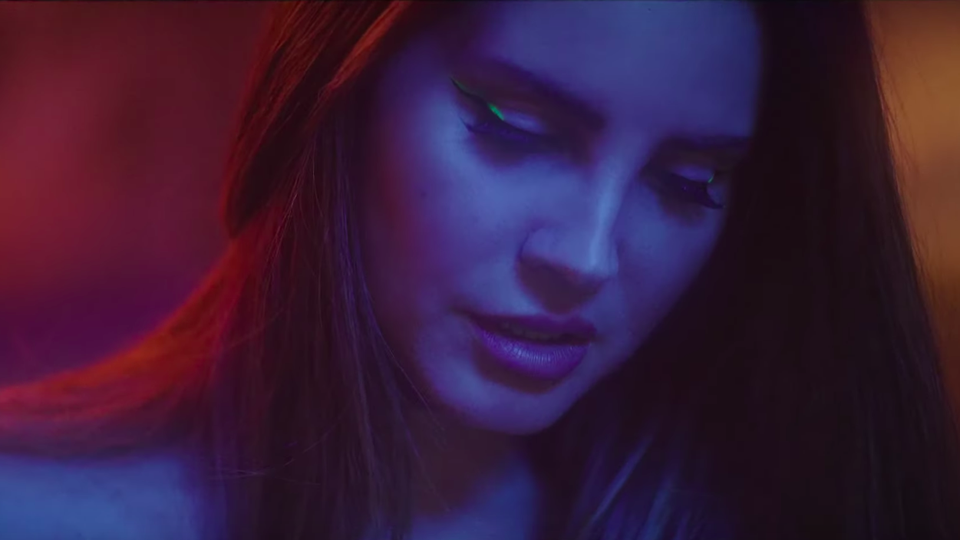 How to describe that sinking feeling that comes with comfy life in a scary time? No contemporary musician has done it better than Lana Del Rey does in the closing moments of her new song "The Greatest." "Hawaii just missed that fireball," Del Rey murmurs, her lips barely seeming to open wide enough to enunciate the words. "L.A. is in flames' it's getting hot … Kanye West is blond and gone … 'Life on Mars' ain't just a song." Till this passage, the song sounded like a wedding band soused on red wine. Now the bride is bleeding out on the dance floor. Del Rey stirs one final time. "Oh, the livestream's almost on."
Del Rey's talent has been misunderstood throughout her career, but with the freighter-heavy and canyon-gorgeous new album Norman Fucking Rockwell, maybe she'll be seen for the essential writer of her times that she is. Back on her 2012 major-label debut, public mockery of her '50s-obsessed glamour-puss persona missed how deftly she balanced social satire with a genuine affection for the superficial things that give life texture. "Money is the reason we exist," she gasped on "National Anthem," hilariously, devastatingly. By 2017, with Lust for Life, her protest music had become explicit enough that Breitbart sicced its commenters on her with this classic headline: "Lana Del Rey Trump-Era Album Asks 'Is It the End of America?'" Norman Fucking Rockwell doesn't avoid the answer. An empire crumbles. But we're still here.
Over five albums, Del Rey's sound has swung between glacial, expansive rock and cabaret and glossy trip-hop. Rockwell plunges deeper into the first mode, with the producer Jack Antonoff forgoing the '80s synth shimmer he's known for. Del Rey's lyrics—always a serial-killer-note collage of quotations—reference Baby Boomer rock and So Cal hip-hop. But musically, Rockwell more so channels patient, spaced-out troubadours across generations—Simon and Garfunkel, Mazzy Star, Built to Spill—with a hint of anthemic pop. Against smearing guitar, piano, and horns, Del Rey sings with recital-ready stateliness, even though her melodies are quavering and fragile. She's confronting something, and it's scaring her.
That something can include bad boyfriends. Rockwell's opening title track fires off against a "man-child," "know-it-all" poet—"You talk to the walls when the party gets bored of you"—and it's very funny: Steal the lines for your next fight. But for Del Rey, comedy and irony rarely have their usual effects of keeping emotion at a distance. At one point, it sounds like someone has fainted on the piano, which creates a clamor not unlike an ohm. Her voice turns the word blue into swirling birdsong, calling back to Joni Mitchell both lyrically and sonically. She can't quit the man-child. What does that make her?
Del Rey's great theme continues to be unwise love, the romantic vision that American rock has sold for decades now but that she is perhaps coming to understand as toxic on more than just a personal level. She still yearns for the "lime green" highs of booze and drugs, and still she yearns for the Norman Rockwell ideal of "one dream, one life, one lover." In the past, she synthesized those two impulses with a creepy vision of daddy/girlie gender relations and a creepier romanticization of death. Now she's chasing dignity rather than doom. The benediction-like "Mariners Apartment Complex" asks for room to air "the darkness, the deepness." But it also issues this statement of strength: "I ain't no candle in the wind."
Indeed, though Del Rey still sounds very sad, her narrators—it's best to assume that she's not always her "I"s—are growing steelier as they prop up men who are lost and sapped in all-too-current ways. After the waltzing "How to Disappear" moves from verses about dysfunctional working-class hunks to one about having cats and a kid, the final coda ("I whisper in your ear / I'm always going to be right here / no one's going anywhere") represents a cry-worthy happy ending—not only because she's found peace, but also because she can provide it for someone else. "Bartender" imagines a debutante who buys a new car for anonymity's sake and steals away with a guy her peers would sneer at. The stunning "California"—Del Rey and Antonoff train all their power on a glorious, heaving melody—reaches out to an ex who's spiraling. "You don't ever have to be stronger than you really are," she sings, a genuinely tender offering.
As touching as these romantic dramas are, Del Rey's allusive, noun-dense style tips at the larger historical sweep against which they take place. "There's a new revolution, a loud evolution that I saw / Born of confusion and quiet collusion," she sings on the closer, "Hope Is a Dangerous Thing for a Woman Like Me to Have—But I Have It." Of particular emphasis is the notion of California cool—heaven on an unstable frontier—as it's washed ashore over the generations: in surf rock's insta-nostalgic drums, in Sublime's seductive misogyny, in Snoop Dogg's relaxed survivalism. She absorbs all of it into a riveting text about holding on as the ground moves and the hills burn. "The culture is lit, and if this is it' I had a ball," she sings amid radioactive hues in the video for "The Greatest." It's an epitaph, and Del Rey has graciously written it in the language of the era it says goodbye to.