Isabel Toledo: Beyond the Michelle Obama Dress
The late fashion designer, best known for creating the first lady's 2009 inauguration-ceremony look, imbued her work with a love of diversity.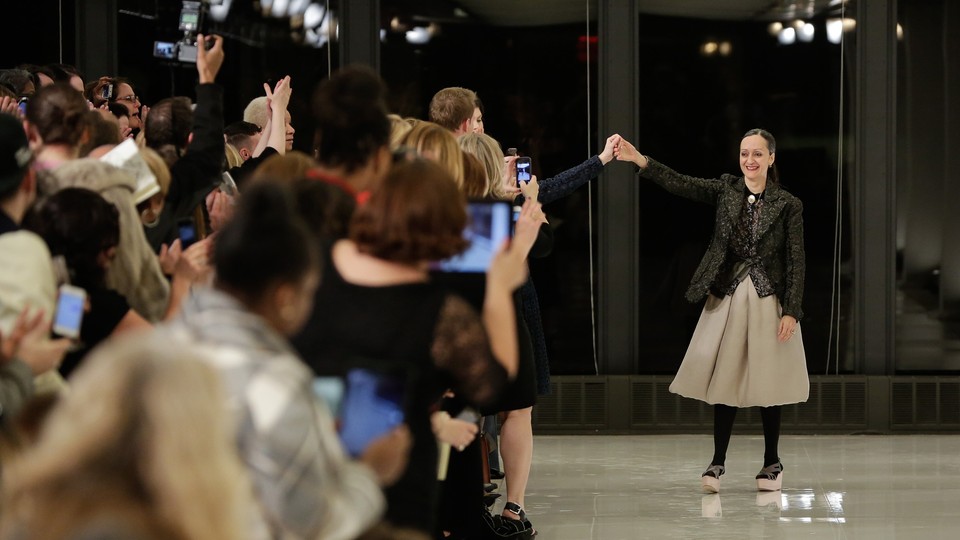 If she had done nothing else in her career, Isabel Toledo, who died Monday of breast cancer at the age of 59, would be celebrated for dressing Michelle Obama for her husband's 2009 inauguration ceremony. In a harbinger of the coming eight years, Obama chose a sheath dress and matching coat made by a Cuban American woman rather than by the grizzled white men—Ralph Lauren, Bill Blass, James Galanos—whose designs had heretofore been synonymous with "American" style in the White House. Obama accessorized with Jimmy Choo shoes and gloves from J. Crew, mixing the aspirational and the affordable with an elegance that would become her style signature. And instead of the usual red, white, or blue, she wore a greenish-yellowish hue that Toledo called "lemongrass"—a typical example of the designer's taste for "off" colors.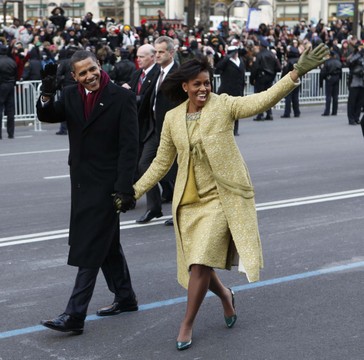 In Toledo's words, the outfit "had sunshine." It brightened up the gray January day, and paid tribute to a president who had campaigned on a platform of hope and change. The New York Times wrote, "If Mrs. Obama is a different and more stylish first lady than the country has seen in a while, she proved it Tuesday with some striking fashion choices." The "sophisticated" look "seemed designed to stand out against the traditional red and somber black coats on the Capitol steps," while telegraphing her "adventurous spirit." The outfit may not have been universally loved (Canada's National Post said the retro ensemble was "less Jackie O than Pat Nixon"), but it was unforgettable.
That day was just one snapshot of Toledo's impressive oeuvre, and merely one manifestation of the late designer's own adventurous spirit. After coming to New Jersey as a political refugee when she was a child, Toledo attended the Fashion Institute of Technology and Parsons School of Design but never graduated, instead taking an internship at the Costume Institute of the Metropolitan Museum of Art in 1979. She went on to stage her first New York Fashion Week show in 1985. It was a pivotal era for Seventh Avenue: The AIDS crisis was devastating the industry, and many investors were skittish about backing gay male designers. As a result, some shifted their support to women such as Toledo, Donna Karan, and Rebecca Moses, who were part of a wave that changed the face of American fashion.
But as the economy soured in the early 2000s, Toledo stopped mounting costly runway shows and turned her talents to art and theater. Despite her Parsons professors saying she'd never make it as a costume designer, Toledo was nominated for a Tony Award for costuming the 2014 Broadway musical After Midnight. She also designed outfits for a Twyla Tharp production and, with her husband and creative partner, Ruben Toledo, brought a tropical flavor to the Miami City Ballet's 2017 production of The Nutcracker. It seemed like a natural progression for a designer who had always tried to incorporate a "feeling of joy in movement into the clothes [she] made for women," as she wrote in her 2012 autobiography, Roots of Style: Weaving Together Life, Love, and Fashion.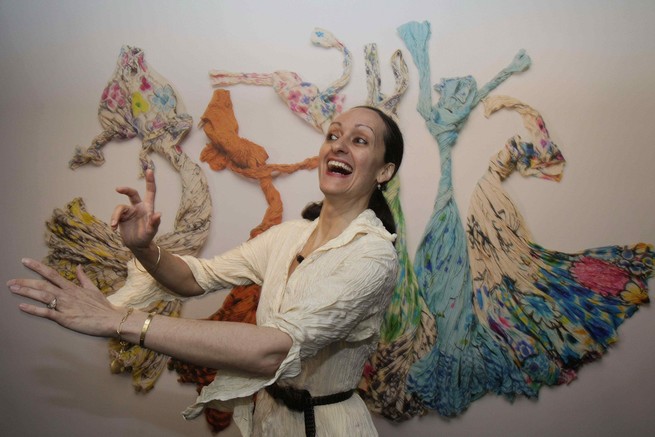 In the book, Toledo credited her time at the Met with teaching her "the value of fashion as art," an insight that allowed her to win even wider acclaim. Toledo Studio, which she ran with her husband, received a National Design Award from the Cooper Hewitt Smithsonian Design Museum in 2005. A few years later, Isabel was the subject of a retrospective at the Museum at FIT. With Ruben, she presented a 2018 exhibition of sculptures, paintings, drawings, and fashion installations, titled Labor of Love, inspired by the permanent collection at the Detroit Institute of Arts. Because of their own working-class, immigrant roots, the Toledos felt an affinity with the museum, whose expansion had been fueled by the rise of the American automotive industry.
Indeed, Toledo's immigrant background informed her approach to design. "Cuba's diverse environment prepared me to develop a global palette well suited to creativity," Toledo wrote in her autobiography. She joined a tradition of fashion designers of Cuban descent who made their mark on American political iconography. Adolfo—born Adolfo Sardiña in the Cuban city of Cárdenas—made the red-velour hat Lady Bird Johnson wore to her husband's 1965 inaugural ceremony; he also dressed Jacqueline Kennedy Onassis and Nancy Reagan. Luis Estevez studied architecture in Havana before working as a fashion designer in New York and Los Angeles, where he dressed Hollywood actresses; he went on to create the lime-green-chiffon gown Betty Ford wore to dance with Prince Philip at a 1976 state dinner. And Narciso Rodriguez, born in New Jersey to Cuban immigrants, designed the silk-crepe slip dress Carolyn Bessette-Kennedy wore when she married John F. Kennedy Jr. in 1996.
Unlike many of her high-fashion peers, Toledo promoted economic and size inclusiveness during her career, serving as the creative director of the mass-market label Anne Klein from 2006 to 2007 and designing a collection for Lane Bryant in 2014. She also kicked off a series of collaborations between the plus-size retailer and designers such as Sophie Theallet, Lela Rose, Christian Siriano, and Prabal Gurung. These partnerships all reflected, in some way, the open-minded ethos that guided her work from the start. "My ideal happens to be diversity," Toledo told Interview magazine. "I love difference. I love change." Without her, fashion will never be the same.