Hobbs & Shaw Is Loud, Silly, and Pointless
The Fast & Furious spin-off is a roaring macho-man fantasia that quickly sputters out.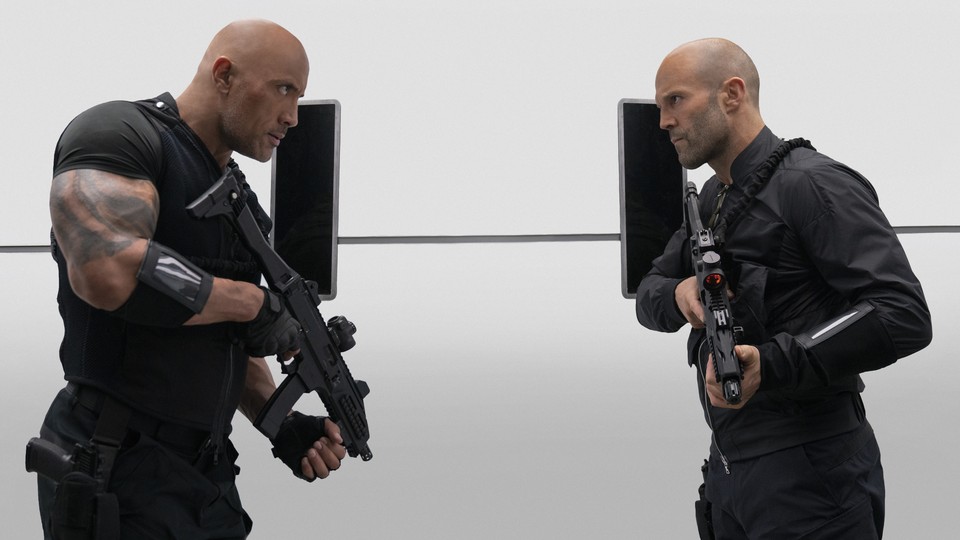 Once upon a time, in the summer of 2001, a young and only moderately swole Vin Diesel appeared in The Fast and the Furious as Dominic Toretto, an L.A. ex-con who organized drag races, stole DVD players off the backs of trucks, and got in trouble with the local law. From this modest beginning, thanks to the vagaries of studio franchising and the enduring cinematic appeal of fast cars and big muscles, Hobbs & Shaw has sprouted into existence 18 years later. Out today, the globe-trotting action thriller sees the American superspy Luke Hobbs (played by Dwayne Johnson) and the reformed British supervillain Deckard Shaw (Jason Statham) fight a man who refers to himself as "Black Superman" (Idris Elba) for control of an indestructible super-virus. And they say Hollywood's running out of ideas!
The nonsensical intricacies of how a lunkheaded car-chase movie managed to spin off a 'roided-out James Bond clone that doesn't even involve Diesel are too much to get into—just know that the story involves a lot of behind-the-scenes ego. Whatever the reasons, Hobbs & Shaw is roaring into theaters with the burly prefix "Fast & Furious Presents," a garnish so ludicrous-sounding that I'd love to see it attached to more upcoming titles. Fast & Furious Presents: Downton Abbey. Fast & Furious Presents: A Beautiful Day in the Neighborhood. You get the idea. Yes, Hobbs and Shaw, two supporting characters from the unwieldy Fast & Furious world, are getting the chance to do their own thing on the big screen, unencumbered by the auto antics of the main franchise. Unfortunately, this simply means more of the same silliness, just in a bigger and louder form.
Things are still furious—there's lots of yelling and screaming, some cleverly crafted insults, and plenty of guns and explosions. And yes, the action is fast, with many a speedy vehicle (car, helicopter, remote-controlled motorcycle) crammed into the proceedings. The plotting is not quite as sprightly, though: Hobbs & Shaw is an exhausting 135 minutes, and it feels longer, meandering from set piece to set piece and location to location without much purpose. This is a film with genuinely compelling leads, each of whom could support a solo movie, and yet they all seem on autopilot here, dispensing swift kicks and crude bon mots with bored efficiency.
That sense of a road well traveled is best exemplified by Elba, who has played his share of main villains in Hollywood blockbusters (think of Star Trek Beyond or The Jungle Book). Here, he's Brixton Lore, an ex-MI6 operative turned cybernetically enhanced super-soldier in search of a deadly bio-weapon. Elba's more than up to the task, but he could do this smoldering desperado thing in his sleep, and sometimes it seems like he is. Alongside Johnson and Statham is Vanessa Kirby (Princess Margaret in The Crown), who made a huge impression in a small role in last year's Mission: Impossible—Fallout. She's perfectly fine in Hobbs & Shaw, too, knocking out bad guys with ruthless joy.
Anytime Kirby was on-screen, though, my mind began drifting to that other (far superior) action franchise. Mission: Impossible is a series that places emphasis on practical stunts, making vehicle sequences look as real as possible to ramp up the intensity. Hobbs & Shaw's action, while spectacular at points, is purely imaginative, obviously assisted by digital effects and filled in with choppy editing. You can watch Johnson try to wrangle a helicopter to the ground with his bare hands, but the director David Leitch (who cut his teeth on the first John Wick and Atomic Blonde) isn't up to the task of making the movie anything more than a macho-man fantasia.
Reality-defying action has long been part of the buffed-up Fast & Furious franchise as well, which has grown from its humble, drag-racing roots into a mega-budgeted sensation (the ninth entry in the series is currently being filmed). But the success of those movies, which originated the characters of Hobbs and Shaw, stems from the bizarrely complicated world building and the absurd heart-on-sleeve monologues about family and friendship that Diesel delivers. Hobbs & Shaw tries to capture that magic by playing up Johnson and Statham's chemistry, and fails; they're an exhausting pair. They spend most of the movie yelling at each other, preening over who's the better action hero and threatening to shove various household objects into various orifices, and only really come together for the final 20 minutes (long after I had zoned out).
The entire male-bonding routine feels like it was carefully negotiated in a boardroom, with every insult run by a team of lawyers to make sure nobody's real-life ego would get bruised. Johnson and Statham are two long-running action stars who have repeatedly demonstrated the capacity to mock their own onscreen images (Statham's performance in Spy is a howlingly funny example). But here, they spend too much time jockeying to be the toughest and meanest, coasting on the assumption that the audience will be in love with their dynamic from the get-go. Perhaps viewers really are enamored—maybe Hobbs & Shaw will be the dawn of yet another mega-popular franchise. More likely though, it'll be remembered as another barely adequate sequel, zooming into theaters on the sheer force of name recognition, and vanishing from memory just as quickly.