In Season 3, GLOW Embraces Discomfort
This year, the Netflix comedy questions whether finding closure is possible outside the wrestling ring.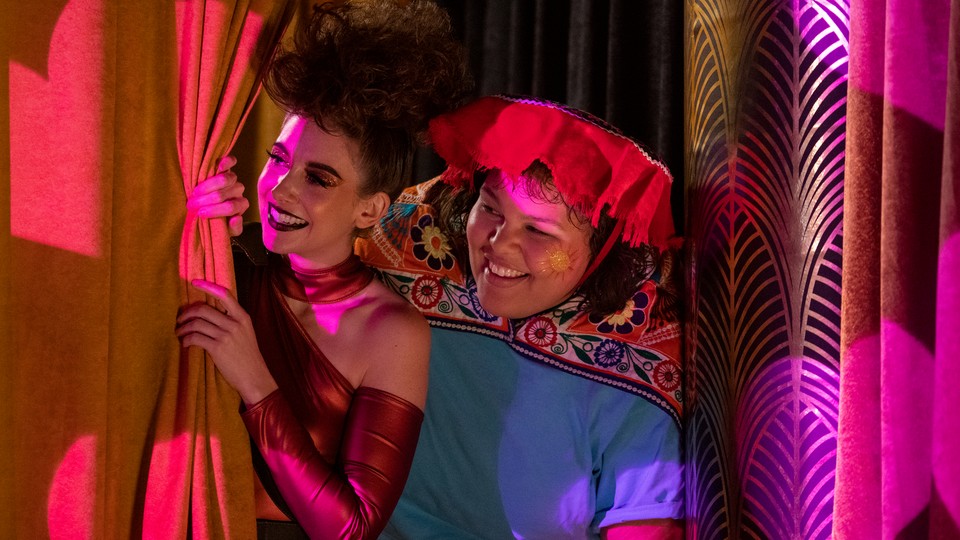 This story contains spoilers for the entire third season of GLOW.
GLOW is a feel-good series about feeling bad. Netflix's dazzling comedy, which follows a women's wrestling show, has the sheen of an uplifting story about "finding your people"—one in which outcasts forge a makeshift family as they come together to create something new. But GLOW's bright spandex shell is wrapped around a bruising narrative. The first season began with an affair that drove a wedge between longtime friends Ruth (played by Alison Brie) and Debbie (Betty Gilpin), and their fraught efforts to heal that rift set the tone for the series. On GLOW, it was clear early on, female friendships break more easily than they come together.
Season 3, released last week, is GLOW's least idealistic installment yet, and the one most comfortable lingering in discomfort. The Gorgeous Ladies of Wrestling have moved to Las Vegas to turn their act into a live show, and the repetitive performance schedule taxes the group mentally and physically. A stylish sequence at the start of the season's eighth episode tracks the ladies as they drift apart: They celebrate their 50th show gathered around a cake, but by the 200th they scatter as soon as the last piece of glitter is wiped from their eyes. Only Ruth, who hasn't built much of a personal life outside the group, is left behind in the Vegas dressing room to mourn their former closeness.
The fracturing of the group is mirrored in the season's plot, or lack thereof. The Atlantic's Sophie Gilbert called the third season "post-plot"; indeed, it's less a cohesive story than a kaleidoscopic mood piece that captures the women's disjointed lives. Each episode feels largely separate from the one that follows. There are limits to such a fragmented narrative style, and one story line in particular—Debbie's struggles with body image—is underserved by the lack of follow-up. But the structure of the season reinforces how little GLOW seems to believe in closure. The fifth episode, for instance, takes a claustrophobically tight focus on the wrestler Tammé (Kia Stevens) as she powers through her back pain until she hits a devastating breaking point. She never returns to the ring as a wrestler again. Tammé's arc abruptly ends with her decision to become a manager in the next episode. The intense schedule of G.L.O.W. (the show within the show) chews her up and spits her out with little fanfare.
Performing the same show every night forces the women into a kind of time loop, and GLOW spends much of the season examining how that loop feels for each of them. Most of the characters claw their way out of the rut, though not without sacrifice. In a tender subplot, Sheila (Gayle Rankin) decides to abandon her She Wolf persona, because, she says, "it was getting in my way." Her choice is framed as a triumph, but it's also a professional necessity; there's some tragedy in the fact that she can't pursue acting without shedding an aspect of her identity. While the gifted Sheila forges ahead, Ruth remains stuck in the same place. Even when Ruth auditions for a movie written by Justine (Britt Baron) and directed by Sam (Marc Maron)—two people she is friends with—she doesn't get the part. Her own personal Groundhog Day is to keep trying and trying to make it as an actor. "It's through the repetition that you find out more about your character," Ruth insists midway through the season. She's talking about her wrestling character, but she might as well be talking about herself, confessing her own hope that she's learning something from her repeated failures.
Ever the meta commenter on how art informs life, Ruth is key to maintaining GLOW's joy in the midst of uncertainty. Season 3 opens with the Challenger disaster, a national tragedy that Ruth becomes desperate to process in the ring. "Putting on a show is about having a shared emotional experience," she argues. On GLOW, feel-good closure is seemingly only possible in the arts. (When Ruth advocates for "catharsis," another wrestler asks, "What is that, one of your theater terms?") By giving its characters their own stage via the wrestling ring, GLOW is able to walk the line between release and realism, exploring how people turn pain into art while allowing for the fact that actual life is rarely so neat. The thrill of the show is in how hard people work against the odds to rewrite their stories with happier endings, if only in fiction.
In the Season 3 finale, the ladies perform their own spin on A Christmas Carol. Artistically, this special holiday show completes the arc that began with the Challenger: Ruth finally gets the cathartic theatrical experience she's wanted all season. She literally wrestles with mortality in the ring through the lens of a classic story. But that fanciful reckoning is contrasted with a terrifyingly real one, as Bash (Chris Lowell), a closeted gay man who's already lost a loved one to AIDS, cries in Debbie's lap because he doesn't want to die. Unlike Scrooge, Bash has no ghosts to tell him what to do, and his fear of coming out sends him and Debbie down a morally ambiguous path. On the surface, they end the season with a win, but the route they take makes winning look more like exploitation.
GLOW is never more uneasy with neat endings than it is in the finale, when Debbie capitalizes on Bash's secret for her own gain. She offers him a deal: If he can commit to his image as a straight, rich, conservative man, they'll be able to swoop in and buy a TV network out from under the nose of her soon-to-be-ex-boyfriend. One episode after helping to throw an underground AIDS fundraiser that was set on fire in a hate crime, Debbie is acting out of not only ruthless self-interest but also a desire to protect Bash. Still, her tangled motives don't absolve her of the consequences of her scheme, because Bash is forced to remain in the closet and to lay off a troupe of showgirls when he pulls their funding.
Season 3 is a wrestling match between cause and effect, countering every bit of happiness with a proportionally steep cost. Debbie is happier than anyone else at the end of the season, yet her grand plan to seize control of her career leaves behind collateral damage. She might not be an all-out heel—though she does, in Season 3, play one in the ring—but her single-mindedness, electric as it is, still closes her off to others. Midway through a sweet Secret Santa gift exchange, Debbie laughs, hauntingly unbothered, when she realizes she forgot to buy her friend a gift. She can't bring herself to worry about anyone else. In the season's final minutes, Debbie gushes to Ruth, "I'm going to build us an Eden where we run the show, you and me." But her idea of Eden depends on casting people out of the garden.
The first two seasons of GLOW ended by uniting the Gorgeous Ladies of Wrestling—as they came together to watch their show premiere in Season 1 and hit the road for Vegas in Season 2. Season 3 ends with the women splitting up at the airport as they fly home for the holidays. Most of them plan to reconvene in Vegas when their wrestling show returns, but there's a looming sense that they're nearing the end of the group as they know it: Carmen (Britney Young) quits the show entirely, and Debbie is plotting her next move. This is a season finale that's seemingly banking on renewal from Netflix, taking a page from Sam's directorial playbook by withholding a joyful victory to keep people wanting more. The money, as Sam puts it, is in the chase. But as a chaotic ending to a season that rejects the possibility of closure, the finale feels appropriate on its own. It's like a shout hurled into a Nevada canyon, echoing for a while before it fades into the desert.