The Fear in Dave Chappelle's New Special
The comic's Netflix show continues a chapter of work that whiffs less of irreverence than of irritation and unease.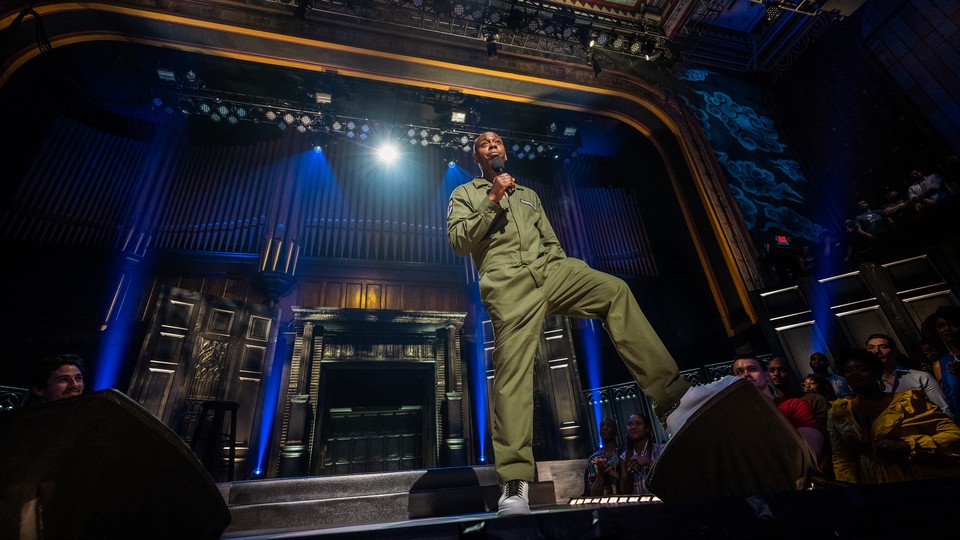 Early into Sticks and Stones, Dave Chappelle's newest Netflix stand-up special, the veteran comedian makes a two-part nostalgia play. "Tonight I'm gonna try some impressions out," he says. Chappelle quickly notes that he has only two to offer, and that the first is a send-up of the Founding Fathers: "Hurry up and finish that Constitution, nigger. I'm trying to get some sleep," the comedian grumbles, using the same mock-white voice that animated many of his Chappelle's Show sketches. The line channels the sharp irreverence that made the series so beloved: Crass and vulgar though it may be, it also takes aim at the reputations of men who've been largely exalted throughout American history despite their participation in the brutal hypocrisy of slavery.
After the crowd rewards him with rapturous laughter, Chappelle shifts gears. "The next one's a little harder," he admits, before presenting the audience with a challenge: "I want to see if you can guess who it is I'm doing an impression of." He adopts a Homer Simpson–like tone and flails his arms: "Uh, duh. Hey! Durr! If you do anything wrong in your life—duh!—and I find out about it, I'm gonna try to take everything away from you!" Chappelle whines. "And I don't care what I find out! Could be today, tomorrow, 15, 20 years from now. If I find out, you're fucking—duh!—finished." The audience doesn't have much time to guess which dullard Chappelle is imitating, as he reveals the answer almost immediately: "That's you!"
Thus continues a chapter of Chappellian comedy that whiffs most obviously of the celebrity's deepening anxieties about the social movements shaping the country. It also underscores his preoccupation with how these changing norms have affected his most valued constituency: other celebrities. Chappelle spends much of the special's run time wallowing in his apparent resentment toward audiences who have leveled critiques—of his recent comedy, but also of other famous people's actions. He complains hyperbolically that it's "celebrity hunting season." He does so from the perch of his fifth lucrative Netflix special in three years. (The streamer reportedly agreed to pay him $60 million in the original three-special deal.) In Sticks and Stones, his solipsistic lamentations about how sensitive audiences have gotten exude not just irritation, but also fear.
The pitfalls of fame are familiar subject matter for Chappelle, who notoriously walked away from the third season of his successful Comedy Central series in 2005 and absconded to South Africa. But even if the public considered him foolish for having turned away from the series, the decade following Chappelle's departure also saw him being heralded as a sociocultural savant. An oft-cited example during the Obama years was the comic's prescient skit imagining then-President George W. Bush as a black man. Where, his fans seemed to wonder, is Dave?
Chappelle's return—a series of sold-out shows in 2014 at New York City's famed Radio City Music Hall—was largely well received by audiences. But his 2017 sets seemed to signal a shift in his repertoire. Though he was still boisterous and incisive when discussing race in America, Chappelle appeared, even two years ago, baffled by the idea that LGBTQ audiences might not respond well to an outsider's jokes about their existence. Chappelle doubles down on this strain of comedy in the new special, along with references to the #MeToo movement, which he says has given him a headache.
Where his prior missives against the ills of political correctness were often contained to segments of his shows, Sticks and Stones is astonishing in its unrelenting clarity about where Chappelle's sympathies lie. The special consists almost entirely of rants and one-liners seemingly designed to support Chappelle's beleaguered peers and provoke ire from those who have questioned them. Of the indignantly homophobic Kevin Hart, Chappelle notes that the comedian was "precisely four tweets shy of being perfect." He laments the perceived overreaction to misconduct committed by Louis C.K., who "was a very good friend of mine before he died in a tragic masturbation accident." But of James Safechuck and Wade Robson, who have accused Michael Jackson of molestation, most recently in the HBO documentary Leaving Neverland, the comic says brusquely, "I don't believe these motherfuckers."
Chappelle acknowledges that he is "what's known on the streets as a victim-blamer," noting that his first response to Chris Brown's 2009 assault of Rihanna was to wonder what she had done. Chappelle then suggests that, if he were a pedophile, the child he'd most want to assault (he uses a four-letter word instead) is Macaulay Culkin. These hostile comments are often bookended with a smug reference to Chappelle's own characteristic brazenness, as if to distance the comic from any standard of civil discourse and instead deflect that responsibility onto viewers. "If you're at home watching this shit on Netflix," he laughs at one point, "remember, bitch, you clicked on my face!"
Sticks and Stones is, of course, a production from a man long known for his provocative material—and it's possible that barbs about difficult topics could serve as a balm for some people. But with the exception of a few jokes about his children participating in active-shooter drills, Chappelle doesn't spend much of the special attempting to apply humor with the kind of incision he once did. He seems entirely uninterested in punching up—partly because it doesn't seem that many people are above him anymore. The special's few standout spots occur when Chappelle offers asides reflecting on his own wealth or his previous financial hardships. But, taken alongside the rest of his material, even these moments reveal the comic's sense that everything could be taken away from him at any time.
Chappelle also stops short of considering the consequences of his past work—even when explicitly referencing times when he was asked to do so. The Culkin remark, for example, serves as a transition to discussing R. Kelly, whose guilt Chappelle says he would bet money on. But rather than reflect on his infamous Chappelle's Show sketches about the singer, which made a mockery of the specific fetish act Kelly was alleged to have forced a teenage girl to perform, Chappelle pivots to criticizing the Surviving R. Kelly filmmaker dream hampton for having told press that the comedian refused to discuss his sketches in her documentary. He lambastes her for assuming he knew Kelly personally or had direct knowledge of the singer's alleged crimes. (On Twitter yesterday, hampton said that she'd wanted Chappelle to comment on his early-Aughts jokes about Kelly, not on the singer's actions or personal behavior.) Again and again, Chappelle reveals his frustration with merely being asked to weigh the real-world ramifications of art, comedy included.
Sticks and Stones registers as a temper tantrum, the product of a man who wants it all—money, fame, influence—without much having to answer to anyone. In this, the special extends the egocentric logic evinced by Aziz Ansari in his recent Netflix special. Though Chappelle has not faced allegations of sexual misconduct like those that C.K. and Ansari addressed with varying degrees of contrition, his work feels deeply informed by the other celebrities' public reckonings. The special's epigraph is a quote from the rapper Kendrick Lamar's bombastic 2017 track "DNA.," which also effectively serves as Chappelle's walk-on music: "Tell me somethin' / you mothafuckas can't tell me nothin' / I'd rather die than listen to you," the screen reads before Chappelle appears. The next hour proves he means it.