Bon Iver's Inexplicable Power
The band's folk-pop experiments sound like gorgeous, nonsensical conversations on the state of the world.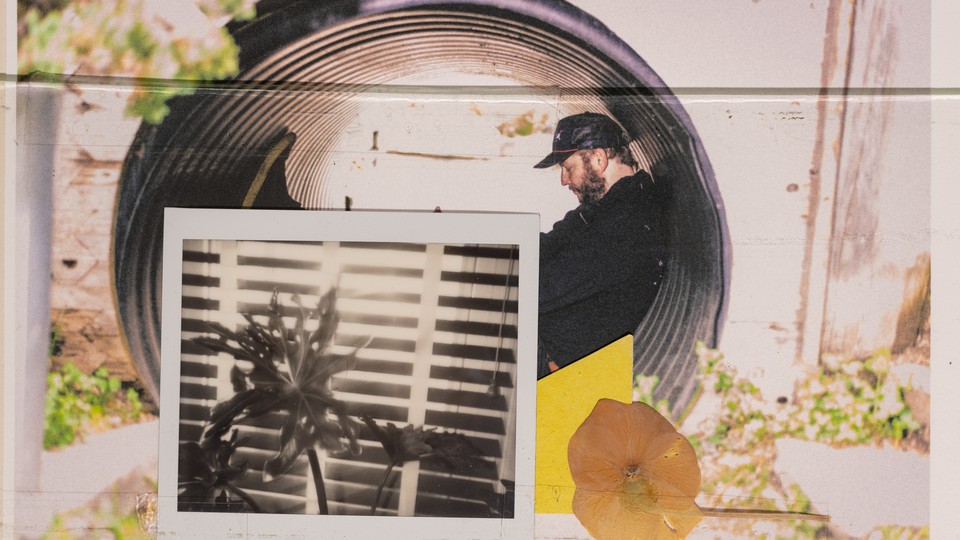 Many of them were mad at him then, but the baffled Grammy viewers who tweeted out "Who is Bonnie Bear?" when Bon Iver won Best New Artist over Nicki Minaj in 2012 were really paying tribute to the band whose name they had butchered. Bon Iver, once a one-man folk brand and now an experimental noise-pop collective, thrives on being misheard.
I thought the Wisconsin band's impressive new album, i,i, provocatively addressed "the towers in New York" and being "young and gay then" until I read the lyrics about "the towers and the oar" and being "young when you were gave it." The nonsense track titles—"Yi," "Jelmore"—appear to refer to certain mouth-sounds, not their corresponding words (yeah, angel more) in the songs. Bon Iver advertised the album with the slogan "Keep it restaurant," which is a joke on the delivery of the lyric "Keep it rational," which shows up in the new song "Sh'Diah," whose title abbreviates "Shittiest Day in American History," which refers to the Wednesday after Donald Trump's election.
You can squint at the gnomic, squiggly symbology packaged with Bon Iver's work; you can go to Reddit and debate what's happening beneath the manipulated vocals and neologism-packed lyrics. Eventually, you might make some guess as to what the frontman Justin Vernon is getting at, meaning-wise. It's mostly beside the point. I'm personally a sucker for artists you have to decode. But with Bon Iver, the more I focus on the words, the more it feels like Vernon does deserve the mockery he sometimes receives for being the ultimate MFA bro—someone who'd subject a bonfire to poems that look like captchas.
But it's how he sounds, not what he says, that made Bon Iver's 2007 debut, For Emma, Forever Ago, so special, that made him an unexpected influence in the worlds of rap and pop (Kanye West, Vince Staples, and Eminem have collaborated), and that makes him worth checking in on four albums in. Vernon's falsetto is distinct—more Muppet than man—and so is his band's sense of contrast and emotion. When his whimper cuts through banjo-dusted quiet, it's like seeing a jay arc across a snowy field. When sputtering harp and gear-shaft clanks suddenly spit out a sing-along, it's the sonic rendering of "god from the machine." You shiver, and you don't know why.
Bon Iver's third album, 2016's 22, a Million, announced his shift from velvety atmospheric rock to fidgeting collages, and i,i synthesizes those approaches. On the first song, "iMi" (and its intro, "Yi"), scraping noises keep a lazy rhythm, and it seems possible that the recording happened in a car wash. Eventually, scraggly, ephemeral busyness gives way to cozy strumming. Vernon's voice traces a comforting tune, but the vocals are also a group effort: The band member Mike Noyce and some collaborators—Velvet Negroni, Camilla Staveley-Taylor, and James Blake—pick up syllables here and there, telling a story across vocal frequencies and headphone channels. The song's chorus goes, "I am / I am / I am," yet there's a real sense of we.
Which is convenient, because "We" is the title of the next song, a noir of probing bass and Led Zeppelin–in-the-pocket creepiness. Vernon works a tense, tight melody that occasionally opens and brightens, and in the background, you hear cartoonish grunts and yelps. "I'm saying, homie, that it's not what you been sold," he sings, a ridiculous line—homie here is like Marianne Williamson's "girlfriend!"—hinting nevertheless at the notion of people talking things out and trying to show one another some bigger picture. That image fits the music. While Bon Iver has been defined in the public eye by Vernon's voice and image, many of the most powerful moments on i,i are spectacles of coming together: disparate forces combining and recombining in different ways until some fresh invention emerges.
Take, for example, the death-defying tonal escalations, with multiple vocal sources launching one another higher, in the momentous "Naeem." Or check out the glinting, far-off, high-pitched squawks that lend a sense of space to the poignant single "Hey Ma." "Sh'Diah" eventually seems to surrender control to a saxophone and percussive patter beamed in from a jazz club in the '80s. The perky, pretty "Salem" comes off like it's accompanied by a digital drum circle. The logic of these songs—not quite pop in structure, though often as brain-stem pleasurable as that genre seeks to be—may be inscrutable, but they do not feel cloistered. They feel intuitive, like conversation.
As for those lyrics of Vernon's: Though plenty of it is babble—"There's no anorberic dream / Fars I know," he says, and fars I know, there's no such word as anorberic—pockets of lucidity do exist. Many mention headline affairs: gas masks, warming temperatures, rising seas, and even, at one point, tariffs. These are protest songs, but only in the widest sense, as it's hard to imagine them chanted at a Washington, D.C., march. They do get across the notion of someone, or someones, realizing that the world will disintegrate without more cooperation. "I cannot just be impeached," he sings on the last song—wait, scratch that. The lyric video claims that he's saying "I cannot just be a peach." Ah, well, so much for Robert Mueller–related interpretations of the chorus: "It's all fine / Or it's all crimes anyway." It's safest to take that line at its most literal level—a mumble of Whatever that somehow, as usual, sounds great.