The U.S. Women's Soccer Team's Biggest Battle Is Yet to Be Won
Some 1 billion people tuned in to the games this year, making the USWNT's victory even more crucial in their upcoming legal fight for equal pay.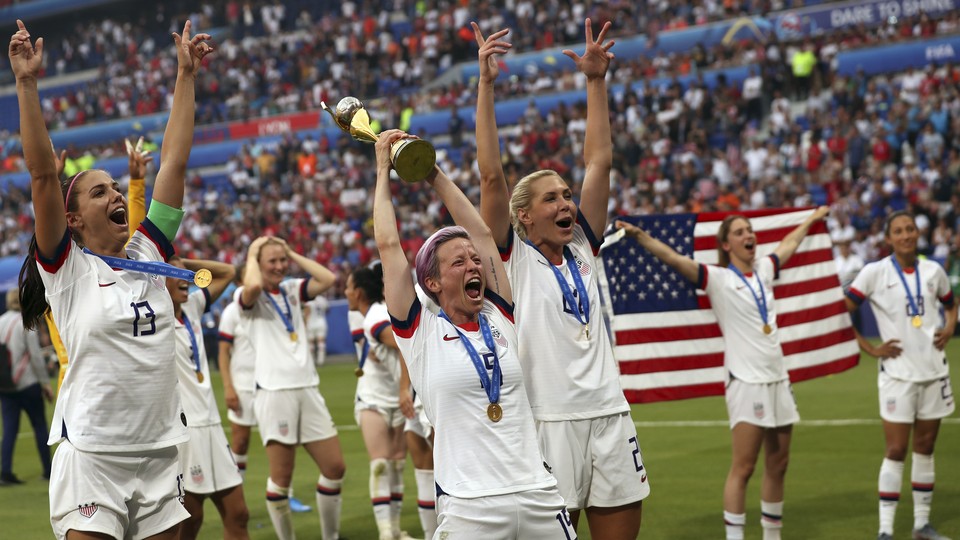 Updated at 10:44 p.m. ET on July 8, 2019.
There is only one appropriate reward for the U.S. Women's National Team upon their return home as the winners of back-to-back World Cup championships: equal pay. If the U.S. Soccer Federation wants to win another, it has to stop underpaying its banner team.
The USWNT is set to enter mediation with the federation when they return from France, after bringing a gender-discrimination lawsuit in March. The lawsuit stated that they are paid far less than the men's team, in some cases earning just 38 percent of pay per game. This team has shown that they won't back down, on or off the pitch, until they get what they deserve. And with yet another Cup trophy on their shelf, they've more than proved that they are worth as much—if not more—as the men's national team, which failed to even qualify for the World Cup last year.
What's more, the tough matches the United States had to play to earn this title prove that the days of winning a championship without the federation's equal investment are numbered. With multiple soccer powerhouses—especially in Europe—finally putting money into their women's sides, building up domestic leagues and national teams at once, in another four years, the U.S. is going to have an even harder fight to stay on top.
This year's tournament proves that even modest investments from a country's soccer federation can build formidable opponents. Look to the most difficult teams the USWNT faced ahead of the final: France and England, federations without long histories of success that have both recently grown their women's domestic leagues by leaps and bounds. Europe as a whole showed up strongly in this tournament: Other than the U.S., every single team in the quarterfinal round was European. According to UEFA, Europe's governing body of soccer, national associations invested €123 million in their women's divisions this year, and the number of active professional women players on the continent was up 50 percent since 2017. By contrast, Concacaf, the soccer governing body that covers North and Central America and the Caribbean, including the U.S. Soccer Federation, unveiled its first-ever women's development strategy just this year, citing no specific investment figures.
Today's close match against the otherwise undefeated Netherlands, the reigning European champion, is proof of this truth in women's soccer: Invest in it and the trophies will come. Just a decade ago, the best women soccer players in the Netherlands didn't even have teams to play on. There was no professional league in the country for women until 2007 and even in the youth system, many stars were left to play on boys' teams. Until the 1970s women were banned from playing soccer by the Dutch federation (England and Brazil had similar laws in place for years). But since the Netherlands was forced by UEFA to field and pay a women's team, the program has flourished.
Unlike the United States, countries that have well-established men's soccer leagues have a head start in terms of building dominating women's national teams. The Dutch, for instance, are known for their intensive development programs for male youth players, and their men's team has always punched above the weight of a relatively small nation. Countries like theirs—with world-class training facilities, wide networks of coaches, and deep-rooted player-development programs—are able to plug into the resources that have already been established on the men's side. Even with just a fraction of the investment, the Netherlands has launched its women's team from nonexistence to almost World Cup champions in little more than a decade.
England, too, has made great strides capitalizing on its strong men's system recently. Two years ago, while reporting a story about American women players who had signed contracts with English Women's Super League teams (the women's counterpart of England's Premier League), I saw firsthand what a difference it made for women to take part in the topflight Premier League system. I went to Chelsea's training grounds to watch a women's practice: The facilities for the women weren't exactly the same as those of the storied men's team, of course. They existed in a smallish building on the back corner of the acres and acres of perfectly groomed soccer pitches—but the women were still part of the club. They practiced on those same fields, had access to the same trainers and team doctors. Their coaching staff was on the Chelsea payroll.
The Lionesses' powerful showing in the past two Women's World Cups (fourth place in 2019 and third place in 2018) shows that the investment from those clubs, from sponsors (the Women's Super League just signed a three-year sponsorship deal with Barclays), and from their national federation is paying off. Of course, most national teams in Europe, too, still struggle with pay inequality, and none are investing equally in their women's and men's sides. But some of these nations that already have internationally competitive men's systems will soon have a leg up on the U.S. if this momentum continues.
Some 1 billion people tuned in to the Women's World Cup this year. That's roughly one in every eight people on the planet. If this tournament has proved anything, it's that women's soccer is not a sideshow and has vast moneymaking potential. Those federations, those leagues, those nations that are making the effort are already seeing the payoff: successful, profitable teams. In France, Olympique Lyonnais has won six of the past nine Champions League Finals, and brought more than 19,000 spectators per match to each home game last season. In the U.S., the Portland Thorns, of the National Women's Soccer League, regularly play in front of a packed stadium, simply because the product is good, and because the team is marketed right alongside its Major League Soccer counterpart, the Portland Timbers. Women's soccer is proving over and over that if you make the investment in the facilities, in the team, in the marketing, and in the television rights, people will watch and the product will improve.
FIFA allocated just $30 million in prize money for the teams competing in the Women's World Cup, as compared with $440 million for those that will play in the next Men's World Cup. (The women's championship team will receive $4 million this year, while the 2022 men's championship team is set to receive $38 million).* The organization has allowed women's international tournaments to be played on turf, and it even decided to play the men's Gold Cup tournament on the same day as the Women's World Cup. But it can no longer ignore the profit potential of women's soccer, as it has for decades, or suggest women can't compete, aren't worth watching, or aren't worth paying. And if the U.S. Soccer Federation wants another win from the women in the future, it will need to pay up, or soon be left behind.
---
* This article originally misstated that the U.S. women's team would be paid $30 million for winning, and that the next men's champion would take home $440 million.