The Murky Ethics of Posthumous Music
With a new version of "Higher Love," the EDM star Kygo reworks a 1990 Whitney Houston vocal into a pool-party jam both of its time and out of it.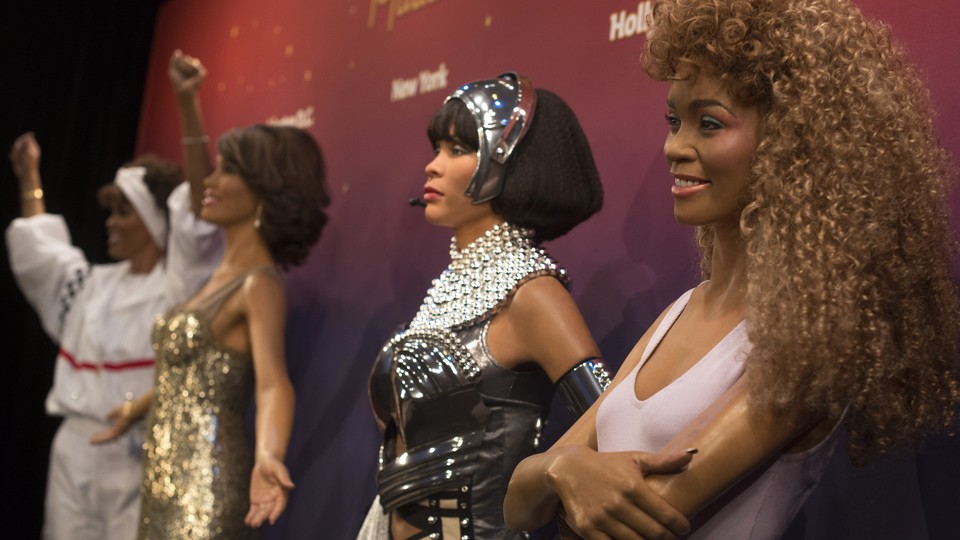 "Think about it," Whitney Houston commands at the beginning of "Higher Love," the single with the Norwegian DJ Kygo that's making a splash in the songs-of-the-summer pool. Those lyrics make for a sharp, effective, dartlike opening. They also might double as an invitation to think about the song itself, which is the first instance of "new"—largely unheard by the public—Houston vocals being released since her death, in 2012. As music, "Higher Love" goes down as easily as a sweet blended cocktail, and it marks Houston's first entry onto the Hot 100 since 2009. For anyone attuned to Houston's career, life, and commercial afterlife, it's a strange and telling document as well.
In its original form, recorded and co-written by Steve Winwood, "Higher Love" hit No. 1 and earned Winwood the Grammy for Record of the Year in 1986. Houston covered it at a concert in Tokyo in 1990 and recorded a version intended for her third full-length release, I'm Your Baby Tonight. It didn't end up on the album. "When [producer] Narada Michael Walden sent me 'Higher Love' with the Whitney vocal, we didn't want her being a cover artist at that time," Clive Davis, the music exec who helped shepherd Houston's career, told Rolling Stone. It was released only as a bonus single in Japan, and remained obscure and little-heard for decades.
But seven years after Houston's death from a drug-related accidental drowning, her name, image, and voice are set to stir again. In May, The New York Times reported that the executor of her estate, Houston's sister-in-law Pat Houston, had decided that the time was right to begin marketing the late singer's work. Plans for a Houston hologram tour had already been much publicized—in part because the CGI Houston who dueted with Christina Aguilera on The Voice in 2016 was, aesthetically, a bit freaky. "After closely viewing the performance, we decided the hologram was not ready to air," Pat said back then. The fine-tuning process continues. "The hologram has taken precedence over everything," she said in this year's Times story.
Also in the works is an album of unreleased material, which may or may not end up having "Higher Love" on it. The posthumous release of Houston's songs will be handled in large part by Primary Wave Music Publishing, which struck a $14 million deal with the estate to manage Houston's assets in exchange for 50 percent ownership of its holdings. About the genesis of 2019's version of "Higher Love," a post on Primary Wave's website says that one of the firm's VPs, Seth Faber, "hatched the idea before the ink was dry on PW's deal with the Houston estate." In Rolling Stone, Pat Houston said, "The current cultural environment has been thirsty for something uplifting and inspiring. Who better to inspire than Whitney, the most exhilarating vocalist of all time?"
Houston's vocals on "Higher Love" indeed are inspiring. Her phrasing moves from clipped haughtiness to gentle consideration; toward the end of the song, she does what she was born to do and belts. Watch the video of her performing the song in concert—her earring is in the shape of a cross and her backup vocalists sing in gospel intonations—and it becomes clear how much she picked up on the churchly implications of Winwood and the co-writer Will Jennings's words (Jennings also co-wrote Whitney's 1987 hit "Didn't We Almost Have It All"). That opening line, "Think about it," kicks off an argument worthy of theologians. Houston proceeds, "There must be higher love / Down in the heart or hidden in the stars above / Without it, life is a wasted time."
It is, however, easy to miss such inflections of meaning in the context of the 2019 single, which is attributed to "Kygo X Whitney Houston." Kygo is the quietly ubiquitous 27-year-old DJ who in the past five years has helped blend pulsating EDM with "tropical" influences and a whiff of Coldplay's sentimentality. The results are the musical equivalent of an H&M pastel-floral romper, somehow both party-ready and wallpaper-like. The Houston estate reportedly selected him to rework "Higher Love" based on his remix of Marvin Gaye's "Sexual Healing."
Kygo's take on "Higher Love" offers a lesson in modern pop clichés. There's the aqueous, bubbling-up intro. There's the way all the expected production elements—dreamy marimba tones, chipper horns, drums that crash then lope, chopped-up and pitched-down vocals—pile up for a sense of acceleration through the verse and multi-section chorus. In the post-chorus, he does the common pop-EDM move of making it feel as though the main hook is a shoe that's tumbling around in a dryer. "Need / need / higher love," Houston now stammers, her articles snipped out and her melody ping-ponging about. Right before the second verse, there's a noticeably long pause—very on-trend, too—and the roller coaster starts climbing again.
If Kygo's formula is blandly familiar, it still pops with Houston's vocals and the proven catchiness of Winwood's original tune. "Higher Love" has only been out for a little more than a week, and I've heard it on commuter radio and in Wimbledon promos and at beach bars and pool parties. It debuted at No. 63 on the Billboard Hot 100—not the most impressive placing, but Houston's first song to debut on that chart in 10 years—and No. 2 on the Hot Dance/Electronic Songs chart, which speaks more to its intended fate.
Kygo debuted the song live at Pride in New York City, and "Higher Love" unmistakably is aiming for high-energy, thump-thumping queer mega-clubs, the playlists of which are historically testing grounds for high-energy, thump-thumping mega-clubs of all sorts. This is an environment Houston's voice is well suited to. Pride-month dance floors were already ringing out with the likes of "I Want to Dance With Somebody" and "It's Not Right but It's Okay"—in many cases in remixes that place Houston's vocals in glittering, four-on-the-floor epics. That the estate and Primary Wave chose the EDM sound for Houston's so-called comeback single is a sign that they understand her everlasting appeal in the dance-music context.
But the choice also raises the memory of tensions that ran throughout her career. Houston always walked aesthetic tightropes, performing a balancing act involving genre, race, spirituality, and questions of creative agency. After being marketed in the '80s as a "crossover" star—as in, palatable to white people—Houston faced backlash from some black listeners that culminated in her being booed at the 1989 Soul Train Music Awards. She then tried to push the sound of her next album, I'm Your Baby Tonight, more in the direction of R&B. The "Higher Love" cover was recorded in this period. While the Winwood original may read as consummately "white" music (though Chaka Khan, Houston's friend, sang on it), the version Houston performed in Japan came with a hint of New Jack Swing sound. That sound has been replaced by one that, to the extent it's affiliated with any one group, is affiliated with Scandinavians who command nightclub residencies in Las Vegas.
Does this recontextualizing of her vocals do a disservice to Houston's legacy, or does it honor her by getting audiences dancing along to her once more? Posthumously released music typically starts in ethically murky territory—who can say how an artist wanted unfinished or unheard recordings used?—but it's most dubious when there's a sense that scraps are being repurposed to chase new trends. This summer's "Higher Love" doesn't feel too ghoulish, though, as Kygo's work here has more the feel of a remix than a new song, and it's resonating with audiences who do genuinely love Houston. Still, as the kickoff to the next phase of repurposing the singer's work, it raises a question that was familiar throughout Houston's life: Who's in control, and what would Whitney want?