The U.S. Women's Soccer Team Is in the Finals. Here's Why It Matters.
It's not just about the game—these athletes are playing with something more to prove.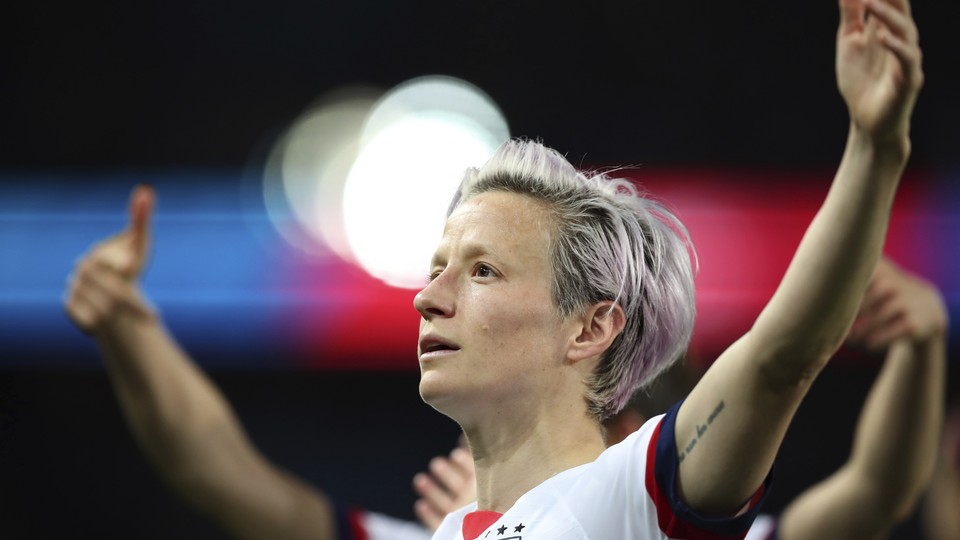 Updated at 6:06 p.m. ET on July 2, 2019.
When the U.S. women's national soccer team took the field against England in today's Women's World Cup semifinal match, they were playing for far more than another piece of hardware for their trophy shelf.
Last week, the team's co-captain Megan Rapinoe said in a press interview that should they win the Cup, she would not go "to the fucking White House." President Donald Trump responded via Twitter, saying, in part, "Megan should WIN first before she TALKS! Finish the job! … Megan should never disrespect our Country, the White House, or our Flag, especially since so much has been done for her & the team. Be proud of the Flag that you wear. The USA is doing GREAT!"
Rapinoe is, of course, not the first athlete to draw the ire of President Trump via Twitter, or to decline (albeit prematurely) an invitation to his White House. But she may have been the first to speak out against him, and consequently be personally criticized by him, while representing the United States during an international tournament.
Still, Rapinoe's comments about the president, and the support she received from her teammates after making them, are not surprising in the least. This is, after all, a team that entered this tournament in litigation with their own national soccer federation over gender pay discrimination. They are no strangers to fighting those in the very highest positions of power, in part because their existence as female athletes depends on doing so.
Think of the legislation many point to as the reason American women athletes dominate in many international competitions, such as the Olympics: Title IX, the landmark bill passed in 1972. Before then, public schools were not required to support girls' sports. Today all federally funded schools must fund boys' and girls' athletics equally. Though financing is still not always at parity, the law has made a difference: From 1972 to 2016, there was a 545 percent increase in the number of women playing college sports, and a 990 percent increase in the number of women playing high-school sports, according to the Women's Sports Foundation.
Female athletes such as the tennis great Billie Jean King were staunch advocates for ensuring that the government guaranteed equality in school sports programs. King is also known for her organizing efforts in fighting for equal prize money for women at tennis tournaments. A year after the passage of Title IX, King beat the former Wimbledon champion Bobby Riggs in the famed "Battle of the Sexes" match, which was considered a watershed moment in proving that women athletes deserve to be more than just a sideshow. A couple of months later, she organized the Women's Tennis Association and began to find outside sponsors for women's tennis tournaments to boost prize money.
The activist tradition extends throughout women's sports. Just a few years after the inception of the WNBA in 1996, the league had several stars who came out as gay, including Sheryl Swoopes in 2005. In 2014, the WNBA became the first professional sports league to officially sponsor Pride events during the month of June. And when compared with the low number of out male athletes in the NFL, NBA, MLB, and MLS, for instance, the WNBA is seen as a safe space for LGBTQ fans and players alike.
More recently, WNBA players, the majority of whom are black women, have used their platform to protest police violence and racism. In July 2016, four members of the Minnesota Lynx showed up to a pregame press conference wearing black practice shirts printed with Black Lives Matter and the names of two men—Alton Sterling and Philando Castile—who had been shot and killed by police that week. Players on the New York Liberty were soon wearing Black Lives Matter shirts to warm up as well, and later, Indiana Fever, Phoenix Mercury, and Washington Mystics players joined by wearing plain black shirts. The Minnesota Lynx and the Seattle Storm both tweeted photos of their whole teams in black shirts in the locker room, and many players refused to answer press questions that didn't pertain to the Black Lives Matter movement or police shootings. After the Liberty, Fever, and Mercury teams were issued fines from the league, players spoke out against those, too. Ultimately, the WNBA president, Lisa Borders, rescinded them.
Later that summer, in August, Colin Kaepernick started to sit, then kneel, during the national anthem before San Francisco 49ers preseason games. While a smattering of other NFL players joined him in various fashions, in September 2016, Rapinoe became the first athlete outside of the NFL to kneel during the anthem before games with her club team, the Seattle Reign. Rapinoe, who was the first woman on the USWNT to come out as gay, in 2012, said of her decision to kneel: "Being a gay American, I know what it means to look at the flag and not have it protect all of your liberties. It was something small that I could do and something that I plan to keep doing in the future, and hopefully spark some meaningful conversation around it. It's important to have white people stand in support of people of color on this." While the U.S. Soccer Federation later issued a rule saying that all players need to stand during the anthem, Rapinoe still stands silently while it is played, without putting her hand over her heart.
Four years ago, a group of prominent members of the USWNT was embroiled in a different lawsuit heading into the 2015 World Cup. Along with athletes from other teams, they were suing FIFA for allowing the women's games to be played on artificial-turf surfaces, which has never been allowed for international men's tournaments (turf is less safe, hotter, and alters the way the game is played compared with natural grass). They were unsuccessful in the lawsuit. And Rapinoe, in particular, felt the effects. After the USWNT took the tournament in a thrilling 5–2 win over Japan, the victory tour they were sent on was also played on almost exclusively turf fields. One game was canceled by the USWNT because of poor field conditions after Rapinoe tore her ACL during a training session two days earlier, an injury that took her nearly a year to recover from.
All to say, Rapinoe and the USWNT as a whole are no strangers to the fight that comes with being women athletes—some of whom are gay, some of whom are women of color. This sort of advocacy and outspokenness comes with the territory: When your very identity is challenged in greater society, using your platform as an athlete is more of a necessity than a choice. They are part of a long tradition in which they must fight to show their worth. Before last Friday's game, how Rapinoe and the team would respond to Trump was unclear, whether the raised stakes would rattle them. But Rapinoe took just five minutes to perfectly bend a free kick into the back of the net, and then in the second half, finished off a cross from Tobin Heath to beat France, 2–1.
Her reply—a laser-focused performance—was reminiscent of the team's first game in the tournament. The pressure had spent months, even years, mounting, thanks to contract disputes and the pay-equity lawsuit. It was fairly clear that the USWNT would win the opening match against Thailand, but a whiff of doubt still hung in the air: that maybe, just maybe, the stress of it all would get to this team during this tournament.
Many chastised the USWNT for their 13–0 opening victory. But as they tactically unleashed their best possible performance, as they have in every game since, it was clear that the team was playing with something to prove. With each play, each goal, they seemed to be asking those watching: Don't think that we're the best in the world? That we can command a crowd? That we can sell merchandise? That we deserve to be paid as well as the men? That we deserve to be here, exactly as we are? That we're going to back down? Think again.