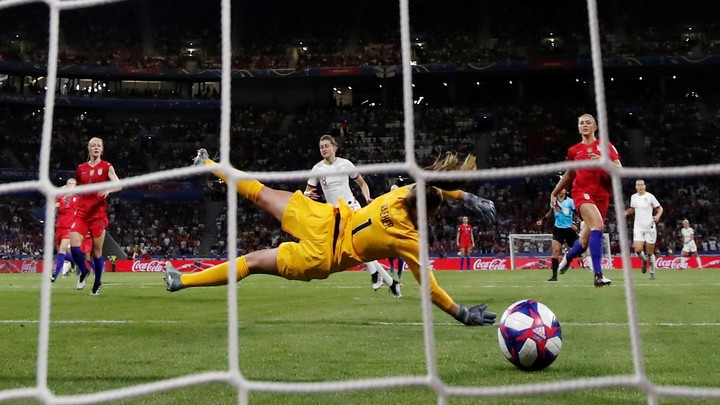 In the 73rd minute of a scoreless group-stage match between Nigeria and France earlier in this month's World Cup, the French forward Viviane Asseyi was undercut by a Nigerian defender in the penalty area, drawing a foul. The ruling—confirmed by the replay system known as video assistant referee, or VAR—set up a tense scenario. If the penalty kick, taken by Wendie Renard, went in, France would head to the knockout round with an undefeated record, keeping its standing as one of the tournament's favorites. If the goalkeeper Chiamaka Nnadozie managed to fend it off, an ascendant Nigerian squad in pursuit of its first knockout-round berth in two decades would have a chance to leave with a win or draw.
Renard stood over the ball, Nnadozie got up on her toes, the crowd held its breath. Renard's shot went to the low-left corner, but too far, banging off the post. A penalty kick provides a moment of clarity in an otherwise complex game—in this case, squandered opportunity on one side and massive relief on the other. But then the referee signaled for another review. Nnadozie had come marginally unattached from the goal line as Renard shot—an offense, strictly speaking, but one that only the most stringent disciplinarian could have noticed in real time, and that even a smaller subset of viewers would have felt influenced the play. Over the protestations of Nigerian players and coaches alike, the penalty was retaken and made, and France wrapped up the win 20 minutes later.
In another World Cup, that game might have provided nothing more than a dose of minor controversy (Nigeria advanced past the group stage anyway, losing to Germany in the round of 16). But as this one reaches its crucial stage, with the United States facing the Netherlands in Sunday's final, it has become something like the norm. Days after Nigeria-France, Argentina was similarly granted a second penalty-kick chance against Scotland; the retake tied the game and eliminated Scotland. The United States' semifinal victory over England involved a pair of questionable VAR reviews, one disallowing an England goal for a razor-thin offside infraction, another granting an iffy England penalty in the closing minutes. FIFA, the governing body of world soccer, last week took the rare step of calling a mid-tournament press conference to defend itself against a loudening chorus of naysayers. "Compared to Russia last summer," the refereeing committee chairman Pierluigi Collina said, referring to the 2018 men's World Cup, "honestly, I don't see the difference."
Read: The U.S. women's soccer team is in the finals. Here's why it matters.
Collina's comments were at least partly disingenuous; one obvious difference is the goal-line rule, the reviewability of which was not in place last summer for the men's tournament. More broadly, though, the argument about VAR gestures toward a growing anxiety—on the part of officials, players, coaches, and fans—over the usefulness of replay in sports. If this particular worry is a staple of 21st-century sports fandom, it has usually been put in terms of aesthetics versus accuracy: the thrill of celebrating a last-second touchdown, for example, opposite the boredom of waiting for an official to make sure the receiver's toes were in bounds. But the controversies at this World Cup suggest a new development. The central question is not whether VAR is making the tournament less beautiful or immediate. It's whether these reviews, with their letter-of-the-law standards and game-deciding outcomes, are making soccer into an exercise in pedantry, not athletic skill.
Criticism coming from penalized teams has tended toward the specific. "France is a really good team," the Nigeria manager Thomas Dennerby said after the loss, "and they don't need support to win games." The Scotland manager Shelley Kerr said after her team's elimination, "At this moment, we feel very hard done by." Analysts and observers, though, have taken umbrage on behalf not of a team or player, but of the sport. "A [goalkeeper] inching off their line before the kick doesn't help, and it hurts the spirit of the game when VAR calls back penalties and keepers get cards in these scenarios," the former American goalkeeper Hope Solo tweeted after Scotland's draw with Argentina. Sydney Leroux Dwyer, another former American player, was more direct: "VAR needs to chill."
There remains a school of thought, exemplified at the moment by FIFA, that getting the call right is all that matters. "I need to enforce the laws of the game," Collina intoned at last week's press conference. "This is what we want—to have the laws of the game enforced." The accuracy-at-all-costs consensus, though, no longer holds. When the NFL announced this off-season that its famously subjective pass-interference rules would fall under the jurisdiction of replay review, fans grumbled at the prospect of yet more time given over to parsing slo-mo distinctions of position and contact. The NBA often finds its own replay system at odds with common sense. Even pre–World Cup iterations of soccer's VAR, used in top-tier domestic leagues and international competitions, have been synonymous with discord. "This is a disgrace," the Paris Saint-Germain striker Neymar posted to Instagram after his team lost to Manchester United in the Champions League's round of 16 in March, partly because of a video-reviewed handball call. "Four guys who know nothing about football watch a slow-motion replay in front of a television."
Prior to the semifinals, a streak of good fortune had temporarily pushed VAR from the headlines. America's quarterfinal win over France last Friday, in what was called the "final before the final," hinged on the one-woman magnificence of Megan Rapinoe; the officials were mercifully peripheral. But prevailing patterns have given the tournament an eggshell-walking aspect. It is possible, even likely, that the crucial moment from the final will be not a flying header or fingertip save, but a frame-by-frame analysis of rule-book minutiae.
In such an instance, the issue may not only be that the audience has been robbed of drama, that climax has been swapped out for anticlimax. It may also be that, in an attempt at accuracy, a truer but less tangible inaccuracy has occurred. Sports test one set of characteristics—daring, creativity, strength, speed—where replay increasingly monitors another: carefulness, obedience. If the World Cup turns on a heel lifted off a line of paint, there will be the sense of something small having gone right, and something bigger having gone wrong.
We want to hear what you think about this article. Submit a letter to the editor or write to letters@theatlantic.com.
Robert O'Connell
is a writer based in Minneapolis. His work has appeared in
The Guardian
,
Esquire
, and
Vice Sports.