The Ballad of Taystee Jefferson
In its final season, Orange Is the New Black faced a conundrum over its most pivotal character.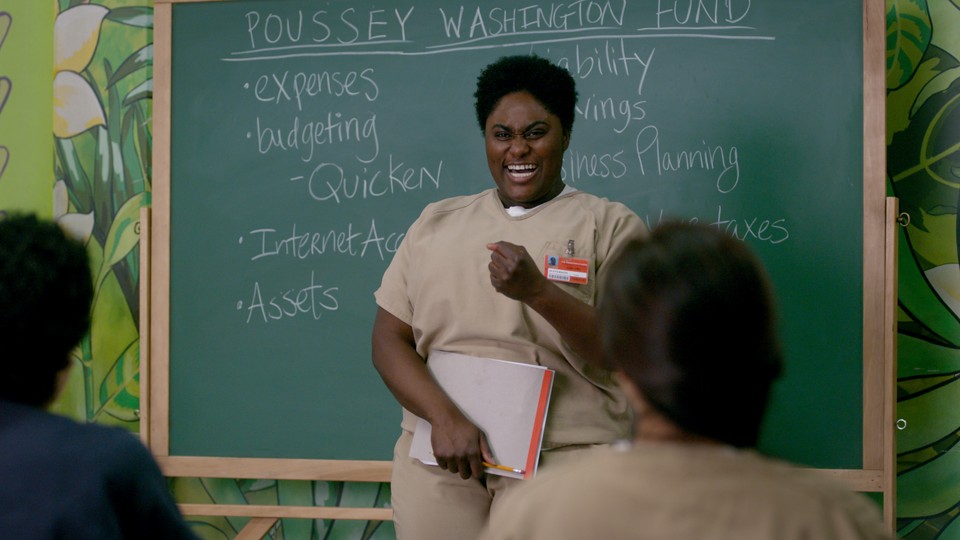 This article contains spoilers through the entire series of Netflix's Orange Is the New Black.
In the very first scene of the very first episode of Orange Is the New Black, released on Netflix in 2013, Piper (played by Taylor Schilling) takes her first shower as an inmate at Litchfield prison. As she shivers under trickles of lukewarm water, her reverie is interrupted by a loudspeaker announcement about mandatory lice checks, and by Tasha "Taystee" Jefferson (Danielle Brooks), who arrives in her nightgown and demands that Piper hurry up. The two women banter for a moment about Piper's paper-towel shower sandals and her "TV titties." As Piper walks away, the camera lets her go and instead closes in on Taystee, who's singing loudly and joyfully in the stall.
The scene seems to encapsulate something, now: Piper was always ostensibly the central character of Jenji Kohan's prison-set dramedy, but Piper's genial vacuousness as a heroine was set up from the beginning as a backdrop against which other characters could sing. And as Orange Is the New Black continued over seven seasons, the woman who became the true core of the series was Taystee. In the script, she was a foil for Piper that the writers could use to explore the school-to-prison pipeline in America. Whereas Piper grew up in affluence and studied comparative literature at Smith, Taystee was raised in group homes and foster care, and first went to juvenile prison at the age of 16. Piper traveled after college and made artisanal soaps; Taystee worked in fast-food restaurants. Piper was lured into smuggling cash for a drug dealer because the thrill of it excited her; Taystee wanted no part in the drug trade, but ended up doing the books for a dealer who offered her an alternative to yet another group home.
By Season 2, when Orange got to more aggressively deconstructing its Trojan-horse setup, Taystee was already being positioned as the show's most crucial component. Through her story, the series considered the failures of the parole system, recidivism, and—in later seasons—the way racist institutions configure and protect themselves. But she was also, thanks to Brooks's performance, one of the most spectacular characters on television. Resourceful, sharp, outlandish, funny, and perpetually kind, Taystee continued to thwart all the ways in which the system tried to beat her down. In Season 6, she and Piper had a scene that skewered Piper's privilege in a single exchange. "What is it about me that makes people want to fuck with me?" a disconsolate Piper asked, having had pink gum lodged in her hair and drugs planted in her shoe.
"Can I be real with you?" Taystee responded. "It's 'cause of what they see when they look at you. They don't see you. They see the shit they never had. Money, education, opportunity. That's why they never gonna stop fucking with you, because of what you represent. But at least that's only in here. People out there been fucking with me my entire fucking life. They see dangerous, poor, ghetto black girl that should be locked up in here forever. So, like, if you want to trade places, I'm game."
"How do you deal with it?" Piper replied, chastened.
"I try to survive," Taystee said.
---
Realistically, Piper was always going to get out of prison. The show spun out her 15-month sentence for as long as it could, given the creep of jail time and the inevitability of aging, even for TV actors. There were moments when it seemed like she might be headed for extra time, a Sisyphean ordeal of a sentence that just kept increasing. But a woman of her means, with her support network and her lawyers, wasn't destined to get trapped in the carceral system. Orange's final season documents some of the struggles Piper experiences in the outside world: the indignity of menial jobs, the mounting bills imposed by mandatory drug tests and parole checks, the dismay of living in her brother's guest bedroom in Jackson Heights and having to witness her sister-in-law's arduous regimen of "elimination communication" potty training.
The final flashback of the show's run, though, makes clear how easy Piper has it. In the 12th episode of Season 7, "The Big House," Orange jumps back in time to when Taystee was released from Litchfield in Season 1. As she arrives home from her job at KFC, she finds out that the woman she's staying with is being evicted, and she has to choose between homelessness and staying with a friend's cousin who'll put her to work selling drugs. As Taystee tries to decide what to do, she gets a call from Poussey (Samira Wiley), who tells her that pain and upheaval are only temporary. But the sound of her friend's voice is enough to convince Taystee that she was better off inside, with a place to sleep, food to eat, and people who loved her. It's a split-second decision that sparks a chain of events that will threaten her life.
Piper's position at the very end of Orange Is the New Black was predetermined. Taystee's represented a choice on the part of the writers. No show of the current era has so sharply used juxtaposition to depict inequality in America. From its earliest episodes, Orange has used the art of contiguity—placing certain scenes next to each other—to make explicit points. In the series finale, "Here's Where We Get Off," Kohan (who wrote the episode) follows a scene of Piper's father (Bill Hoag) discussing his attempts to "Marie Kondo" his possessions with a sequence of a homeless camp being razed. As its inhabitants race to collect their most precious possessions, one man looks back wistfully at an abandoned couch, as if he's thanking it for its service and letting it go. By pairing these two scenes, Kohan offers some withering insight into the privilege of clutter.
Taystee, similarly, has always stood next to Piper to illustrate what a white, blond, Smith-educated woman with "TV titties" can't. And Taystee's fate over the final two seasons of the show has essentially represented Orange's worldview. At the end of Season 4, after Poussey was killed when a guard suffocated her, a grieving Taystee incited a prison riot after realizing that the system would never bring her friend justice. Poussey's death, and the events that followed, cemented a shift in tone for the series, and a turn away from zanier plot developments (R.I.P. Piper's panty business) toward pivotal questions of institutionalized racism and powerlessness. At the heart of them all was Taystee, who tried to negotiate an end to the riot, but was thwarted when Maria (Jessica Pimentel) decided to release hostages to try to shave time off her own sentence. After armed responders forcibly entered the prison, they accidentally shot the sadistic captain of the guards, Desi Piscatella (Brad William Henke), and covered up his death, implicating Taystee. At the end of Season 6, she was convicted of murder.
Everything Taystee had previously told Piper was shown to be true. The jury in the courtroom didn't see her—her sense of humor, her intelligence, her potential, her empathy. They saw, instead, a black woman in prison for dealing drugs, which was all they needed to see to believe she could also be a murderer. In dealing Taystee such a brutal hand, the writers on Orange gave the series its darkest story line since the death of Poussey. And they set up a conundrum for the show's final season. If they gave Taystee a happy ending and got her conviction thrown out, the series would sacrifice its commitment to accurately portraying the state of the justice system for so many of the unfairly incarcerated. But if they left her in despair, they'd be doing a disservice to a character who represented the show's heart.
In Season 7, Taystee's story line got even darker. She tried to hang herself from a prison bunk, in a crushingly bleak scene, and when that failed, she asked Daya (Dascha Polanco) for drugs to help her end her own life. She wrote a letter to Cindy's (Adrienne C. Moore) daughter revealing her parentage, which indirectly led to Cindy's homelessness. And yet, as the season continued, Taystee kept finding fragments of things to cling to. Her friendship with Tamika (Susan Heyward), now Litchfield's warden, was one. Her realization that she could help other inmates get their GEDs by tutoring them was another. She came up with an idea for helping recently paroled women succeed on the outside by teaching them financial literacy and giving them microloans, via a fund named after Poussey. After she learned that her lawyer didn't think there was sufficient new evidence to open an appeal in her case, and Taystee realized all over again that she would likely be in prison for the rest of her life, she also found out that several inmates had passed their GED test. "You made this happen," Tamika told her in a note. "Tomorrow will be better."
Will it? With Taystee, the show found an ending that wasn't uplifting, necessarily, but that wasn't outright devastating either. She remained unjustly incarcerated for murder, while the people who covered up Piscatella's death went free. Her friend was fired as the prison warden and replaced with an abusive, power-hungry, drug-smuggling guard. Still, Taystee was left with something to wake up for every day—the ability to help other women so that they'd have a better chance at life than she did. It's not the ending I wanted for her. It's not the ending she deserved. But it was a way for the show to reconcile its commitment to capturing the reality of the penal system with its duty to a character who helped carry it for seven seasons. Taystee didn't get justice, yet. (I'm still hopeful for a future version of the show in which she does.) But she did, despite everything, manage to survive.