Wimbledon's First Fashion Scandal
One hundred years ago, a player shocked spectators with her "indecent" dress—not the last time attire has distracted from athleticism in tennis.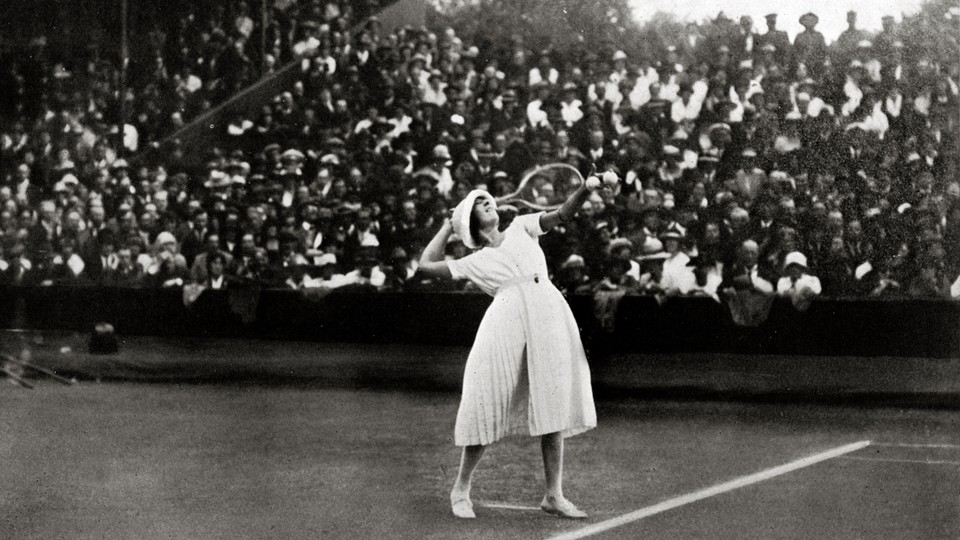 This year's Wimbledon marks the centennial of the tournament's first, though hardly its last, fashion scandal. In 1919, a 20-year-old Frenchwoman named Suzanne Lenglen made her Wimbledon debut in a shockingly skimpy ensemble: a low-neck dress with short sleeves and a calf-length pleated skirt, her silk stockings rolled down to just above her knees, and a floppy hat covering her cropped hair. She didn't wear a corset. She didn't even wear a petticoat. Though the press called her outfit "indecent," Lenglen went on to win the tournament—and the next four Wimbledon championships, as well as two French Opens and three Olympic medals.
One hundred years ago—when female players typically wore the same ankle-length skirts and high-necked, long-sleeved blouses on and off the court—Lenglen's winning streak made tennis history, while also altering the course of fashion history. As the 1910s turned into the '20s, her short-sleeved dress gave way to sleeveless dresses, and her linen hat to a much-copied headband, dubbed by the media the "Lenglen bandeau." Instead of boots with shapely heels, she wore flat, rubber-soled "Lenglen shoes." Originally chosen for comfort on the tennis court, these chic, practical styles soon spilled over into women's everyday wardrobes. At the height of her career, Lenglen was the most famous female athlete in the world, a mainstay of sports pages, gossip columns, and fashion magazines alike. By 1926, when Queen Mary presented her with a medal to mark the 50th championship at Wimbledon, it was the young athlete, not the formidable monarch, who was the global fashion influencer.
Despite Wimbledon having the most stringent dress code on the pro tour (even some spectators are subject to outfit guidelines), its style forecast is as uncertain as the English weather. This year's tournament has already brought its share of statements and scandals. What is it about tennis that seems to attract, and provoke, fashion drama? For one, the sport has such a long history; the All England Lawn Tennis and Croquet Club, which hosts Wimbledon, was founded in 1868 and held women's competitions as early as 1884. The tennis circuit clings to its time-honored traditions, and nowhere more so than at Wimbledon, where you can count on finding strawberries and cream, ad-free courts, royal spectators, and a game-free Middle Sunday.
This reverence for heritage also extends to dress. The concept of "tennis whites" dates back to the game's Victorian origins; white was thought to keep players cool and hide unsightly sweat stains. In 1963, as traditions of all kinds showed signs of crumbling, Wimbledon instituted a "predominantly white" dress code, revising it to "almost entirely white" in 1995. (The rule was expanded to include accessories in 2014, after Tatiana Golovin and Serena Williams paired white dresses with colored knickers.) It also stipulates that players wear "suitable tennis attire"—a much more subjective and slippery regulation.
Wimbledon's dress code applies to male and female players alike, and women haven't been the only trendsetters and rule breakers. The five-time winner Björn Borg was known for his pin-striped Fila polo shirt with a wide navy collar—a look that would be banned today—and Roger Federer once got busted for flashing orange soles. But tennis isn't a man's game that adapted to admit women; from the beginning, tennis "was revolutionary in having men and women participate together, actually playing on the same arena and hitting the ball at one another," the historian Elizabeth Wilson wrote in Love Game: A History of Tennis, From Victorian Pastime to Global Phenomenon. At first, it was the men's clothing that caused controversy. When the the All England Club first opened, the only dress code was: "Gentlemen are requested not to play in their shirtsleeves when ladies are present." But the focus soon shifted to women, as tennis clothes diverged from streetwear. The sport's co-ed nature may be one reason why Wimbledon has "always been fertile ground for issues and conversations around women's dress," according to Keren Ben-Horin, a co-author of She's Got Legs: A History of Hemlines and Fashion.
Since the days when "suitable tennis attire" consisted of bustles and corsets, female players have struggled to strike a balance between comfort and respectability. A tennis manual from 1903 advised women to look their best on the court, "for all eyes are on them. Many an onlooker understands nothing about the game, and the next thing generally is to criticise the player and her looks." In a sport long associated with country houses and country clubs, the very notion of respectability was bound up with social class as well as gender; Billie Jean King bitterly recalled being left out of a group photo at a junior tournament at age 11 because she was wearing home-sewn shorts instead of a skirt. Even supposedly "respectable" clothing rarely translated into actual respect. A long-running debate over whether women were physically capable of playing at the same level as men was (ostensibly) settled only in 1973, when King defeated Bobby Riggs in straight sets in the "Battle of the Sexes." Offering equal purses for male and female players took even longer; Wimbledon finally got there in 2007.
Debates over women's tennis clothes matter partly because they are a reliable predictor of wider trends. Athletic wear tends to forecast fashion, introducing high-tech materials and aerodynamic silhouettes that later migrate to everyday dress; tennis clothing, which is unique to individual players, has much greater potential influence than, say, baseball or soccer uniforms. One hundred years ago, tennis brought us shorter skirts, heels, and hairstyles, and less restrictive undergarments. Today it launches trends such as catsuits, unicorn hair, and athletic gear made from recycled ocean plastic. On June 23, 1931, the Spanish player Lilí Álvarez—"well known, not only for her tennis, but also for her extremely chic appearance on the courts," reported Vogue—wore Elsa Schiaparelli's "divided skirt" at Wimbledon, having first road tested the garment at the French Open. Though her knees were covered and her calves were sheathed in stockings, Álvarez was, technically, the first woman to play the tournament in shorts. Similar culottes soon became a staple of 1930s high fashion.
In 1977, the designer Ted Tinling, who was personally responsible for such Wimbledon scandals as Gertrude "Gorgeous Gussie" Moran's lace-trimmed panties in 1949 and Françoise Dürr's backless halter dress in 1973, wrote in The New York Times: "I don't know why tennis clothes have the capacity to cause such tremendous emotions among men." When, in 1985, Anne White asked her sponsor, Pony, to design a white spandex bodysuit to keep her legs warm at Wimbledon, her attire drew jeers and whistles from the crowd. Although the form-fitting garment conformed to the "predominantly white" rule, the tournament referee felt that it stretched the definition of "suitable tennis attire." When play resumed the next day, White wore a traditional tennis skirt, though her bodysuit had made headlines.
Tinling immediately declared White's bodysuit "the next logical step" in women's tennis attire, yet a similar controversy erupted just last year, when Serena Williams's Black Panther–esque Nike catsuit prompted a rule change at the French Open, which then led to public outcry. Williams had recently given birth, and the sleek compression suit was designed to prevent post-pregnancy blood clots. King herself weighed in, tweeting: "The policing of women's bodies must end." The Women's Tennis Association altered its dress code to explicitly allow leggings and compression shorts without a skirt for its 2019 season; however, the WTA doesn't govern the Grand Slams. Wimbledon fashion has come a long way since Lenglen shook up Centre Court, but don't expect to see female players wearing pants anytime soon.